>
Earlier this week we released Part 1 of the 2016/17 Essential Football Betting Compendium – our latest Sports Tipster Profit Report, featuring the lowdown on the very best sports tipsters we proof.
In the Profit Report, you can find updated results, rankings and best buy tables for 25 top sports experts – all as tracked by the team here at SBC. The vast majority are football tipsters, with many of them having a track-record of making regular profits for those that follow them in each week.
To help illustrate the potency of the tipsters within the Profit Report, I have picked outjust 8 of the 25 tipsters we track and listed their performance if following at just £10 or £20 per point size advised in the table below….
You can also view some key points such as the number of bets tipped, their ROI and how long they have been tipping (Helping to prove that their record is no flash in the pan).
(Sorry but as the full details of this report is so potent I have had to protect the tipster names and details for SBC members only – hence why they are Tipster A through H below).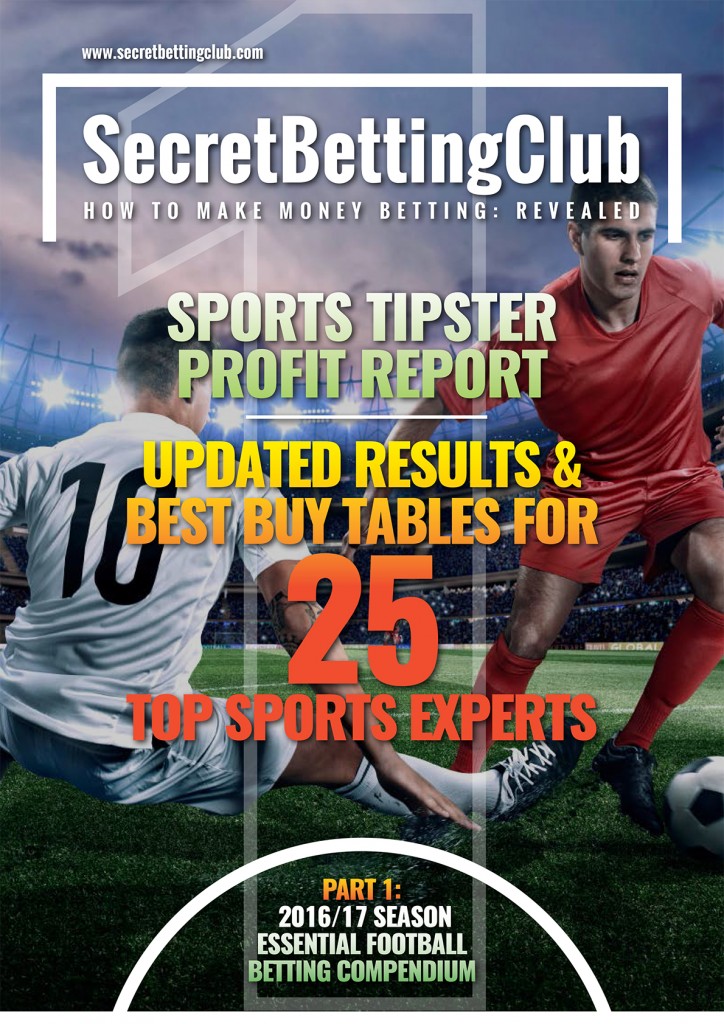 At just simple £10 or £20 stakes, each of the 8 tipsters has made a fine profit over several years and thousands of tips.
Take for example 'Tipster C' who has maintained a 13.51% ROI and made 795.5 points profit since March 2012. At just £10 stakes, this equates to £7,955.30 profit.
In fact, all 8 tipsters have made a good long-term profit, whether it be to £10 or £20 stakes and all have passed the test of time.
Subscribe to the Smart Betting Club today (Save £16)


Second Measure of A Good Tipster – Betting Bank Growth
Yet as good as the above table is – it isn't always the most scientific way of comparing tipsters.
We also like to weigh up tipsters based on what we term 'Betting Bank Growth', which is effectively showcasing the tipster providing the biggest return, based on our sensible and realistic betting bank suggestions (something we explain in the 100-page 'Pro Gambler Blueprint we supply to all new SBC members for free).
We reveal the betting bank growth by comparing each tipster if following from a £2000 starting point, although in the example below we have also included a £1000 starting point to help underline the fact that you don't need a huge initial amount of money to profit here.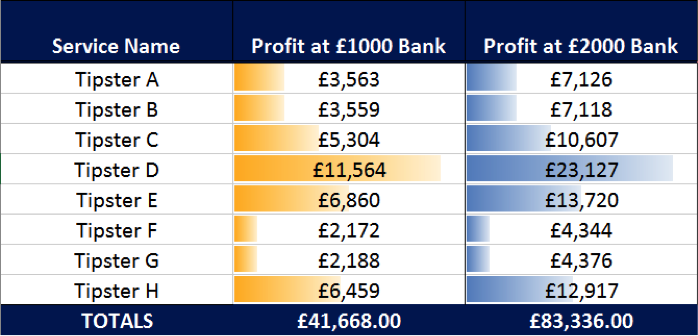 Once again, whichever way you look at this, each of the tipsters has made a tremendous profit and all to sensible betting banks and amounts.
For example, Tipster D has made as much as £11,564 to just a £1,000 starting point – multiplying its starting bank many times over.
Tipster E and H have also made great strides from a £2000 bank, with as much as £13,720 and £12,917 profit generated respectively since they began.
A couple of the tipsters such as F and G are probably best suited to slightly larger betting banks (£3,000 upwards) as they do concentrate on quality not quantity of tips. Yet even they will have made upwards of £4,300 profit from just a £2000 starting point.
All told, to 8 X £1000 starting banks you would be sitting on as much as £41,668.20 if you followed all these racing tipsters – an average of £5,209 per tipster.
There is no betting at silly figures such as £200 per bet or higher, like some tipsters advocate you do. Instead, the approach is about making regular and consistent profits.
Grab Your Copy Of The Sports Tipster Profit Report
As you can imagine this latest Sports Tipster Profit Report is a veritable goldmine of information and if picking up your copy today, you can also find tables dedicated to revealing which tipsters…
Have made the largest profit of all-time.
Have enjoyed the best past 12 months.
Generate the highest Return on Investment.
Offer the lowest workload to follow.
Are easy to get advised odds with.
Make our 'Hall of Fame' recommendation list
And most importantly…can genuinely make you money betting!
As well as this Sports Tipster Profit Report, by joining the Smart Betting Club today you can also access Part 2 of our Essential Football Compendium: The 2016/17 Season Football Tipster Guide.
Inside this you can read exclusive interviews with 13 of the very best football tipsters on just how they make money betting and their plans for the new season. Alongside this we have an updated review on each football tipster plus our recommendations on which ones to follow.
Parts 3, 4, 5 & 6 of our Essential Football Compendium are also due for release ahead of the 2016/17 season – each of which will be available to you as a Smart Betting Club member.
So sign-up today, take advantage of our 90-day money back guarantee and current £16 discount on all membership offers and see what the fuss is all about!