Smart Betting Club SAMPLE REVIEW:
Bet Alchemist
First published January 2015
This week we'd like to share a sample review of a racing tipster Bet Alchemist from January 2015.
This review is typical of unique content and in-depth tipster analysis we publish on a regular basis, all designed to help you make money betting.
If you enjoy this review and want dedicated, independent help with your betting then please do consider a full Smart Betting Club membership, where you can read hundreds more in-depth tipster reviews like this. Our May Tipster Profit Report is due next week and we're thrilled to report some strong racing tipster profits.
Don't forget either that the Smart Betting Club is 100% independent, so you can be assured that what we say is the honest truth. Unlike other 'review' services we do not take fees or a cut of sales for writing a positive review.
So for more information on how we can help you make money betting please visit www.smartbettingclub.com and start your membership straight away!

Service In Brief: Ireland-based horse racing tipster, advising most bets each way with prices within the longer odds ranges.  The Bet Alchemist service started issuing betting advice to the public in December 2012.
Service in Detail: Bet Alchemist is run by 40 year old Nicky Doyle.  Based in Kilkenny, Nicky grew up in the heart of horse racing country in County Wexford.  With this background and influenced during his formative years by his racing-crazy elder brothers, he was always destined to play some sort of role in the sport of kings.  Not only does Nicky now run the Bet Alchemist service, but he has also joined the ranks of racehorse owners and has the lofty ambition of owning shares in a Cheltenham or Punchestown Festival winner.
Approximately 80% of all bets are advised each way, the rest being win only with the occasional multiple bet thrown in. The average odds for the each way and win bets stands at 11.2/1, so we can see that Nicky likes to play at longer prices.  The winning strike rate for the each way picks is currently 10.9% (with 33.3% of these selections placing), and 28% for those horses advised win only.
Sample bets:
Advised Monday Morning 29th December
Leopardstown – 14:00
½ Point *EW A Sizing Network (7/1 Boylesports & Ladbrokes else 13/2 generally, use *B.O.G)
Leopardstown – 15:05
1 Point Win Mala Beach (4/1 generally, use *B.O.G)
Bet Alchemist Results: 
It should be noted that credit is due to Nicky, who does account for Rule 4 deductions when keeping official performance records, something that many horse racing services decline to do.
We can see that the figures returned are very impressive; an ROI of 21.7% highlights the considerable potential of the Bet Alchemist service, as does the fact that a starting bank of 100 points has more than tripled in just over two years of betting.

As you would expect from such figures, the graph charting betting performance looks impressive: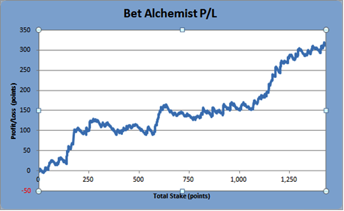 Irish Racing Results:
As previously noted, Nicky was born and raised in Ireland and when we analysed his results, it was notable that a good number of his bets have been struck in races on the Emerald Isle. Perhaps only fellow Irish tipster Will Lattimore carries a higher proportion of bets in Irish racing.
With this in mind we broke down the results to separate those achieved in Ireland from those bets on runners in the UK and elsewhere.

An ROI of 41.4% and a level of profit that accounts for 84.74% of total service profit demonstrates clearly that Nicky is able to fully exploit his in depth knowledge of Irish racing to the benefit of his subscribers.
We asked Nicky if there are any obvious reasons for the huge edge he apparently holds in his home country.  Here is what he said:
"The main reason is that over years I have got a good handle on how Irish Trainers work and place their horses to best affect. Being based in Ireland I go racing quite a bit and it's a big advantage to have laid eyes on the National Hunt horses. For example small or average sized chasers find the fences at our top tracks much harder work than at others."

Betting Bank & Drawdown:
We recommend a bank of 100 points for following Bet Alchemist, which is based on simulations and a comparison with other horse racing services of a similar profile.  This is higher than the 80 points that Nicky himself suggests, but as you know we always prefer to err on the side of caution, especially until we have followed a service for some time and allowed confidence to grow.  An 80 point bank we see as just about acceptable, but representing the bare minimum required.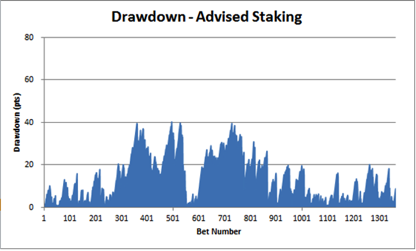 The largest drawdown so far has been 40.2 points, suffered between early May and the end of August 2013.
To help observe price availability, we asked our service tester, Gregor to keep an accurate record of the prices he was able to track at the time of advice. Gregor's record is actually marginally better than the official profit and loss records kept by Bet Alchemist for the period November 2013 to November 2014.
Odds Availability:
We asked Nicky for his thoughts on the issue of odds availability:
"I have noticed the following from experience. On Irish Racing the prices can shorten quicker than in UK racing. Overall, we do not affect the market and the times I thought we had were just coincidence when we clashed with other higher profile tipsters like Pricewise, Hugh Taylor, Gary O'Brien (ATR), Ben Linfoot (Sportinglife) etc. Gary O'Brien's tips on Irish racing have a dramatic affect and I'm always delighted when he picks a different selection to ours. Similarly, I make a point of getting our selections out before Pricewise on Friday Nights in case our selections clash. A good example was our latest winner Hawkes Point which we tipped up at 12/1 last Friday at 7pm. Even before the pricewise column went live at 8pm the price was already collapsing on Hawkes Point as racing post staff or racing post publishers got on before the public. Overall, > 90% of our bets remain available at the advised prices when not clashing with high profile tipsters."
Summary
Bet Alchemist is a service of many obvious positives.  The performance figures after 1,300+ bets are impressive. It is a well organised service, and pricing levels are set at an affordable level.
If the current levels of performance can be maintained, then there is definite potential for inclusion of Bet Alchemist in the Hall of Fame.  Prior to such a move being made, we would first like to further analyse the issue of odds availability.
We have found Nicky very pleasant to deal with, providing full and comprehensive answers to any questions we have asked him.  A real pride in his service is apparent, as is a desire to satisfy his customers.  We await his new website with eager anticipation.
To sum up then, in Bet Alchemist we have a service with real Hall of Fame potential, and we look forward to monitoring progress moving forwards.
Want More Reviews Like This?
If you want to find out just who the very best tipsters really are then make sure you take up a Smart Betting Club membership today.
Next week we release our Tipster Profit Report – Packed with the very latest results from the sports and racing tipsters that we monitor. It's a great time to join as well with many of the racing tipsters that we track enjoying a solid few months.