3 days into the New Year and if you are anything like me, chances are you have already taken yourself off to the gym to try and burn off some of the extra calories piled on over the Christmas period.
January is always a bumper month for gym owners, but the sad reality is that most people signing-up to get fit will never stick it out and give up within the first few weeks, out of pocket and out of breath climbing the stairs!
One of the best ways to stick at a fitness regime is to sign-up with a Personal Trainer, somebody who has the expertise and motivation to get you fit (and who you don't want to let down).
And this is where the parallel with betting comes in, because if your New Year's Resolution involves making more money punting, you can really benefit from an expert betting 'Personal Trainer'….someone to help improve your betting fitness!
So whilst I can't be there to place each bet for you or shout at you to do that difficult 66th sit-up, here is my simple 5-Step Betting Profits 'Personal Trainer' Plan for 2014 to get you started…
1) Follow A Free Tipster
It's a myth that you can't find good free tipsters as hidden amongst the thousands out there, you can often find the occasional gem. I am also not talking about the usual experts most people know about such as Hugh Taylor or Pricewise, the likes of whom are so popular you can never get the advised odds they put forward.
I am talking about bonafide well-run free tipsters that most people aren't aware of, such as the totally free service we reviewed in the latest SBC Magazine. This particular expert racing tipster has picked up a 16% Return On Investment in the last 19 months backing big price each way bets.
His performance is similar to another free racing tipster we monitor and recommend, who picked up 116.9 pts profit in 2013 alone (from just 191 bets and 249 pts staked) and who stands on the brink of a Hall of Fame recommendation thanks to his long-term profitable record.
In total there are 6 free tipsters currently recommended and monitored in our regular Tipster Profit Reports, each of whom are well worth checking out for 2014.
2) Follow A Good Paid-For Tipster
You should never be scared to pay for tips, provided you know the tipster supplying them is genuine and has a proven long-term record of success.
Take for example, one of the most popular racing tipster services in our Hall of Fame. Since February 2010, if following at £25 per point (most bets are 1 pt staked) then you would have made £6,592.75 profit exactly.
The cost to you for following his advice? As little as £14.58 per month, which over the 47 months since he started, would have cost you £685.42 in total.
£6,592.75 betting profit for a £685.42 outlay. It's a no-brainer and easy to see why this tipster is such a firm favourite amongst SBC members and would make a great starting point for anyone vowing to punt profitably in 2014.
3) Follow A Good Betting System (And Beware The Bad Ones!)
I have banged on about the values of following our Fink Tank Football System a lot in recent months, but it's for a good reason, as to be blunt, its bloody brilliant!
The first 3 1/2 months of this season saw it make £2,427.50 at £25 stakes to build on its record of profit dating back to the 2008/09 season. What's more its free to download for all SBC readers (Link opens up PDF download file)
Yet despite this system's success, it's a fact of life that good betting systems are actually very difficult to find. The Fink Tank has taken us years to investigate and track, yet if you believed what some people tell you, they have a profitable betting system tree growing in their back garden.
Make sure you don't get caught out by the many betting system scams out there with slick marketing material and promises of a betting cash-machine. The old mantra applies here…if it's too good be true then it probably is! If in doubt, check with us…
4) Don't Feel Pressured To Bet At Huge Stakes!
Just as you wouldn't expect to run a marathon the first time you step on a treadmill, so it's the same with betting as you can be just as effective by making incremental gains to achieve a big goal.
Forget about placing £250 bets, instead try placing 10 lots of £25 bets (such as with the racing tipster in step 2). Not only is this easier to get started with, it also smoothes out the ride and makes it much easier to handle!
My 'betting mate' (more on him below) does this and places the majority of his football bets at £20 stakes, often placing 20 or 30 a weekend. Yes this often ensures a total outlay of up to £600 but with that quantity of bets, any bad luck evens itself out and he doesn't find himself sweating over the performance of just one £600 bet.
He also had a bumper few days lately following some SBC rated football tipsters and has given me permission to share his Ladbrokes account screenshot over the Festive football period. From the 10 bets placed with Lads (and £207 staked) he made a £219.45 profit!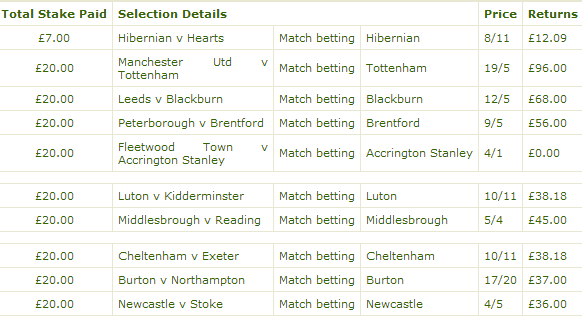 5) Have A 'Betting Mate' To Keep You On The Straight & Narrow
Just as a good Personal Trainer will often act as your fitness sounding-board to keep you on track, so I firmly recommend having a 'betting mate' to do the same. By this, I mean somebody trusted such as a good friend, relative or even partner who you are accountable to for your betting.
If you know you have to run all your major betting decisions by somebody you trust and who has your best interests at heart, it will stop you making rash (and often incorrect) decisions. Not only this but they can also help keep you motivated in tough times.
I have my own 'betting mate' with whom we each honestly discuss our own punting and the key decisions we both make. Just the simple act of having another pair of eyes or somebody outside your betting bubble can at times be invaluable, even for the most experienced gambler!
Enjoyed This…Why Not Consider A Smart Betting Club Membership?
Of course, one of the best ways to make any new year's resolution a success is in having proven experts to guide you along the way.
Here at the Smart Betting Club, we have over 7 years experience of helping people making money betting and have plenty to help you make 2014 your best punting year yet.
So if looking for a betting 'Personal Trainer' why not give us a try as with our risk-free money back guarantee you have nothing to lose and everything to gain.
After all, we might not be able to make you fitter, but we know a thing or two about making money betting!
Sign-up for the Smart Betting Club today