Last Friday saw the release of our much anticipated 2016 Tipster Betting Awards Report, which included your votes for the Worst Bookmaker… and here are the results!
Voted for by both SBC members and you the general public, this award (or should we say wooden spoon!) is designed to highlight those bookmakers falling short of the standards we demand as punters.
Whether it is offering poor value odds, shoddy customer service or simply not letting you get your full stakes on – you voted in your droves in what was a very competitive category!
So, without further ado, here is how you voted: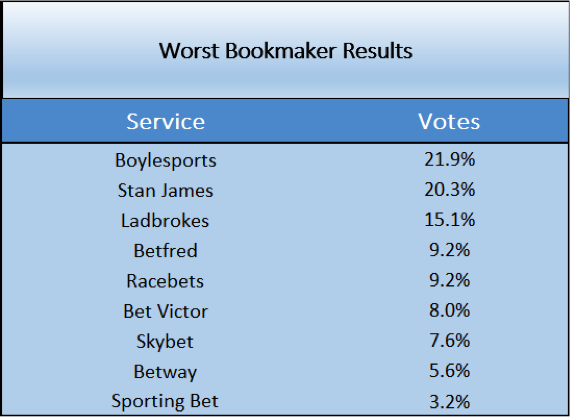 Boylesports Spoilsports
Top of the heap for 2015 as your worst rated bookmaker was none other than Boylesports, who picked up 21.9% of the vote to cement their position as a bookmaker many punters love to hate. They are the recipient of our lovely wooden spoon worst bookmaker award!
Not far behind in the rotten bookie stakes was the winner from the last 2 years, Stan James, who notched up 20.3% of the vote to suggest they still have much to do to convince punters to use their services.
And finally, the bronze award winner was a relative newcomer to the worst bookmaker stakes –Ladbrokes about whom 15.1% of you ranked as the pits. Considering they didn't feature even feature in the top 8 worst bookies last year – that is quite a fall from grace.
Other contenders worth a mention here include the likes of Betfred, Racebets, Bet Victor &Skybet who all polled a considerable number of votes.

Avoid The Worst…
As well as helping us have a bit of fun at their expense, there is a serious side to this award – namely to help raise awareness of the bookmakers often not worth bothering with.
One of the main reasons these bookmakers are rated so poorly is due to their notoriety as firms that both limit stakes and close accounts for anyone with even a modicum of ability.
Should you for example bother opening accounts with Stan James and Boylesports if you expect to win money betting? In my opinion it is often not worth the time, unless you are keen to take advantage of new account opening offers or simply keen to try to win as much as you can, while you can.
In terms of our own tipster reviews, we regularly mark tipsters down who quote and settle bets to top prices available with the likes of Stan James and Boylesports. Very often, such prices are a work of fiction as in reality they are not available to all but losing punters. It's high time the likes of the Racing Post and other media publications considered removing them from any tips or odds comparison tables they produce. It might cause a reduction in advertising revenue but it would be to the benefit of all punters.
Use The Best…
Alongside your votes on the worst bookmakers, in our 2016 Awards Report, you can also find details on just who was rated the best bookmaker – and those you should consider using for your own betting.
Not all of the best bookmakers are household names as some lack the marketing budget or 'brand awareness' of the UK high street giants, but often they can make a heck of a difference to your betting bottom-line.
Whether this be through offering better value odds or simply standing winning bets or accommodating shrewd punters, it's well worth utilising their services.
Access The Full Awards Report
If interested in reading more on this topic, you can access our full 
2016 Awards Report
as a Smart Betting Club member, in which you can find…
The Best Horse Racing, Sports & Overall Tipster (Gold, Silver & Bronze)
The Best Free Tipster (Gold, Silver & Bronze)
SBC Members 'Betting Hero' (The expert that inspired them the most last year)
The Best Bookmakers as voted for by both SBC members and the general public.
The Best Betting Website as voted by both SBC members and the general public.
The lowdown on why 85.1% of SBC members made a profit last year from their betting.