If you are like me then every once in a while you will receive emails and mail shots from wannabe 'tipsters' offering the chance to follow their betting advice and pick up 'guaranteed winners'. Often it goes along the likes of, "If I send you one tip that I guarantee will win, will you then pay me £50 to send you another'?
Thankfully, I am wise to these scams (as hopefully are many of you) with them often exposed on the SBC Forum for what they are, but it's easy to understand the appeal of a guaranteed winner. They might come from a 'well connected source' who gives you a nod and wink and sounds convincing. After all, we all love the idea of knowing something that others don't.
But in betting, there are never 'guaranteed winners'.

Here are some examples of 'when guaranteed winners go wrong':
Reading V Arsenal & Germany V Sweden: Both Reading and Germany were 4-0 up and cruising to victory against their opponents recently, until conceding a whole host of goals to both lose and draw their games respectively. There were huge sums of money backing both Reading and Germany at 1.01 'in-play' when 4-0 up and those that did so must have lost a small fortune.
Senegal beating France in 2002. Massively against the odds, Senegal shocked the world by beating France in the 2002 World cup. I know of at least one person who lost thousands on that match betting on the 'sure thing' of a French victory.
Horses trading at 1.01 on Betfair…only to lose: Every week (and sometimes every day) a horse will be miles in front only to fall at the final hurdle. Anyone backing the sure thing at 1.01 looking for free money can often end up with egg on their face. Check out this site for stats on 1.01 losers a in 2011 alone, a total of £2.258.695,16 was matched on them to win…and duly lost!
So you shouldn't back at short prices?
There's absolutely nothing wrong with backing something at short prices like 8/11 provided there is value in those prices. So you'd back a 8/11 shot if you think it really should be 1/2.
Where many gamblers go wrong is they take a short price on the expectation that it will win with no appreciation of what the true odds should be.
I.e. they back at 1.50 (or 1/2 in fractional odds) thinking this means a 95% to 100% chance of it winning. However as the simple table below shows, which converts odds into percentage chance of victory, 1.50 shot still has an implied probability of losing of 33% (it should oblige 2 in 3 times)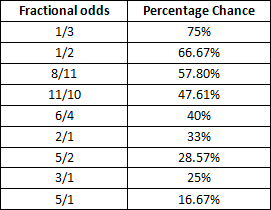 Unscrupulous vendors will play on this and provide tips at short odds in order to build up a high strike rate through pure chance alone. They can quite easily go 10 winners on the bounce without any clever analysis at all. At which point you might receive a barrage of promotional emails. Be very wary of this!
Laying – It's easier to pick a loser right?
It's also worth viewing this from the other side of the fence and the percentage chances of picking a loser, especially given the popularity of Betfair and laying.
It is indeed easier to pick a loser, but that is only half the battle – picking losers at the right price is the more important part of the equation.
If you are tempted to lay a horse trading at 50/1, because you think it's an easy way to make money, think again. As our handy table shows below, it's the equivalent of backing something as short as 1.02!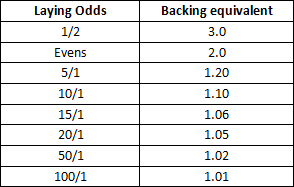 Once again, the only way to profit from laying is to spot which horses have their prices out of line in one direction or the other.
No Such Thing As 'Guaranteed' In Betting
So remember, there is no such thing as a guaranteed winner…or loser for that matter and if anyone offers you as such, tell them where to go! Understanding where value lies in any bet you take on and the percentage chance of it winning can also make a huge difference to your own betting.
All of the above has been adapted from our Pro Gambler Blueprint, which we supply for free to all new Smart Betting Club members.  In this 94-page expert guide, we explore all aspects of laying down the right foundations for betting success in order to make you a long-term winner.
Download your own copy of the Pro Gambler Blueprint immediately with a Smart Betting Club membership.