When it comes to finding winning betting tips (that make a proven profit) you don't need to spend a fortune to get hold of them. In fact, if you know where to look, it is easy to find some of the very best free tipsters that you should be following.
How I hear you ask? Well, with a Smart Betting Club membership you gain access to some of the best free tipsters that post on our forum and are able to find out about 6 top free tipsters that we monitor in our Tipster Profit Reports. Allow me to explain…

Follow Expert Tipsters On The SBC Forum
All subscribers to the Smart Betting Club gain free access to our members only betting forum.  With over 500 posts made in the last month alone, this is a great source of free information for punters to access plenty of long-running tipping 'threads'. The most profitable of these are entered into our 'Best Free Forum Tips' section, which as you might have guessed – showcases free tips on a regular basis.
Some of the SBC Forum tipsters have profit records which more than match many subscription based services, the only difference is that you haven't had to pay out your earned cash to benefit. Some of the top performers include…
GG's System Selections: 168 pts profit @ 15%
One of our longest running and most profitable threads is that from member 'Geegee' whose regular racing tips have consistently racked up the profits. A recent tally revealed a profit of 168 pts from over 1000 bets dating back to May 2011 and Return on Investment figure of 15.24%
SB Racing: 396 pts profit @ Over 15%
Another long-running thread from SBC member Sandy has also posted up daily racing tips since June 2011. Since then he has made nearly 400 pts profit at a Return on Investment of over 15% from thousands of bets. Last Tuesday at Cheltenham, he tipped both Golden Chieftain at 40/1 and Rajdhani Express at 25/1 to cap a memorable week!
SBR Each Way: 189 pts profit @ 19%
Sandy also operates a 2nd profitable racing thread, which focuses on Each Way selections and at the 500 bet marker a few weeks back he had turned a 189 pt profit at a Return on Investment of 19% to Betfair SP.
Football Investor's Top Flight Euro System. 41 pts profit @ 28%
Many commercial tipsters also use our forum to prove their success to SBC members for free. One such tipster is Football Investor, who have listed each bet from their Top Flight Euro Football System for free this season on our forum. Results have been excellent with a 41.55 pt profit at a Return on Investment of 28%.
Find The Best Free Tipsters In Our Reports

As a Smart Betting Club member you can also access the regular Tipster Profit Reports we produce that rank all the best tipsters we proof and monitor. Currently we track 6 high quality free tipsters, all of whom have made consistent long-term profits worthy of your attention.
As an example, check out the special table featuring the average annual profit (if following each of the 6 free tipsters with a £2000 betting bank). Not bad returns for free! (Note the names have been removed as this is for full SBC members only).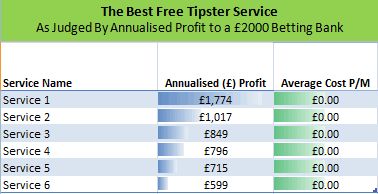 So there you have it – some of the best free tipsters and tips, and all available to you with a Smart Betting Club membership.
Sign-Up Today With A Full Money Back Guarantee
The great news is that all of this available for the equivalent of just £1.52 per week and with a full money back guarantee if not in any way satisfied once you joined.
Sign-up to the Smart Betting Club today

Best regards,
Peter – SBC Editor