In this article, the analysts at the Smart Betting Club delve into the stats to unearth the top five Grand National 2012 tips for finding a winner in the big race.
In Part three of our Top Five Grand National 2012 Tips series, we looked at the importance of the the handicap weight. In this article, we look at jockey & trainer trends.
For more top Grand National 2012 tips including bets from expert tipsters, make sure you check out the FREE SBC Grand National 2012 tips package.  
Grand National 2012 Tip #4: The Best Jockeys For The National. 
With so much attention on the horses, it's easy to forget about the importance of the poor fellows attempting to steer their ride to victory. Just like Formula 1, you can have a fine engine, but it's the driver that decides how the race will be run (and hopefully won).
Some jockeys have a better record than others at the Grand National as the following analysis shows. With so many jockeys taking part over the years, we have restricted our analysis to some of the bigger names and more frequent riders.
Jockey performance since 1997

We have to be wary of reading too much into jockey stats because the sample size is so low, but they still make for interesting reading.
The standout performer in recent years is Ruby Walsh with two winners from his ten runs. Backing all his rides blindly would have produced an excellent profit of 12.5 points (125% ROI) to Betfair prices. Tom Scudamore by contrast has a poor record, with no wins from his nine runs.
With a paucity of data to work with, it make sense to not just look at the winners, but also how often a jockey gets a horse into the right area.
Jockey place strike rate since 1997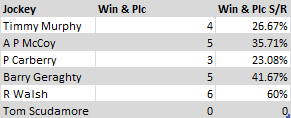 Incredibly, not only has Ruby Walsh won twice, he's also won or placed in 60% of his National runs. If you're looking for an Each Way angle, Ruby's ride has to be a contender.
The win and place stats also show that AP McCoy has been banging on the door for many years with a 35.71% win/ place strike rate.
Unfortunately Tom Scudamore's stats don't get any better, with none of his horses even placing.
Jockey Declarations For the National
The jockeys have now mostly been declared for the National. Here are the horses which match up to the jockeys profiled above.
Timmy Murphy: Weird Al
AP McCoy: Synchronised (favourite)
P Carberry: Not yet declared
Barry Geraghty Shakalakaboomboom
R Walsh: On His Own
Tom Scudamore: Junior
These jockey trends might not be reliable enough on their own, but if they could help you fine tune your shortlist.
Trainer Trends
Similar to the jockey trends, there are some interesting statistics on the trainers, but these also need to be taken with a pinch of salt due to the low sample sizes.
What is striking is how spread out the National winners have been across the population of trainers. The big name trainers don't seem to have as much of an advantage as you might think as the numbers below indicate:
Grand National trainer records from 1997

Big name trainers like Paul Nicholls have had a poor record at the National with no winners so far. D Pipe has bettered his Father's post 1997 record by finding a winner, but it's not been enough to beat the odds.
As with the jockeys, we can probably get more meaningful information by looking at the number of times a trainer has managed to get horses in the right area, not just win.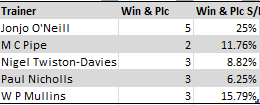 Jonjo O'Neil has had just 20 runners, but a quarter of these have won or placed. Similarly, three of WP Mullins 19 runners have won or placed. Paul Nicholl's record doesn't get much better when we look at the win & place strike rate and it seems to be feast or famine with Nigel Twiston Davis with only one horse placing in additional to his two winners.
Trainer Declarations For the National
Here are the featured trainers entries for the 2012 national at present:
Jonjo O'Neil: Synchronised, Arbor Supreme, Sunnyhillyboy.
D Pipe: Junior, Swing Bill.
Nigel Twiston Davis: Viking Blond, Hello Bud.
Paul Nicholls: Neptune Collonges.
W P Mullins: On His Own, The Midnight Club & Quiscover Fontaine.
Summary – Grand National 2012 Tip #4: The Best Jockeys 
If you want more tips like this, including bets that expert tipsters are following, make sure you download our FREE Grand National 2012 Tips Pack. This pack will also highlight all the horses currently meeting the criteria for the top five tips.
Our expert Grand National 2012 Tips Profit Pack is out now. .
To receive exclusive free copy, simply fill in the form at http://www.grand-national-tips-2012.com/
Part five coming soon will reveal our Grand National 2012 tip: Why weights matter. 
Grand National 2012 Tips Series: 
Smart Betting Club. With thanks to Pro Form Professional, an excellent horse racing analysis tool.