With just over a week to go until the kick-off of the new 2012/13 English Football Season, it's the time of year for the release of all kinds of new football season guides and pull-outs.
We are no different, with our own 2012/13 Best Football Betting & Tipster Guide due out next week – yet one thing I rarely ever see from many of these guides are details on the best value bookmakers that football punters simply HAVE TO BET WITH.
It's quite simple – by betting with the bookmaker offering the best odds, you can make another 5, 10, 15…hey sometimes 20 or 25% extra profit by the end of the season than if using the usual tired bookie suspects.
Convert that back to real money and….if you made £2000 profit last season, you could be missing out on an extra £500 by using the wrong bookies. Big differences!!
This can get scary when you move onto bigger figures, especially if we discuss the big staking punter that William Hill were bragging about earlier this week. He apparently  walked into one of their shops and placed a £22,000 each way bet on Liverpool for the title at 25/1.
Without even getting onto the madness of risking £44,000 on such a big bet (if indeed it even happened), that punter should have gone instead to Victor Chandler, who were offering 40/1 on the same bet!
If Liverpool go on to win the title, he will have missed out on an extra £440,000 profit! (all of which makes me very skeptical this bet ever took place!)
So whether you have a £44,000 hole burning in your pocket or simply want to know more about getting better odds, let me reveal my top rated bookie and why so many in the betting industry shun them unfairly.
My Top Bookie – Pinnacle Sports
One of the very best rated bookmakers across the board is a company called Pinnacle Sports. Long established, they offer competitive odds, high stakes, quick payouts and a reliable service. In short – they are top of the bookie class and a firm fave amongst many of our pro gambling members.
To show why they are so well rated, let's have a look at the best odds on offer via the excellent OddsPortal website (highly recommended folks) for next week's fixture between West Brom and Liverpool.
To make it nice and easy I have shown the odds in decimal format, plus the profit your bet would win at £25 stakes from Pinnacle and the  6 other big-name bookies.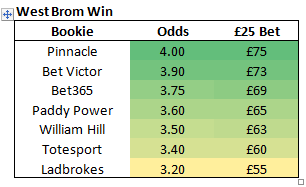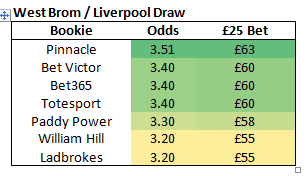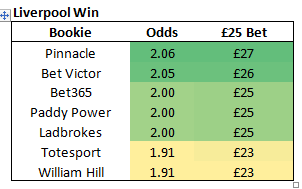 The differences in profit are significant, but as a punter, whichever result you end up backing, you would win the most money betting with Pinnacle. With just £25 stakes the difference in profit can be as much as £18 if backing West Brom with Pinnacle as opposed to Ladbrokes.
Why Betting 'Independence' Is So Vital
The above example is often repeated across the board for the majority of football games, with Pinnacle and a few other lesser-known bookmakers regularly beating the odds the 'big-name bookies' put up.
Sadly though, many of these betting pull-outs you read are often funded by these very same 'big name bookies' who place massive adverts within them and in doing so, seem to guarantee their odds will be listed. Often at the expense of the likes of Pinnacle Sports and others, who despite offering better odds, don't get a look in.
It's a cosy arrangement for those at the very top, but your Joe Average Punter is the one potentially missing out on the best odds.
It's one reason why here at SBC we are fully independent, whether it be bookmakers, tipsters or anyone else in the betting industry. We offer no advertising space and only recommend or rate any product or service based on merit – such as with Pinnacle.
We provide a full guide on the best bookies to use for football betting to all SBC members.
Knowing The Best Football Experts To Follow
Knowing which bookmaker to bet with is only half the battle as you still need to figure out the right bets to place in order to make money betting.
Which is why in advance of the new football season, we are publishing our 2012/13 Best Football Betting & Tipster Guide next week, to help you in this quest.
The guide features:
Our unique football tipsters rankings and ratings for next season.
Best buy tipster tables split into: biggest profit, easiest to follow, best budget tipster, best for high stakes.
Interviews with all the best experts and their take on the new season, where they see profit can be made, ante-post tips and which teams are over and under-rated.
The latest on the fantastic Fink Tank football system + plus how all SBC members can get its weekly tips for free via email.
Sign-up here for your membership to the Smart Betting Club and start making increased profits with our 2012/13 Best Football Betting & Tipster Guide (plus take advantage of our no quibble money back guarantee).