Earlier this week saw the release of Part 2 from the 2017 Best Tipster Guide, featuring our in-depth analysis on 3 expert tipsters we fully recommend.
To help illustrate just how good these experts are I wanted to showcase some of the analysis on one of the tipsters reviewed inside and the profits they have made.
With over 10 years of service, 19,638.15 points profit, achievable odds and a 20% discount on offer,  it ticks all the boxes for those of you looking for high quality tipster advice.
The 2017 Best Tipster Guide is available now to all Platinum SBC members. Subscribe now

Ten Years, 20,000+ Tips

Anyone can fluke a profit over a few weeks or even a few months, but making money for 10 years straight is bloody difficult – yet that is exactly what this tipster has achieved.
This service has been going since 2007, during which time they have tipped up 20,618 bets and made just shy of 20,000 points profit. All at a Return On Investment (ROI) of 9.5%.

Best of all they have been very consistent, with only a few minor ups and downs along the way as the profit graph below proves.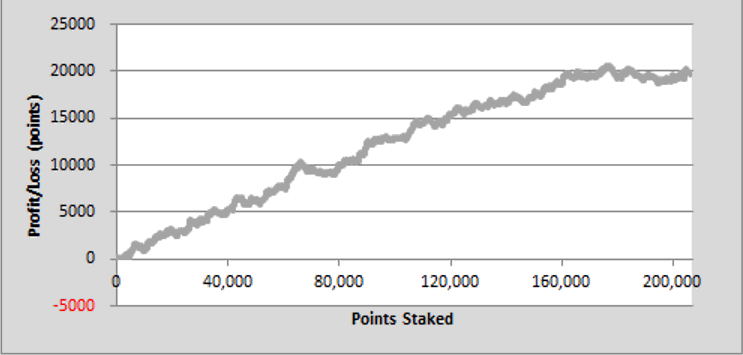 Profitable At (Almost) All Odds Ranges

This particular tipster has a simple policy of only tipping up bets priced at 10/1 and above.
And as our analysis reveals in general, the higher the price you back at, the higher the profit and ROI you make.
They are exceptionally strong when it comes to backing those horses 15/1 and above. Especially those priced between the sweet-spot of 20/1 to 25/1, where they have racked up 7706 points of profit at 16% ROI.
Here is how the odds breakdown:

The only possible area for improvement comes in those bets priced either 10/1 or 11/1 which have made a marginal loss to date.
With this in mind, we provide guidance in the review on the different betting banks and profits you could make if following only those tips priced at 12/1 and above.

Quoting Available Odds At A Convenient Time

One of my biggest complaints about racing tipsters are those who either tip up far too early the evening before racing (when it's often impossible to get on) or quote unavailable odds.
This tipster ticks all the right boxes as tips are sent out at 2 convenient times each day at 12 noon and 1.15pm. As the racing markets have formed quite nicely by then, bookmakers are much more likely to take a bet and there are decent odds on the exchanges for you to snap up.
This is reflected in how their advised odds stack up as the detailed odds tracking we performed reveals.
We tracked how their advised odds held up when set against those available with our smaller panel of bookmakers either immediately, after 15 minutes or after 60 minutes
Here you can see how they stack up and the Estimated ROI differences compared to the advised odds:

So, whilst there is a small drop both immediately and after first 15 minutes – this for a racing tipster is actually very good indeed.
Those of you with access either to the exchanges or a wider group of bookmakers should be able to get closer and at times better odds on these tips.
Affordable With A 20% Discount

Last but not least, another major reason we rate this tipster is because their subscription fees are very reasonable – especially as all SBC members are eligible to save 20% on the cost of joining them.
With the discount applied, the average monthly fee for their service works out at between £26 and £38 (depending on the length of subscription you choose) which in comparison to the profits made are very reasonable.
Sticking a simple £10 each way on their tips over the past decade would have made you a profit of £39,277.
Dividing that by 10 for the years they have been in service, that equates to a £3,927.70 profit each year – not bad for as little as £26.33 per month!
Note – You can save up to £79 on this service thanks to the savings exclusively available to you as a Smart Betting Club Member. Considering our Platinum membership costs just £105.99 – it's almost worth joining us for this reason alone!

Read More In The Best Tipster Guide

You can read our full, detailed review on this tipster with access to Part 2 of the 2017 Best Tipster Guide.
Also inside Part 2, you can read similar reviews on the new Football Expert averaging 70% bank growth annually (With a profitable record of over 3000 bets since 2014) AND
the Festival Racing expert you can follow on the exchanges (Over the past 6 years, he has advised 2600 tips and made 429.6 points profit at 15.4% Return on Investment.)
Plus not forgetting you will get access to Part 1 of the 2017 Best Tipster Guide AND Parts 1 and 2 of the 2016 Best Tipster Guide, featuring another 8 tipster reviews in total.
All told, the Best Tipster Guide series provides everything you need to make your betting a success. Read all about the Best Tipster Guide via this link. 
Its available now via the very popular Platinum 'Pro Punter' membership – by signing-up today you can also save £38 on the cost of joining.
See you on the inside.
Peter Ling
SBC Editor
"90-DAY 100% SATISFACTION MONEY BACK GUARANTEE"……
"I believe so strongly in SBC's ability to help your betting, you can subscribe with a 100% cast-iron 90-day money back guarantee".
SBC Editor – Peter Ling     Subscribe Now