That is the question I was posed recently by a punter intrigued by what we do here at SBC, yet ultimately unsure on just how much they could make betting with our help.
After all, once you take into consideration tipster fees and the time and effort getting your bets on – is it worth your while?
Judging by the frequency I hear this question, it appears to be something on a lot of punters minds.
So I thought I would tackle this question today, using some examples from our latest Tipster Profit Report, such as the tipster that made a £12,707 clear profit from just a £2,000 starting point in the past 12 months.
…And the combination of 15 tipsters that made £35,137 in 12 months AFTER all tipster subscription fees were taken into account. Let me reveal more:

A World Away From Backing 5/4 Horses Each Way
The first thing to make clear about the tipping world is that it has moved on significantly since the Smart Betting Club first started way back in 2006.
Forget the prehistoric tipsters putting up 5/4 shots each way or advising you to ring their premium £1.99 a minute hotline for their latest odds-on tip.
Whilst you might still find a few of these prehistoric types advertising in the Racing Post (a topic for another day), the tipster world has moved on. Nowadays, there are many highly professional and well regarded tipster services with a history of genuinely achievable profits behind them, generated over several years.
They put their customers first, settle their bets at realistic odds and best of all – are simple to follow.
The very best tipsters can be found in what we term our 'Hall of Fame' – which are those tipsters we recommend as offering an excellent level of service at reasonable prices, which are best of all profitable.
The 'Suggested Profits' You Can Make With Tipsters
So to go back to the original question and just how much a tipster can make you?
To explore this, it's worth checking out the 'Suggested Profits' tables we publish in each Tipster Profit Report – an example as taken from the last report I have copied below.
These reports gives you the latest on the best tipsters and just how much they have made on an ongoing basis. Enabling you to find the best, in-form experts and those consistently ahead of the bookie.
There are currently 15 racing tipsters in our Hall of Fame (we list a separate table dedicated to sports tipsters) and here are the Suggested Profits for each of them from the past 12 months: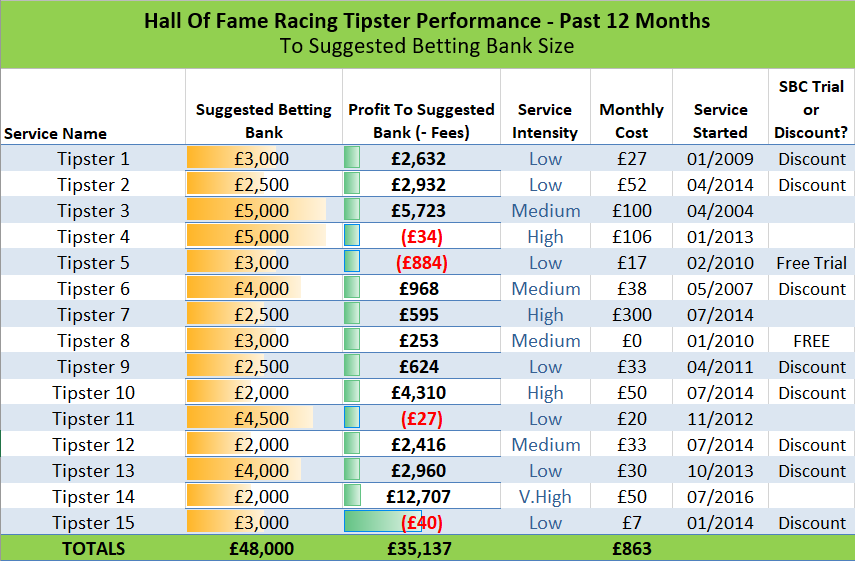 I have had to remove the tipster names as this is for Smart Betting Club members only (sorry – that's the secret bit) but as you can see the profits on offer are vast.
As a combination of all 15 they have made a profit of £35,137 for a monthly outlay of £863 per month (not that I would expect anyone to follow all of them)
Here are some other key figures:
• 'Tipster 14' enjoyed the best profit, making a mind-boggling £12,707 profit from a £2,000 starting point after membership fees over the past year.
• Also impressing is 'Tipster 10' who made a £4,310 profit from a starting bank of £2,000 for an outlay of just £50 per month.
• 11 of the 15 tipsters made a profit in the past 12 months. Ideally it would be all 15, but at least you know this table is realistic because not every tipster wins over a rolling 12 month period.
• Of the 4 tipsters that made a loss – these were in general very small deficits (e.g. £20, £34 and £40). Crucially all 4 have excellent long-term records.
• The average age of a Hall of Fame racing tipster is over 5 years – showcasing how long these services have been advising bets and why they can be trusted.
Realistic Profits AFTER Fees Are Deducted
The suggested profits table above should also help answer another common question, namely:
Exactly how much money can you make after you pay for a tipster in the first place?
All the profits listed above are AFTER fees have been deducted from the final sum. So for example, the £2,632 profit made by 'Tipster 1' is after the £27 monthly fees have been removed.
In terms of what you can expect to pay for a top tipster, the average cost sits around the £30 marker, although this does depend on many factors. Generally, the more exclusive a tipster service (i.e. those that keep membership numbers very low to protect odds) then the higher the subscription cost.
It is worth pointing out that as an SBC member you can benefit from several exclusive discounts and free trials to many of these tipsters, which reduces these costs further too.

You Don't Need Huge Sums To Get Started
One thing you shouldn't be is put off by the size of the suggested betting banks on offer in the table above.
We put these together as an example, but many people can and do follow these tipsters with much less. You certainly don't need £5,000 to get started betting profitably – far from it!
Many SBC members enjoying success from their betting started off with much smaller amounts initially and gradually built up their betting banks with the profits recouped.
After all, betting for profit is not a sprint – you should take your time to get it right.
Give Us A Try – Risk Free For 90 Days