One of the most important qualities a winning punter should have is an ability to detach themselves emotionally from their betting.
Most of the pro-punters I have come across in my 12 years at the Smart Betting Club have this quality in common.
A cold, calculated ability to view the outcome of bets they have placed – win or lose with a simple shrug of the shoulders and as lines of red or black on a spreadsheet.
Very often they don't even watch the bets as they happen.
Instead choosing to update their betting figures at the end of a day, week or month. Again, this is all part of the emotional detachment because if you don't live each bet out win or lose – it can't impact you or your betting habits negatively.
You can tell this is the right approach as bookmakers want you to treat your betting differently and to act extremely emotionally.
Compelling you to bet to make a game more interesting, to be closer to the action or that it somehow matters more when there is money on it.
None of which is of course true. Yet they sell their products like this because they know that the more emotionally involved with your bets you are, the more likely you are to bet irrationally.
Even when you are winning and everything you bet on seems to turn to gold – they know if you bet emotionally, then you are more likely to risk more to maximise your hot streak (which is often simple randomness at play) and ultimately hand all your winnings back when the losers inevitably hit again.
All of which goes back to the old mantra – do the opposite of what the bookmaker wants you to do, because there will only be one winner long-term, it's either you or them and despite what they say, they are not your friend. Not many billion-dollar businesses tend to be!
A Big Dirty Word
The other quality you need in conjunction with emotional detachment is patience.
It's a totally boring concept and one losing punters reject straight away. To them it's a dirty word and usually because they are betting with emotion, which immediately makes being patient very difficult indeed.
Yet, ultimately patience is crucial and it's one reason you can only join the Smart Betting Club for a minimum of 1 year. We do this because we know there is little point in you signing-up unless you are willing to give betting professionally with us at least that time period.
If you are only going to give professional betting a couple of weeks to make you a profit, then you will probably only lose money. This is because you will give up at the first few sign of a few losers and not stick around long-enough for the winners to come in again.
I am not saying that you won't start to win money within your first few months betting, yet depending on when you start and the tipsters you choose from those we recommend, every punter's experience will be different and you might need to be patient to reap the benefits.
To outline what I mean by the need for patience, I want to use a classic example from the latest Tipster Profit Report and focus on the tipster on the front cover with a ROI of 49.2% over the past 12 months.
 

Huge Profits From This Recommended Tipster
This is a Hall of Fame rated racing tipster, providing a 1-bet-a-day strategy that is very easy to follow. Taking no more than a couple of minutes time daily, it has made a profit of 154 points from 313 bets at 49.2% ROI since the 1st June 2017.
Depending on when you joined this tipster, your experience will be different and it's only patience (that dirty word again) that will see you make a profit sometimes.
Firstly, let me show you their profit and loss table from the past 12 months, broken down into bet number, stakes, profit/loss and ROI.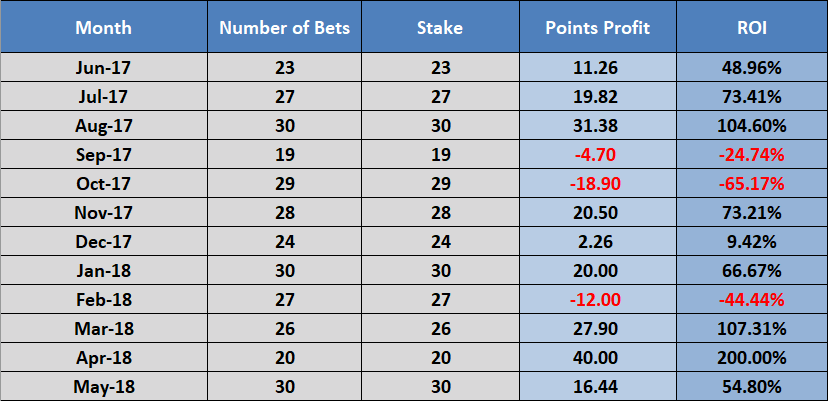 This table tells us that 9 out of 12 months were profitable with some particularly strong performance over the year. Everything looks rosy and how you could you not make a profit following this tipster?
Well, you would be surprised how many punters, especially those betting emotionally or without patience will have struggled.
Had you joined on the 1st September 2017, come the end of October 2017 you will have actually posted a 23.6 point loss over 48 bets. At this point you might well be thinking 'Well, I have given it 2 months and I've only lost money – should I stick with it'?
Even if you had continued following until the end of February 2018, over this 6-month period, you would only be showing a 7.16 point profit from 157 bets. From my experience, most people at this point would have already quit and moved onto another tipster in the mistaken belief they were wasting their time.
Yet as we know from the above table, they would be wrong to as March to May 2018 made a huge 84.34 points profit and over this 9 month period as a whole, a total of 91.50 points profit would have been accrued. Job done.
At simple £50 stakes, that is a superb profit of £4,575.00 over just 9 months. 
Don't throw in the towel too soon
The sad truth is that many punters, had they started on the 1st September would have thrown in the towel long-before this tipster service was ever given the chance to show why we rate them so highly.
And often this will be down to the fact they are living out each bet win or lose on a daily basis – which in turn affects an ability to be patient and to make betting decisions without emotion.
So, to help overcome this problem – we provide lots of information via our reviews, tipster tables and key facts pages to provide assistance and guidance on tipsters when you need it.
For example – the tipster I reference above has a huge database of past results that show their edge – just shy of 3000 bets dating back to 2009. Providing confidence and assurance that they know what they are doing, even if short-term results indicate otherwise.
You can read about this long-term edge in our past reviews of this tipster, league tables of long-term performance and key facts pages (all of which are available with an SBC membership).
Helping to provide reassurance during bad runs when they hit (as they always do – no punter wins all the time) that you are on track.
The power of hindsight
Ultimately, nobody knows without the power of hindsight when a good or bad betting run will hit, so it's only emotional detachment from your punting and patience that will see you through.
It might be unsexy and exactly what the bookie doesn't want you to do – but that's the life of a winning punter. Being boring and doing the opposite of everyone else!
If you are after more help with your betting, consider a Smart Betting Club membership, which comes complete with a 90-day money back guarantee and is discounted by as much as £45 currently. Click here to see how we can help you.
See you on the inside
Best Regards,
Peter Ling
Smart Betting Club Editor