Update 9th June 2021: Matchbook announced today they are now offering a HIGH level of protection. Welcome news and we hope more bookmakers/exchanges follow suit!
These are strange, uncertain times for us all and with that in mind, I want to provide a very important update to my 4th March article (copied again below) on the lack of safety many bookmakers offer the money you hold with them.
Far too many firms still offer NO protection to the money you deposit and given the fact we are on the precipice of a major financial crisis, it is reasonable to assume that some bookmakers may not survive it.
Therefore, I wanted to update you all today with an important recommendation:
If you hold money with a bookmaker offering you NO protection, then you should consider withdrawing these funds, especially if you are not currently using this money to actively bet.
If and when the world and in turn sport and betting returns to normal you can deposit this all back. Yet right now leaving these funds in your account is a risk you don't need to take.
In my 4th March update I recommended you be very cautious with the funds you hold in unprotected accounts, yet today I want to double down on this advice given how things have changed in the last few weeks.
Naturally, I hope that none of these bookmakers go out of business and that the people who work at these firms maintain their jobs. The reality is that it is likely we may lose a few and the last thing I want is for the money you hold with them to be swallowed up.
By withdrawing our funds, it might also encourage those firms offering NO protection to up their game and improve their rating.
Kudos needs to go to one bookmaker – Betway who have done just that recently as they now offer HIGH protection to all funds deposited. This is excellent news and I hope more firms will look to do the same.
You can be sure that if enough of us vote with our account balances and demand better protection for our funds, bookmakers will listen!
HBF Now Rating 64 Bookmakers
It is also worth pointing out that the excellent Horseracing Bettors Forum have extended their bookmaker fund safety ratings to include 64 different bookmakers.
With their permission, I have copied 2 tables as originally published by them, which showcase the current ratings ranked from High to Low.
All details are, to SBC & HBF's best knowledge, correct at the date of audit, yet we cannot be held liable for any errors, or for updates which occur subsequent to the date of audit.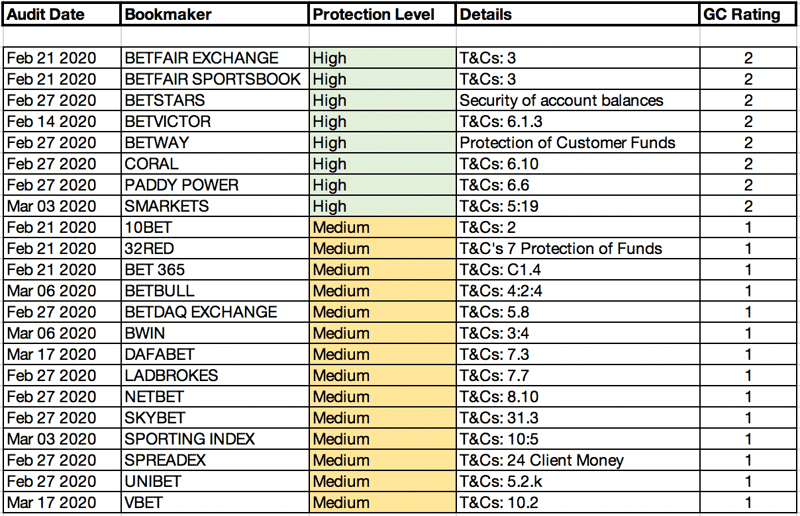 It seems we can expect this to be updated periodically with more additions and changes to the ratings as they come in. Ever since my original article on this topic, I have noticed this issue is getting more and more traction as punters become aware of the lack of security given to their funds, which has to be a good thing.
As and when more important updates on this topic come in, I will endeavour to let you know.
Finally and most importantly, I wanted to sign-off by wishing you all the very best for the next few weeks and months. Take care of yourself and your loved ones and I will speak to you again very soon.
Best Regards
Peter Ling
Smart Betting Club Owner and Founder
This update was published on the 20th March 2020 – all information correct as of that date. SBC cannot be held liable for any errors, or for updates which occur subsequent to this article.
———————–
Below you can read my original article from the 4th March…
Subject: How safe is the money you deposit with bookmakers? Essential advice and information
Today I have a very important update to share with you on the topic of bookmaker fund security – or indeed the lack of it from many of the firms that we all bet with.
It is an excerpt from an updated article recently published for members of the Smart Betting Club to ensure that none of them suffer the issue of holding large funds in bookmaker accounts that they are unable to access.
I originally raised this issue with Smart Betting Club members back in May 2019 advising them to not leave large sums of money in unprotected accounts and given the news surrounding the bookmaker MoPlay and their recent insolvency, I have decided to publish it for everyone outside the club to read.
Whilst not the 'sexiest' of topics – it certainly is an essential one for anyone that bets, so please do take the time to read it and understand more on how safe the funds you deposit with bookmakers actually are…
Discover How The Smart Betting Club Can Help You!
How safe is the money you deposit with bookmakers? 
Bookmakers have been in the news for all the wrong reasons again recently with first Matchbook having their UK licence suspended and of even greater concern, another firm – MoPlay declaring themselves insolvent with customers unable to withdraw their funds.
This follows on from other bookmakers who have stopped trading in the past year including Sunbets and BetBright, whilst Black Type recently went into administration and were taken over by their technology provider – FSB.
The big issue this all raises surrounds how any funds you have deposited with bookmakers are protected so that should they go bust, you can still withdraw money held back to your bank account.
That is of course before we get onto the topic of any open bets you might have with any such insolvent bookmakers and if they will be settled as expected.
Say for example you were sitting on an Ante-post bet on Liverpool to win the Premier League at 11/4 struck in August 2019, that is effectively a 1/500 chance right now, yet which might not get paid out if the bookie you placed it with goes bust tomorrow.
MoPlay NoPay?
This nightmare scenario of a bookmaker going bust, unable to settle open bets and unable to pay out the funds owed to customers is currently taking place with MoPlay.
This was the notice posted on their website just last week that confronted customers:
The reference to clause 9 of their terms and conditions reads as follows:
9. How your funds will be held
9.1 To play our games and place bets, you need to deposit funds. Your funds will be held in a separate bank account from all our other business accounts. Your funds will be held separate from company funds in a mixture of a bank account and reserve funds which we hold with our payment processors. However, if there was ever a situation where we became insolvent, your funds would not be considered separate to the other company assets and you may not receive all your funds back
The key section of this clause I have highlighted in bold as it provides no assurance that any funds held with them will be returned now that they have been declared insolvent.
Will MoPlay customers ever get access to their funds? It seemed unlikely a few days ago, although recent news stories suggest there is some hope for those impacted. It's a developing story and I am hoping for a positive outcome for all concerned.
The Lack of Protection For Punters
If you think this lack of protection of the funds you deposit with bookmakers is an issue for the authorities – then think again.
The Gambling Commission who oversee licensing requirements for bookmakers explain as much on their website, where they state that
"Money staked or deposited with a gambling business is not protected by the government the way that personal bank accounts are. Online gambling companies in Britain must keep customers' money in a separate account, but this does not guarantee you will get your money back if the company goes bust."
Rather than make it a prerequisite for licensing to ensure funds are protected, instead they simply rate each bookmaker and the level of protection or not, given as per the table below:
The level itself is self-declared by each bookmaker but the Gambling Commission is able to check the accuracy – although no outline is given how often this is done.
Ultimately, they leave it up to you – the individual punter to check on how safe your money is or not, declaring that:
"The larger the amount of money which you hold with a gambling company, the more thought you should give to how that company protects it. You may wish to choose which company you use by how much protection they offer or spread your money across more than one company.
How To Check Each Bookmaker's Protection of Funds Rating
Although the onus is on us as punters to check on this issue – help is at hand thanks to the updated Register of Protection of Funds as put together by the Horseracing Bettors Forum (HBF).
The HBF have done the hard work and trawled through each set of terms and conditions to discover how safe your funds are with all the main bookmakers currently operating. It is exceptional work and the HBF need to be congratulated for it.
Of particular concern are those 11 firms offering No Protection whatsoever (just as MoPlay did) who HBF list as follows:
Betfred, Betsafe, Betway, GentingBet, Geoff Banks, Leo Vegas, Marathon Bet, Matchbook, Sportnation, Sportpesa & Tote.
Questions need to be put to all these firms to ask why they don't protect funds?
Most of the firms audited fall into the Medium Protection bracket with 15 in total, including big names such as Bet365, Ladbrokes, Skybet & William Hill.
Just 6 firms take this seriously enough to offer High Protection and well done to Betfair Exchange & Sportsbook, Betstars, Bet Victor, Coral & Paddy Power for taking the lead here.
Ultimately, it has to be of concern that of the 32 firms audited by the HBF, only 18.75% of them offer this high rating, whilst 37.5% offer no protection at all.
You can view a breakdown of each firm in the table below:
Antepost Caution & Regular Withdrawals
Armed with the information above and the issues that the recent closure of MoPlay raised, you would therefore be very wise to proceed with caution leaving sizeable sums of money in any account with a bookmaker only offering no level of protection.
If such a bookmaker went bust, in theory you wouldn't likely see much, if any of that money again. The likelihood is that for those bigger name bookmakers this won't happen, albeit it may, but for the smaller outfits such as we saw with MoPlay, it should be a concern.
It might be that we also see further examples as per Betbright, whereby upon their closure, unsettled Ante-post bets held were not initially settled or paid up until a major PR storm compelled them into eventually doing so.
Therefore – one simple bit of advice is to be very careful where you place your Ante-post bets – and focus on placing them with more established names or those with at least a Medium or High rating.
Keep Your Balances Low & Money In YOUR Bank Account
It is also sensible advice to keep your balances with those firms with no protection to a relative minimum, because quite simply your money is not protected.
Maintain a balance required for you to place your regular wagers only and deposit and withdraw regularly if needed.
I suggest this having read about a few punters recently who had relatively sizeable amounts in their MoPlay accounts, which they are currently unable to access. Some have written the money off whilst others are desperately seeking answers to how and if they will ever be able to withdraw it.
All told it's an incredibly frustrating situation for those impacted and I want to make sure no-one else suffers the same issue in the future should other bookmakers declare insolvency.
This is likely given the increasingly cutthroat and competitive bookmaking world where margins are tighter and increasing focus on topics like problem gambling are eating into many firms profits. I expect more firms to go to the wall in the future.
Therefore my general advice for all bookmakers is to never leave large amounts sitting dormant in any account as it's far better to have such money securely tucked away in your bank account earning you interest.
Don't risk it – withdraw all but the funds you need for your regular betting activity from bookmaker accounts, especially those with no protection.
/////////////ARTICLE ENDS///////////////
This article was first published on the 3rd March 2020 – all information correct as of that date.
Be Careful Out There!
The issue surrounding the lack of funds protection just goes to show how much of a jungle it can be when betting on your own. After all it can be hard enough to turn a profit from your bets first of all, without the worry as to whether the bookmakers you use will pay you out or not.
As mentioned at the start of this email – this article is an update on the advice originally given to members of the Smart Betting Club back in May 2019 to not leave large funds in any account with a bookmaker offering no protection of funds. Although at the time of writing that original article, no major bookmaker had gone bust without paying out, we could see the writing on the wall that it was only a matter of time before one did.
If you are after assistance with your betting – whether it be important updates like this or our speciality – reviews and ratings on the best tipsters, then you might like to consider a Smart Betting Club membership.

Peter Ling
Smart Betting Club Owner and Founder