.


Hot off the press from the team here at SBC is our very latest Tipster Profit Report – which has a special focus on The Best Tipsters Of 2014.

In this report we have crunched the numbers from the 58 (yes 58!!) top tipsters we track to help reveal which tipping experts made the most money betting this year.

Not only but this but we also unveil…
The Best Tipsters After Costs: See their genuine profits AFTER their subscription fees have been taken into account.
The Best Tipsters Long-Term: View the full results for all 58 tipsters dating back several years (some as far back as 2004)
The Best 'Hall of Fame' Tipsters : Discover who the 20+ top tipsters are that we recommend.

Sign-up here to gain instant access to this latest report (and our entire back catalogue of tipster reviews, systems & betting guides) or read on for more details…
The Top Tipsters From The Past 12 Months
For example, in this latest report you can find just who the best overall tipster services are from the past 12 months. This is AFTER tipster subscription fees have been deducted.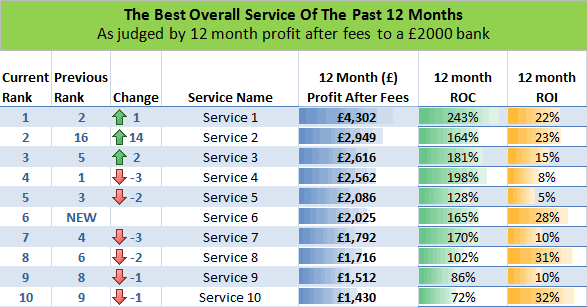 We have blanked out the names of the tipsters as this is for full members only (after all, it's a secret!), but as you can see – the top tipsters are making an excellent profit. This table also includes other key figures such as Return on Investment (12 month ROI) and Return on Capital (12 month ROC).
In each Tipster Profit Report we produce several other 'Tipster Tables' so you can quickly and easily find the best, most profitable services out there.
Don't worry about the £2000 bank amount either – you certainly do not need that much to get started, its just a simple number we use for easy comparison.
Grab Your Best Tipsters Of 2014 Profit Report Immediately
You can pick up your copy of this latest report, the instant you join our service at the Smart Betting Club with full access to our exclusive members-only area.