Hitting the 'shelves' today, we have our very latest Sports Betting magazine, the release of which means it's a great time to join us at the Smart Betting Club as we continue to analyse the world of tipsters.
The latest mag includes reviews of a couple of exciting tipsters, alongside our unique ratings of all the best services that make up our Hall of Fame. All of which has been designed to help you follow the best tipsters and find out just who is in form.
This month we also have some 'plug and play' strategies for you to apply for Half-Time/Full-Time betting on football that are potentially very lucrative.
The full contents of our latest mag includes…
The tennis and football tipster who has made 215 pts profit from 506 bets in the past 18 months alone. At just £20 stakes that £4,300.00 and with all the football bets available for free we give our full and honest review. Find out if they make our 'Hall of Fame.
Check out the profit graph on offer from this tipster below – the kind of stable profit that George Osbourne would kill for!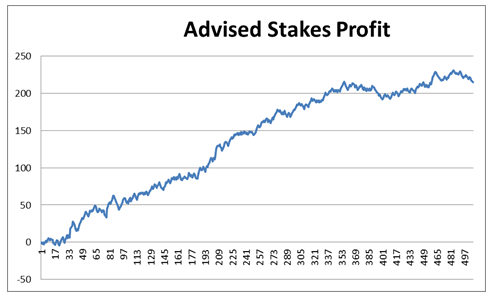 Our exhaustive look at how to make bigger profits from your football bets by playing the Half Time markets. View all the stats on which teams to back or lay at half-time including…The 6 teams to oppose and 4 teams to back at half time in the Premier League, which would have made you 17.86 pts from 61 bets last season.
To give just a flavour of what this means, we have this exclusive excerpt from the magazine below:
Half time team trends
Here are some more statistics to help with your research drawing from significant trends across Europe.
Teams with noticeable half time trends at home:  
All trends refer to home games only.
Everton have won just 4 out of their last 20 home games at half time. 
Wigan have the worst half time record over the last 20 games in the EPL 3/20. 
Montpellier (France) have won just 3/20, losing 6/20, yet have won 10/20 at full time.
Bayern Munich (Germany) are solid at half time with a record of 14/20.
Barcelona are first half monsters, winning 16/20 at the break.
Teams with noticeable half time trends away:  
All trends refer to away games only.
Stoke have won 0/20 at half time! Drawing 9 and losing 11
Man U have won just 6/20 games at half time away. 
Gijon (Spain) are slow starters, losing 12/20 games at the break, winning just 2.
Stade Brestois (France) are dire at half time winning 0/20 and losing 10/20.
Nice (France) aren't much better, with 0/20 wins, but do have the highest half time draw rate in France with 14/20.
Arsenal are a key 'result' team at half time away drawing just 3/20. Laying the draw could therefore be a useful strategy for trading or half time betting.
Real Madrid have an incredible half time record, winning 14/20 away at the break.
Further magazine content includes…
The well known German football expert and a review of his potentially excellent tipster service, which is offering a free trial for all SBC members until the end of the year in an exclusive deal.
Our exclusive interview with a former odds compiler, turned bookmaker consultant who lifts the lid on what goes on behind the scenes at the bookies. Find out his suggestions for where and with whom to bet including…

How best to exploit the football goal scoring markets
The bookmaker consistently wrongly pricing up the market on 'both teams to score'
The bookie which has got rid of half of its racing trading team, making them extremely vulnerable to canny punters.
Plus much, much more besides including all the latest stats, reviews and updates on the best sports betting tipsters, plus all the free strategies and systems for you to download or follow on our members forum.
Click here to join today and gain instant access to all of this and more for the equivalent of just £1.32 per week.