A question that we regularly get asked here at the Smart Betting Club, is just who the best performing and most reliable tipsters actually are?
After all knowing exactly who you should follow with your own hard earned cash is critical to making money betting.
Well the good news is that here at SBC, we regularly publish full stats on what we believe to be the elite list of betting tipsters.
These are those services that make it into our Hall of Fame, which is our fully vetted and recommended list of tipsters for you to use. We update this each month based on all the proofed results records we keep – to ensure its always fully accurate and up to date.
To help illustrate just how well our Hall of Fame tipsters perform, below we have published the all-time profit figures from the top ten SBC rated services.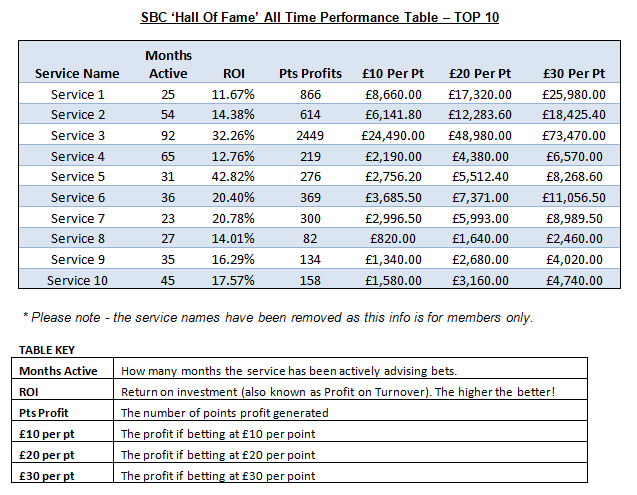 How This Table Can Help You
Now whilst we can't reveal who is on this top ten list to those of you not yet SBC members (for obvious reasons) it does help to showcase what can be made from following them.
What we can tell you is that it contains a mixture of Horse Racing and Football based tipsters, providing a nice blend of sports for you to bet upon.
It is also worth noting that all the services on the top ten list have been in existence for at least 2 years, with the longest having been taking on the bookies with success for 7 ½ years! It's no wonder that at £10 stakes he will have made you nearly £25,000 since then.
Here are some more stats to consider about our top ten list…
On average, our top ten tipsters have been active for 43.3 months, effectively 3 ½ years – so you know they are proven to work. These are not your usual 'here today, gone tomorrow tipster'
At just £10 stakes, the average profit is £5,466.0.
At the higher £30 stakes, this average profit rises to £16,398.00.
Our best performing tipster (Service 1) will have made you £8,660.00 at just £10 stakes in just over 2 years.
It's fair to say that these are the tipsters who have proven to be reliable performers and most of all have demonstrated a clear edge over the bookmaker. Simply put they provide you with the best chance of making you money betting.
Find Out More As A Smart Betting Club Member
You can get all our tipster ratings each month as a Smart Betting Club member, including access to just which services are in our Hall of Fame.
We update this each month with all the latest results from each tipster to make sure you are fully clued up to who is in form and worth following.
What's more, we also provide you with informed reviews each month on all the best up and coming tipsters that you need to know about – before anyone else!
Join up today via www.smartbettingclub.com