In the last few months I have been blogging on the details of our 7 top-rated football tipsters that we monitor as part of our service. You can find my latest blog post on this here.
However, here at the Smart Betting Club we don't just monitor football tipsters as we proof all manner of services focusing on sports as diverse as Darts, Tennis and NFL.
Along with football though, it's horse racing tipsters that make up the bulk of the services that we actually monitor. Racing, after all is synonymous with betting. So just how profitable have our top rated racing tipsters been? Well let me show you…
The 9 Best Racing Tipsters We Recommend
At this moment in time, we currently recommend 9 different racing tipster services in our Smart Betting Club Hall of Fame.
A Hall of Fame ranking effectively means we give that service a full recommendation as one you can trust to join with  own money. We don't just talk theory here as we follow most of these tipsters with our own cash so know what we are talking about.
Such a ranking takes time to achieve with often a minimum of 12 months proven success, a strong professional operation and ease of following some of the main requirements.
Below you can see the exact performance from all 9 of our Hall of Fame racing tipsters since the start of 2010.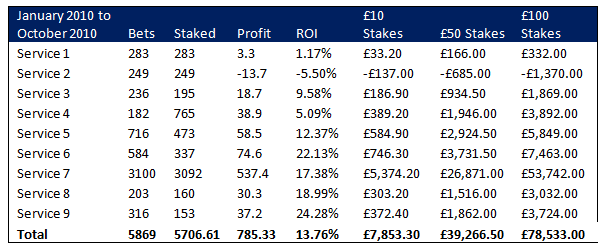 (Please note – the actual names of each tipster have been protected and are available to full SBC members only).
What This Table Tells Us
The vast majority of services have seen some outstanding performance, with Service 7 in-particular making some fantastic profits via their very busy approach. They average around 400 bets a month and at simple £10 stakes you would have made over £5,350 during this period. Many of our members follow this service at more than £30 a point, which would work out at over £16k this year alone. Thanks to our recommendation, Service 7 now operates a waiting list policy, but spaces open up quickly and it's SBC members who are usually at the front of the queue because we are the only place to recommend them.
Service 7 does take the focus due to its high bet approach but the best Return on Investment service is actually number 9, with 24.28%. What the ROI figure means is that for every £100 staked you would win £24.28 back. Not far behind on that front is Service 6 with a 22.13% ROI and Service 8 with 18.99%.
All combined if you had followed the majority of our recommended services you would be showing a substantial profit. The only slight letdowns have been Service's 1 and 2, which are both very long-term tipsters, which will reward those most patient. We are confident both of these will pick-up before long.
Find Out More…
If you are keen to find out all the details on the 9 racing tipsters above, their identities and how you can start following them, all of this is available as a Smart Betting Club member.
We place thousands of pounds ourselves each week following these tipsters so as always we put our money where our mouth is.
In our most recently published SBC Issue we also shared our beginner's strategy on money management, which contains easy to follow guidance on how to best follow these tipsters.
Not sure where to start? How to follow most effectively? How much to stake?
All of this and more in answered in this Issue and it's a great time to get started.
Sign up for a Smart Betting Club membership here today.