The Latest Smart Betting Club Magazine (Issue 94) Is Now Available
Discover the latest on the best tipsters to help you make money from your betting!
Sign-up now to gain instant access to your copy or read on for more details…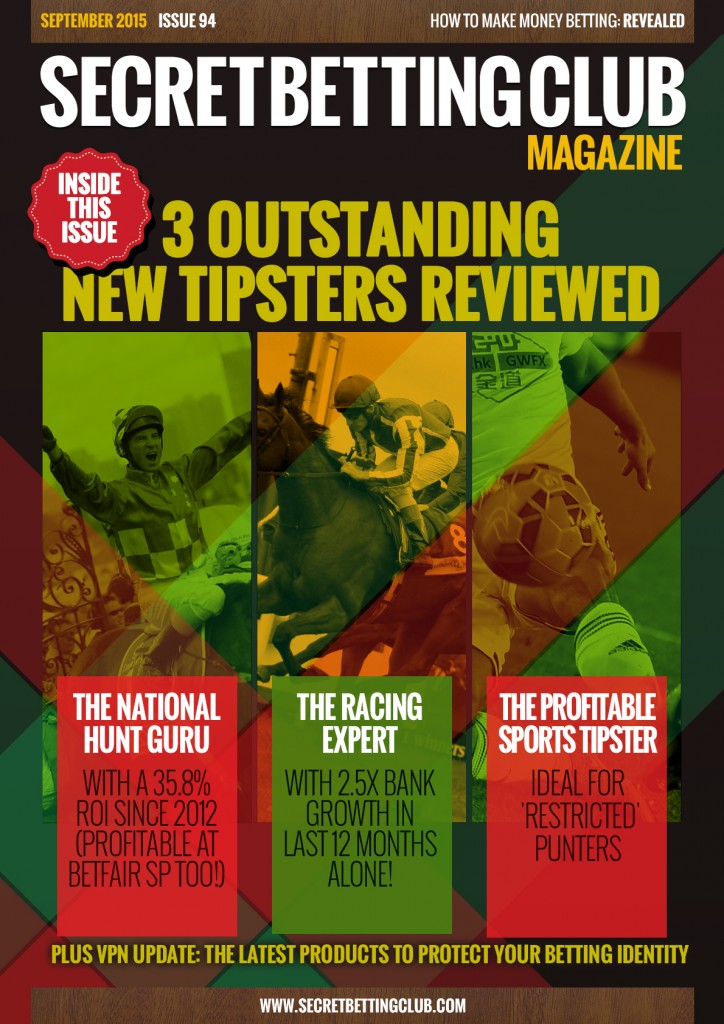 INSIDE ISSUE 94
3 Outstanding New Tipsters Reviewed Including….
1. The Highly Recommended National Hunt Guru with a 35.8% ROI Since 2012
(Also profitable at Betfair SP!)
2. The Profitable Multi-Sport Tipster with an 81% Strike-Rate. Ideally suited if you're a 'Restricted Punter'
3. The Racing Expert with 2.5 X Betting Bank Growth in the last 12 months alone.
…Includes our real-life guide on how to follow this service on the betting exchanges
PLUS Our VPN Update on the latest software to help protect your betting identity.



All Reviews 100% Independent & Punter Friendly
Best of all, each of the reviews inside SBC 94 is 100% independent so you can be sure that when we say a tipster is good, it is because it genuinely is (and not because someone is paying us to say so!).
This is what separates us from ALL other tipster review services who rely on generating sales for the tipsters they review in order to make money. Instead we charge you as a member a low annual fee and in turn you can expect fully independent and punter friendly reviews.
All of which is why for the past 9 years we have been firmly established as the leading tipster review service on the Internet.
Sign-Up Now And Gain Instant Access
The instant you join the Smart Betting Club, you will be able to download Issue 94 and discover the latest on the very best tipsters under our review microscope.
Not only this but an SBC membership also provides access to a whole load more expert reviews, strategies and interviews via the many other magazines & reports we have published in our 9 years operating the Smart Betting Club. There is a huge back catalogue of expert betting reports for you to enjoy!
If taking up either a Gold or Platinum subscription you can also enjoy the peace of mind of our Money Back Guarantee if not satisfied once joining! Ensuring you can sign-up totally risk-free, with everything to gain and nothing to lose.