In my blog post last week, I spoke about the importance of patience, emotional detachment from your bets and a long-term vision and today I want to expand further on this with more professional punting advice.
In particular I want to talk about another term many punters run away from, namely that of 'betting banks'
Whether you are backing your tips, running a system or following a tipster – a betting bank is absolutely imperative.
A good betting bank will allow you to keep track of your performance, stake sensibly, avoid going broke and ultimately to maximise your profits . As the example I share later on where a simple £10 stake has made £1334.08 over the past 12 months will testify…
Experience tells me that many punters avoid betting banks either through ignorance or through a lack of understand as to how they work.
Yet, I am here to tell you that betting banks are very simple indeed and to show you how they work…
A different betting bank for each tipster
First off, I always recommend you have a separate betting bank for each tipster you follow.
This is because each tipster has a different staking plan, different strike-rate and requires its own individual approach.
For example – if you had a tipster with a 10% strike-rate, a 50 point betting bank would be far too small. As this excellent don't go broke table outlines, at a 10% strike-rate, you would have a 25% chance of hitting 51 losers on the bounce over a sequence of 600 to 650 bets. 51 losers on the bounce would break a 50 point betting bank.
Yet if you had a tipster with a 30% strike-rate, there is a less than 1% chance of a losing run 28 tips strong over the same period. So, at very worst, you might only lose 28 points of your 50 point betting bank. Not ideal but covered by your betting bank.
Real-life example
To explain more, allow me to outline how the betting bank works for the tipster I focused on last week from the latest SBC Tipster Profit Report, which has made a ROI of 49.2% over the past 12 months.

We recommend a 100 points betting bank for this service based on our extensive modelling on the profile of bets they supply.
To briefly outline why it's 100 points – we took into account their biggest drawdown since conception in 2009 and viewed what might have happened in the absolute worst context. That is if you joined on the exact day the worst run started.
The chart below outlines these worst runs over time, which as you can see has peaked at around 46 points, whilst also has broken the 40 point loss barrier on 3 other occasions over the years.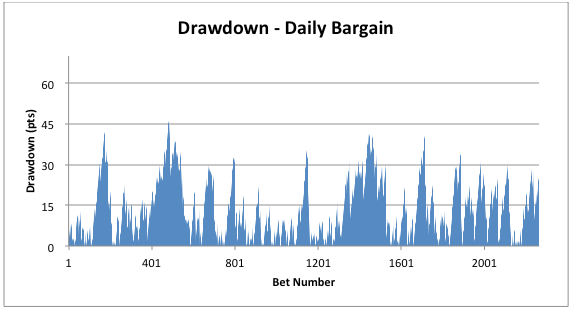 As we know this service has a strike-rate of 16%, using the don't go broke table again, we can also see there is a:
75% chance of 24 losers on the bounce every 600-650 bets
50% chance of 29 losers on the bounce every 600-650 bets
25% chance of 34 losers on the bounce every 600-650 bets
Less than 1% chance of 53 losers on the bounce every 600-650 bets
This data certainly seems to ring true with several runs dropping between 20 and 30 points on top of a few in excess of 40 points. We haven't yet hit the 53 point drawdown yet, although that always remains a statistical possibility and we would be foolish to ignore it.
Adding in extra cushion should the worst happen!
Despite the fact the worst runs seem to be peaking out at 46 points historically and 53 points theoretically, our approach here at SBC is to add in extra cushion to your betting bank beyond this to cater for the worst case scenario.
The reality is that if you had just a 60 point betting bank, most punters would have given up once they lost half or more of it during a bad run.
On paper you might think you could stand such a run but experience tells us quite the opposite rings true.
I see it all the time unfortunately – punters giving up the ghost on a good tipster or method simply because they had an inadequate betting bank.
All of which is why our policy here at SBC is to add in extra cushion and to recommend a 100 points betting bank for this service.
Yes – you might not ever need the full 100 points (let's hope not) but when the runs of 30 or 40 points happen – as they always will – then you are covered.
The power of betting banks
The other major advantage of a betting bank is that it is very easy to see how much money you could make following a tipster using them.
Taking our example tipster, for whom we recommend a 100 point bank – with a starting pot of £1000 and staking £10 per bet, you would have made a £1,334.88 profit after the tipsters cost has been deducted.
At £5000 this grows even further to £7,493.28 profit after tipster costs. All over the past 12 months.
See what I mean here…

And because this is a tipster that has a fantastic track record historically, you could have made even more dating back 7 years with him.
That £1000 starting pot would have made £4,103.16 after fees and £5000 will have returned a £26,247.96 profit.

Not bad for a simple 1 bet a day strategy and even one that has had losing runs as big as 45 points during this 7 year period.
Betting Bank Advice Across Every Tipster
For each tipster we review and recommend here at SBC, we provide betting bank suggestions for you to use.
This helps to provide you with peace of mind that we have analysed their historical and theoretical data in depth and put together an optimised betting bank that will cover all bases.
And as our policy of ensuring you lose no more than around 50% of your bank during the absolute worst runs will attest – this is not a risky strategy either. Plenty of cushion has been factored in.
If you are after more help with your betting, you might like to consider a Smart Betting Club membership, which comes complete with a 90-day money back guarantee and is discounted by as much as £45 for 2018.
Subscribe NOW to the Smart Betting Club
See you on the inside
Best Regards,
Peter Ling
Smart Betting Club Editor