In this week's column, I am handing over to Dave from the Goran's Winners tipster service, who has penned a special piece on in-play football betting for us.
In-play football betting is this service's speciality and Dave has some sagely advice to share on how you can use Asian Handicaps to transform even the toughest of games from a betting viewpoint!
The team at Goran's Winners know a thing or two about making live betting pay and in a special deal they are offering all readers a special £2 trial of their in-play service, which will run from Friday the 15th to Tuesday the 19th. You can sign-up to this via http://www.goranswinners.net/promotions/trial.php *
*Note – even though their website states Sat & Sun, the SBC trial is a special 5 day offer*
In-Play Asian Handicap Football Betting Explained
Imagine a strange game of football where every time a goal is scored, the game resets back to 0-0 – Who would win from this point?
Even if Liverpool were already 3-0 up against Fulham, there's still a game on as either team could win from 0-0. Will Liverpool sit back and let one slip, or will they push on and score more?
Doesn't it make the game more interesting when you look at it this way?
Welcome to the world of in play Asian handicap betting. Here the rules of the game are slightly different as whenever a goal is scored, the line resets back to all square and you're betting on what will happen from this point.
This offers a tremendous advantage to the punter, as you can bet on the outcome of the game from the point of the last goal, bringing games back to life when the favourites are backed in to 1.01 on Betfair.
Handicaps bring the game to life
Asian handicaps level the playing field in a game by giving the favourite a penalty they have to overcome (or the underdog an advantage). With space at a premium in this article, I'd advise you to check out this page to learn more about how handicaps work.
Here are 3 examples of how you can transform your betting with in play Asian Handicaps:
1) In-Play Betting Explained: When The Favourite Goes Behind…
Napoli v Marseille: November 6th 2013 Champions League
Here's an example from a recent Champions league game that Goran covered. Napoli were overwhelming pre-match favourites, but conceded an early goal. Goran pounced with the following bet:
Napoli (-1.0) Asian Handicap @ 1.70
The bet: Remember, the score was reset back to 0-0, so Goran was predicting that Napoli would score at least two goals from this point, with the safety net of a refund if Napoli only won by one.
The result: It was an incredible game that Napoli nipped 3-2 at full time. From the point of the first goal, the scoreline was 3-1, making the bet a nice outright winner. Had you taken the (-1.0) handicap pre match (available at similar odds), you would have only had a refund.
2) In-Play Betting Explained: 

When The Favourite Is In Front…
England U21 v Finland U21 November 14th
England U21s were 2-0 up at half time, but the game had stalled going into the final few minutes. With the line reset back to 0-0, could England win from here? Or was it going to peter out? The image below shows the line at the 81st minute.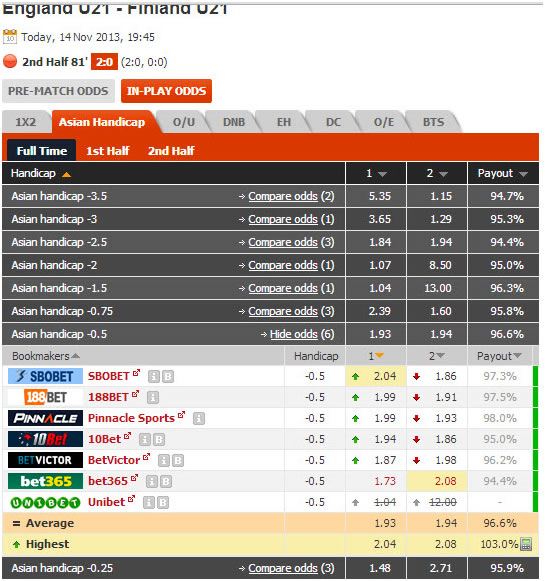 The most popular line was (-0.5), the same as the home win, which meant you could get 2.04 on England to win from a 0-0 position. On Betfair the match odds were no longer backable having gone from 1.01 to nil, but the in-play Asian handicap helped keep the game alive from a betting perspective.
As it turned out, England knocked in an injury time goal, making it 1-0 from the reset and 3-0 over 90 minutes. Had you backed England (-0.5) in play @ 2.04 you would have a winner.
3)In-Play Betting Explained: Using The Right Bookies Is Key…
Not all bookmakers offer in play Asian handicaps in this way, but the good news is that those that do offer tremendous liquidity and are open to your winning bets.
The best place for odds comparison http://www.oddsportal.com. When a game goes in play, click on 'live odds' then go to Asian Handicap as the example below shows:
For in-play Asian handicap betting, the following bookie accounts are a must (for pre match betting too):
Pinnacle
188.com
SBObet
Dafabet
Bet365
What No Betfair?
While you might think that Betfair is the only place for in play betting, when you factor in their 5% commission, you often get much better odds with the Asian bookies (the same is true with pre-match betting). There in-play Asian market also works differently – It doesn't reset to 0-0 and liquidity can be pretty thin. If you really want to use Betfair in this way, there is a work around and you can contact me on admin@goranswinners.net for more info.
I hope this has opened your eyes to a different way of betting in play and how you can use it to your advantage.
Good luck with your betting!
Dave
About Goran's Winners
Goran's Winners is one of the top-rated football tipsters that we regularly report back on here at the Smart Betting Club. He is currently ranked 7th in our best all-time tipster table with an annualised average profit of £2,297 from a £2000 bank.
Don't forget you can also take up his special £2 trial running from Friday 15th to Tuesday the 19th here.
Best of all, SBC members get an exclusive, free upgrade from Silver to Gold membership at Gorans Winners as part of our Discount Club – A saving of over €200.
54 Tipsters In Our Latest Report
You can find details on more tipsters like Goran in SBC's newly released Tipster Profit Report, featuring the results and ratings on 54 top quality services. Access this immediately with a Smart Betting Club membership.