The generous guys at Bet365 are offering a FREE in-play bet up to £50.00 on tonight's match in Madrid (Full details can be found HERE) and we have an easy to follow guide to help reveal how to lock in a profit, whatever the result.
Before kick off find a bet that you can closely match on the exchanges, i look for one that will give you as close to zero loss as possible. In the Over/Under, and Match odds markets, you should be able to find one that is close.
To work out your stakes it is best to use a custom made calculator such as this one:
http://www.trickybet.net/dutch-2-way
You can use this calculator to calculate your qualifying bet stakes, ticking the Normal bet / Qualifier / Arb as the Bet Type.
Here is an example of a qualifying bet that shows a back of Real Madrid with Bet365 @ 1.65 and a Lay of Real Madrid on Betfair @ 1.67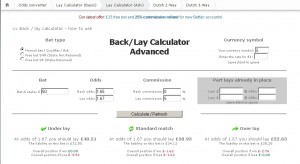 This shows a loss on the qualifying bet of £1.62
All you need to do then is place your in play bet and it is best to wait until half time (safe as no goals can be scored to ruin the bet)
Look for a reasonably high odds bet such as correct score (odds in the region of 6-15 are ideal but you can go higher or lower).
Make sure you tick the Free bet SNR (Stake Not Returned) button as the Bet Type, fill in the numbers, you can then place your back bet on Bet365 and then the Lay bet on the exchanges.
Here is an example of an in play bet using the correct score 1-1, backing this at 9.0 with Bet365 and a Lay on Betfair @ 11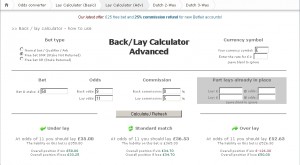 This shows a profit whatever the result of £34.70
You can play around with different markets/odds on the calculator. You can Underlay, Standard Match or Overlay, you can choose, I generally Standard Match for this type of offer.Sit back and wait for your money to arrive – Simples.
Enjoy This? More Bookie-Bashing Advice As An SBC Member
If you enjoyed this article, you can find more advice on how to make a profit betting available as a Smart Betting Club member.
The great news is that all of this available for the equivalent of just £1.52 per week and with a full money back guarantee if you are not in any way satisfied once you join.