This is a continuation of our exploration into betting upon corners, where this week we look at the resources you can use to help compile your best bets. You can find the first part of our how to bet on corners article here.
Betting on corners – Websites and resources to help
For the newcomer to corner betting, finding out about the various markets isn't particular easy but we have a few suggestions to help make it all a bit easier.
Odds Comparison & Bookies
In terms of checking your bets, the best location is often http://www.oddschecker.com, who for all the big games will offer odds comparison on all the major corner markets.
Be warned though that the corners markets do not often appear until around 24 hours before the game starts – in line when the majority of bookmakers offer their own corner odds.
So for a Saturday 3pm game, you often won't be able to find a large range of corner markets prior to a Friday afternoon. There are exceptions to this rule however, often involving the larger games.
The usual suspects for corner odds include: Bet365, Skybet, VCbet, Paddy Power, Sporting Bet, Bwin, Coral, William Hill and Ladbrokes. Be aware though that not all these bookies will appear in the oddschecker comparison pages, so it is well worth doing individual research at their own sites for the best odds at times.
Corners Data & Stats
One important thing to keep in mind with corners betting is that the odds for corners can be unrelated to the match odds for one important reason – A team's ability to generate corners has very little impact on their ability to win the game. According to Soccer By The Numbers in the Premier League, a corner is worth 1 goal every 10 games! In other words, a corner can be seen as a wasted chance instead of an attacking opportunity.
As a brief aside it should be noted that not every team defends corners properly, as Rafa Benitez's examination of the teams that concede from set-pieces proves. West Brom in particular have a woeful record defensively, finishing bottom of this particular record in 3 out of their 4 past seasons in the Premier League.
Back on to the data at hand though and its fair to say that corners are mostly unrelated to goals and therefore also to the result of the match. So when investigating corner markets, it would pay you to ignore league tables and focus more on corners and factors that specifically influence corners.
There are a range of sites available when it comes to weighing up the best corner betting angles.
In terms of historic data on corners, Football Data publishes the corner stats for each bet in a range of leagues all available for free. These however do not come with historic odds for the various corner markets.
We are also big fans of Leon Pidgeon's Simple Soccer Stats as through its main console you can analyse corner betting from 14 different leagues back to the 2007/08 season.
For example for the St Johnstone – Aberdeen game listed in Part 1, a quick look at Simple Soccer Stats produce the following for all games featuring these teams from August 2010 to December 2011.

We can see its quite a tight match-up because at home St Johnstone have won 14 out of 26 corner bets, whilst Aberdeen on the road 13 out of 26.
You can also get further stats by hovering your mouse over the two horizontal bars such as below, which reveals that at home St Johnstone average 9.2 corners per game. The expectancy therefore could well be for a low corner game.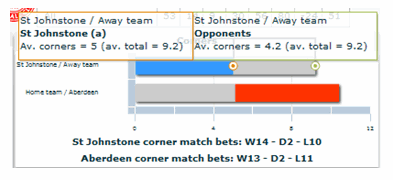 For those of you who like to bet in-play a great resource is that of www.whoscored.com, who update all the stats for major games minute by minute. Take the example from the Chelsea – Man City game, whereby the home team won by 5-1 on the corner front.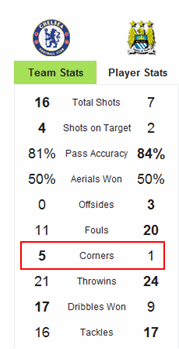 Who Scored also provide a whole extra set of stats to help inform you further on your corner betting.
———
Thats all for today, be sure to check out Part 3 soon when posted on the blog. If you are after further in-depth help on Corners betting including interviews with experts and strategies to get you going, then pick up a Smart Betting Club membership today.