One of the best ways to make money when it comes to football betting is to specialise. That is – to drill down into 'niche' betting areas where the bookies are vulnerable as they simply don't have the time to check the odds on every market.
For example, take a look at any Premier League football game with one of the major bookmakers. Each game often has a bewildering array of sub-markets beyond just the simple Team X to beat Team Y traditional bet. Then multiply those markets by the number of games in an average weekend – the amount of markets to bet upon goes into the thousands!
With so many markets the bookies get lazy and use computers and formulas to help them price up some of the more obscure bets – leaving them vulnerable to a shrewd punter with an eye for value!
One such area they are particularly vulnerable in and ripe for exploitation is that of 'Corners Betting', which a number of our experts at SBC have been tapping into of late. Which is why we have this first part of a 3 part guide on 'how to bet on corners' to share with you.
If you like this article, be sure to check out our full corners betting insight, including our full strategy to make it work and interviews with 4 corner betting experts in Smart Betting Club Issue #67.
Betting On Corners – An Introduction

For those of you new to betting on corners, it's worth running through some of the basics to get you up to speed.
To help with this we will use the Genoa V Inter game from the 13th December. The best prices are as follows:
Genoa: 3.50
Inter: 2.32
Draw: 3.35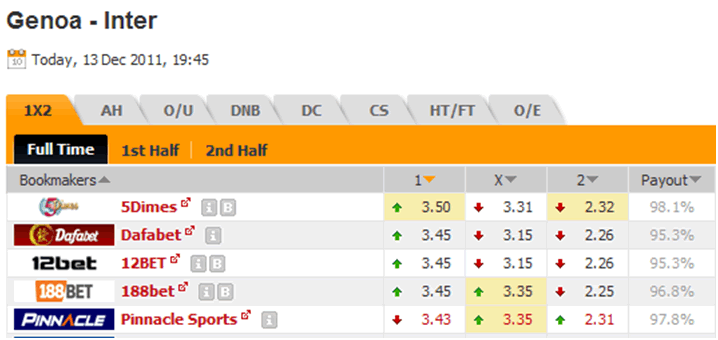 Next, lets look at the corners betting for this game and one one of the most popular markets – the team to enjoy the most corners during the game. As you might imagine, this is a simple bet on Team A to get more corners than Team B. Although it is worth noting that if corners tally is equal at the end of the game, this bet will lose.
Looking at the markets for most corners, three bookies had priced this up and the best prices for each team were as follows:
Genoa: 2.35
Inter: 2.1
Draw: 7.0
Comparing these prices on most corners to the market on which team will win, the bookies seem to think that Genoa have a much greater chance (2.35) of winning the most corners market than the actual game (where they are 3.50).
Naturally we have to factor in the fact a draw in the most corners market is much less likely than a draw in the actual scoreline, yet that is quite a drop. There must have been something about Genoa and their style of play (and no doubt historical record when it comes to corners to see them such a short price).
Indeed, this short price on Genoa to win the most corners was correct as although Inter won the game 1-0 in a fairly dominant performance, Genoa still went on to win on corners 6 – 4.

Corners Handicaps Explained

For some fixtures, especially those whereby there is a strong favourite, you also might like to consider betting in the Corners Handicap markets.
To illustrate when such a bet might be appropriate lets study this fixture between Tottenham and Sunderland, where the home side were strong favourites at just 2/5 to win the game.
Reflecting the expected dominance from Spurs, Bet365 also priced up the most corners market as follows: 1/7 Spurs, 11/2 Sunderland and the draw at 10/1.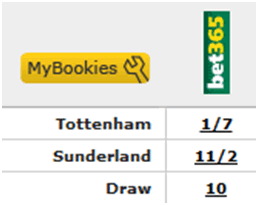 Many punters quite rightly are not keen to take on 1/7 favourites too regularly and so in this instance, you may want to consider betting with a handicap, that is to say to give Sunderland a head start on corners, which levels out the price and playing field. This can be found in the 'Corner Handicap' market, which is also fairly popular.
In the same Spurs- Sunderland game, Bet365 offer the following Corners Handicap market: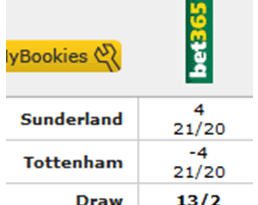 In this instance, you are effectively starting the game with Sunderland 4 corners ahead of Spurs. You can then take 21/20 on either Sunderland or Spurs with that in mind or on the 13/2 on it being level pegging.
Often times, this can be a fairly decent market to play if as we see above the outright most corners market is offering stingy odds.
Total Corner Markets

Another very popular angle for corners betting relates to the number in each game, with the 'total corners' market worth exploring.
The majority of games finish with between 9 to 11 corners, so it's normal to see markets based on over or under these figures.
For example, take the St Johnstone V Aberdeen game, where you can see a whole range of spreads on Oddschecker depending on what bet you wish to take…

There are plenty of markets on show here to illustrate the choice on offer to you such as…
Under 9 corners – Ladbrokes are offering the best priced 7/4 that there will be less than 9 corners.
Under 10 corners – Skybet, Blue Square & 888 Sport are offering 11/10 there will be less than 10 corners.
Over 10 corners – Bet365 are offering evens that there will be more than 10 corners.
Under 11 corners – Victor Chandler offering only 7/10 on less than 11 corners
Over 11 corners – Sporting Bet are offering 7/4 on over 11 corners in this market
There are also a range of other bets you can take such as exactly 10 corners or spreads such as between 9-11 corners with Sportingbet at 6/4.
The shrewd of you may notice the differences in prices between a number of bookies in this market. For example in the over 11 corners market, Paddy Power offer only evens, whilst Ladbrokes and Sporting bet go 13/8 and 7/4. Making it clear how important it can be to shop around when betting on corners.
Often you will find a whole range of other markets if you investigate further, so there are plenty of areas to specialise further such as:
Half with most corners
Most corners in first/second half
Race to 3 corners
Half corners over/unders
Total corners – home or away team
My advice though would be to steer clear of more random markets such as First or Last Corner or even the Time of first corner as these play into the bookies hands. It would be very hard to predict such an outcome.
—————–
Learn More With A Smart Betting Club Membership

If you enjoyed this article, you can find more like this in the in-depth Pro Gambler Blueprint supplied to all new Smart Betting Club members, which provides everything you need to set up your betting properly.
This 100-page blueprint features advice and guidance from seasoned professional gamblers in seven easy to follow sections:
Part One: Solid Foundations – Avoid common newbie mistakes by getting your betting off on the right foot.
Part Two: Money Matters – Betting bankroll management and how to maximise your profits
Part Three: Mindset and What Makes A Winner– Key lessons on what really matters from betting pro's
Part Four: What To Bet On – Football and Horse Racing absolute essentials
Part Five: Being Realistic – Tipsters or Systems? How to decide what suits you best
Part Six: You're The Boss – How to develop your own betting niche and become your own expert
Part Seven: Bookie Bashing – How to keep under the bookmaker's radar
We have over 11 years experience of helping people make money betting and have plenty on offer to help you make 2017 your best punting year yet.