You can bet on just about anything happening in football these days. Goals, corners, bookings, correct score, first scorer, players to score hat tricks, to be subbed, to be playing for a different club in six months time…..the list is seemingly endless.
However, many of these markets have large profit margins built in by bookmakers making it extremely difficult to make money from them. In this football betting beginners guide article, I will try and explain some of the main ones you are likely to come across over the course of the season.
Even if you already think you know your stuff, the article is probably worth a read as there is bound to be something that you were not previously aware of.
MATCH ODDS:
The market you will probably take most bets from this season is the match or 1×2 market, as it is sometimes called.
You simply select Home win(1) , Draw (x), or Away win (2) if filling out a coupon in a UK betting shop or you can write the bet out in long hand on a slip with the odds alongside (eg Arsenal 1/3 to beat Stoke £100 win).
Most major bookmakers have a profit margin of between 5-12% built in, generally referred to as the overround. The equivalent market on Betfair or Betdaq is available with no profit margin but you will have to pay between 2-5% commission on your winnings, so bear this in mind when you are comparing prices at the bookies and the exchanges.
1st HALF/ 2ND HALF BETTING:
An emerging bet type is betting on the first half or the second half in isolation. For example this might be betting on Manchester City to win the 1st half specifically, with the 2nd half having no bearing on the result. You can often get betting odds on a 1st half win because the draw is usually more likely.
You can also bet on the over/ under goals market specifically for the first or the second half.
GOALS BETTING:
Over/ Under 2.5 goals
An ever popular betting medium is betting on the number of goals in a game. In certain matches it makes sense to focus on this than the result. For example at certain times of the season, for example in a tight relegation dog fight, the result could go either way, but goals (or lack of) could be a better focus for your betting.
The main goals market you will most likely be using will be Over/Under 2.5 goals. This sometimes confuses people who are new to football betting as there is obviously no such thing as half a goal!
So why is 2.5 goals is used? It's so bookmakers can offer the bet on a single line. In reality with 2.5 goals betting, you are betting on there being over 2 goals or under 3 goals. By referring to 2.5, you have everything on a single line as three is above 2.5 and 2 is below 2.5.
Basically, if you back 'over', then you need three goals to win, if you back 'under', then you want no more than two goals.
Over/ Under 1.5 & Over/ Under 3.5 goals.
2.5 goals isn't the only option available to you though. If we look at the odds portal odds for this Everton v Wigan game, we can see a whole range of goal lines: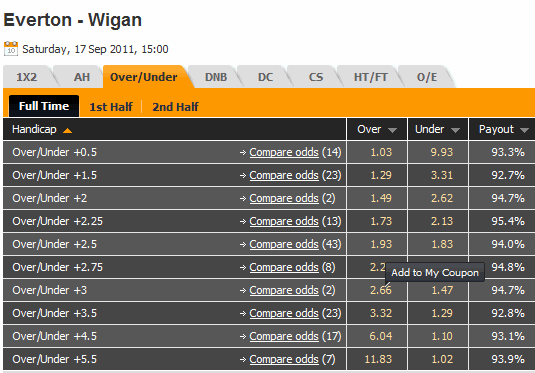 The majority of bookmakers (43) are pricing up the over/ under 2.5 goals line, but there are also a number at +1.5, +3.5 etc and some offering +2.25.
The +1.5 etc are relatively easy to understand as follows:
Over/ Under 0.5 goals means you want either 1 goal (over) or more or no goals (under).
Over/ Under 1.5 goals means you want either 2 goals (over) or more or 1 goal or less (under).
Over/ Under 3.5 goals means you want either 4 goals (over) or more or 3 goal or less (under).
Goal line & refunds
It can get pretty confusing with some bookmakers offering over/ under+2 goals. The difference here is that you get your money back if the game has exactly 2 goals. The downside is that lower odds are on offer.
Finally to make this just a little more complex, you can half split stakes bets like over/ under 2.25 goals.
This is half a 2.5 goals bet and half a 2 goals bet, meaning you get half your money back if the game has 2 goals.
The following table summarises the main over/ under goal line options.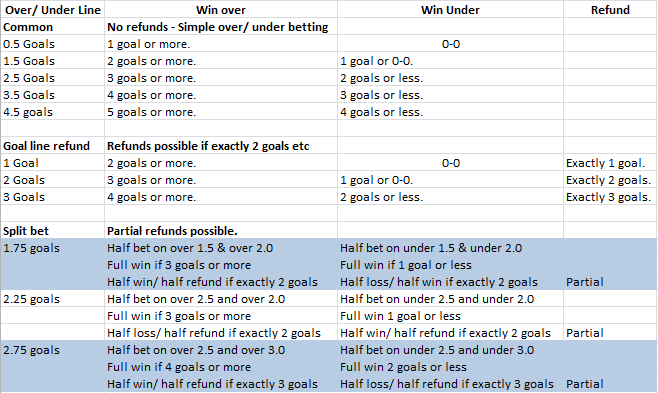 Look Out for Part 2
If you enjoyed this article, look out for our 2nd part of our How to bet on football guide coming soon on the blog. This will include our take on correct score, half time/full time and 'draw no bet' markets.
For even more help, then check out our Ultimate Betting Package, which contains our unique Professional Gambler Blueprint' – a comprehensive seven part guide to making your betting pay.
Packed with must real insights from proven experts, at 100 pages long, the blueprint will put you firmly on the path to becoming a full time betting professional.