Yesterday saw the release of the Racing Post half-time team talk update on the football season, featuring fresh analysis and tips on the best ante-post bets from many of their in-house experts.
The key question that many will be asking…is just how well have the Racing Post football tipsters actually done since the start of the season? After all, before you sign-up to follow their experts, you would want to know how their track record stands up since August.
So, to help answer this question, the team at SBC have reviewed Racing Post's 'Big Kick-Off' supplement (which was released prior to the start of the new football season in early August) and which featured their first batch of ante-post bets. The findings are a must for anyone following their tips in and what follows is a full rundown of its performance so far this season.
The main focus of the Big Kick Off was their English Premier League advice, so this is what we honed in on for this article. In total there were 4 main tipsters – Mark Langdon, Tony Cascarino, Didi Hamann and..ahem 'Unknown Tipster' who put forward top flight tips. Here is how they fared…
Mark Langdon
Mark is the Racing Post go-to guy when it comes to English Premier League tips and his name was attributed to 15 different League bets in August's pre-season update. The bad news is only 3 of the 15 are now trading lower than their original odds with just 1 bet (Man U to win the title) actually a winner were the season to end today. His best looking bet appears to be Juan Mata to top the assists charts at 22/1, as he is currently joint 2nd and trading at 8/1.
Bets that look unlikely to come off for Mark include Swansea and Stoke to go down, his top scorer bets on Bent, Cisse, & Borini plus his suggestion to back QPR on the handicaps.
When we come to weigh up Marks tips, there is one unresolved question over his advice on Fulham's Martin Petric to be top goalscorer with a +17 handicap. The Cottagers striker has now bagged 5 goals already this season, so it is fairly likely his odds are now shorter than the initial 15/1 advised. The problem lies in knowing how this bet stands in relation to the market as it was advised with Betfred who no longer offer this market for us to compare.
If the season were to end today, then Mark would be staring down the barrel of a 14.4 pt loss. Even if including Petric as a winner (being generous) then the loss would be -6.9 pts..
Tony Cascarino 
Always a tipster to divide opinion, there is a school of thought that questions why an ex-pro like Cas is allowed to feature so heavily in a line up of 'expert tipsters'. Does being a professional footballer automatically qualify you as a expert football tipster?
Well the jury certainly remains out so far as were the season were to end today, Cas would just about break-even from his advised English Premier League tips. His most profitable bet comes from his 2 pt tip on Everton to finish in the top six (which he advised at 5/1) and is now as short as 8/11 based on their good start.
Some less successful tips include Nigel Adkins to win the sack race at 8/1 – something that we noted wasn't listed in his updated pre-season bets published yesterday.
Didi Hamman
Ex Liverpool and Germany midfielder Didi Hamann is another player-turned-tipster who was featured heavily in the Big Kick-Off and he too is struggling to make an impact. Of his 7 top flight bets, only 2 are currently winning (although both were advised at odds-on prices). If the season ended today, Didi would be showing a 7.63 pt loss.
His bet on Man City to win the title aside, all the other bets Didi advised are now trading at much larger figures with some tips, such as West Brom to go down looking doomed already.
Unknown Tipster
The Big Kick Off Guide also featured a range of tips from an unaccredited source, and in retrospect, I guess they are relieved they didn't put a name up as they aren't faring at all well.
The one bet on Everton to finish above rivals Liverpool at 9/4 is the current sole winner with all 5 other advised bets losing. These include Reading to be the top promoted club, which has gone from 11/4 advised to a now best 33/1, whilst Aston Villa to be the top midlands club has moved from 13/8 to 8/1.
August's two other match bets on Reading to finish above Southampton (down by 6 pts) and Wigan to finish above Swansea (down by 8 pts) look like 11 pts down the drain already.
If the season were to end today, then Mr Unknown Tipster would be down to the tune of -12.5 pts. Ouch.
Full Racing Post Football Tipster Results
All told, combining the results for the Premier League tips would see you amassing a huge loss of -34.53 pts were the season to end today. There is some hope in the form of the bets on Petric and Mata, with the 1 pt bet on the Chelsea winger claiming most assists at 22/1 the likeliest saviour of their Premier League season.
That aside it looks like a Premier League season to forget from an Ante-post viewpoint and it's something all punters should bear in mind before they back their latest tips.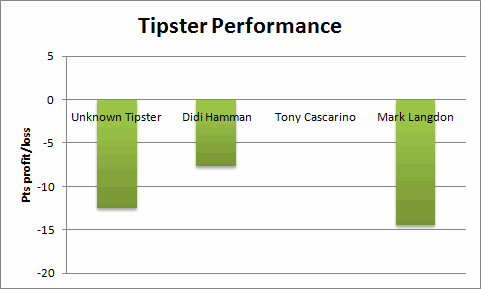 Lack Of Transparency
A regular criticism of the Racing Post is that they refuse to publish clear and transparent result figures for many of their tipsters. This is backed up when reading yesterday's 'Half-Time' update, as it listed only a selection of August's bets, which most conveniently (and suspiciously) seemed to be those that are showing a profit. For example, the 11 pts that look lost on their two match bets (Reading to finish above Southampton and Wigan to finish above Swansea) were nowhere to be seen.
As it's SBC's job to rate and compare tipsters, this is a major black mark in our book, especially from an industry leading newspaper that should be setting high standards. If you are going to give out tips and trade off the back of them, then it's only right that you publish fair records of profit and loss for each tipster.
Dan Childs – A Tipster Worth Following?
Although our focus for this update was the English Premier League, it should be noted that Dan Childs, the Racing Posts Football League tipster is enjoying an excellent season. Amongst the bets advised, he suggested Cardiff 2 pts each way at 12/1 and Hull 1 pt each way at 28/1 in the Championship, both of which are looking strong. Credit must go to Dan for some potentially excellent advice there.
Results On 52 Different Tipsters
If you found this article useful, you may be interested in our regular Tipster Profit Reports, which feature the full results for 52 different tipsters that SBC currently track. Published every other month, in each report you can find tipster league tables, commentary and ratings to help you navigate through the tipster minefield.
Of these 52 tipsters, over 20 of them currently feature in our Hall of Fame.  These services have been independently verified by the team at SBC and are viewed as being profitable over the long-term.