If you're looking for some solid Euro 2012 tips, then you don't have to look much further than the excellent Fink Tank ratings.
During the 2010 World Cup we tracked the predictive value of the ratings provided by Dectech/ Castrol and had a profitable time of it . The ratings have been made famous by Daniel Finkelstein's Fink Tank Column in the times and according to our testing are a robust prediction model.
Recent record: 
In the 2010 World Cup we managed to bag a profit of +10.49 points from 32 points staked.
For the last two Premier League seasons combined we made a profit of +72 points from 666 points staked (11% ROI)
All the qualifiers were made available on our forum.
Euro 2012 Tips
With Euro 2012 starting on Friday, it's time to put the Fink Tank to the test once again. 
Essentially we take a bet whenever the Fink tank ratings give a team a better chance than the bookies are implying with their odds.
First let's take a look at the ante post markets:
Euro 2012 Winner: 
The table below shows the odds of the winner, what the implied odds of victory are, the Fink Tank's prediction and whether there is any value in the current prices.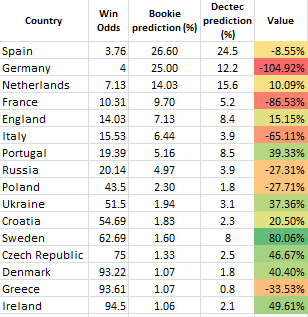 According to the Fink Tank, there's poor value in the front end of the market, especially Germany who are given just a 12.2% chance of winning compared to the bookie's implied 24% chance. There is some value in backing the Netherlands and even England according to the ratings. Portugal look a great value bet as an outsider, but they are still given less then a 10% chance. The best value outsider is probably Sweden who are given a 8% chance vs the implied 1.6% chance.
Our picks:
0.5 point Netherlands win @ 7.50 with various bookies.
0.5 point Portugal EW @ 21.0 with various bookies.
0.25 point Sweden EW @ 67.0 with various bookies.
Euro 2012 To Qualify From Group Stage: 
As you might expect, the value breakdown is similar with the group stage betting.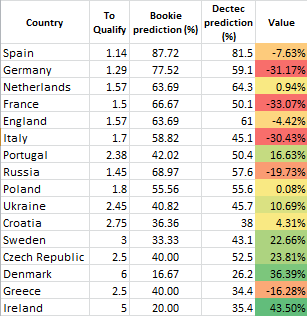 Portugal look the best value bet for the group qualification betting. There's no surprise in this, with Portugal competing with Holland and Germany to qualify from the 'group of death'. Elsewhere Ukraine look good value to qualify at 2.45, as do Sweden at 3.0. The best value bet for the group stage betting is Ireland at 5.0 who are given a 35.4% chance compared to the implied 20%.
Our picks:
1 point Portugal to qualify @ 2.38.
1 point Ukraine to qualify @ 2.45.
1 point Sweden to qualify @ 3.00
0.5 points Ireland to qualify @ 5.00
How To Get Every Fink Tank Euro 2012 Bet
We will be posting Fink Tank analysis and value bets on each Euro 2012 game via the Smart Betting Club members forum throughout the tournament.
You can access these by taking up a risk-free subscription today to our service.
Alternatively, if you want more Euro 2012 analysis, including the full rundown of best bets for the tournament then pick up our free Euro 2012 tips guide.