As part of our preparation for the new football season, we spoke to the betting exchange, Smarkets, to get the very latest on their service and just why punters should consider them when football betting.
With some extremely competitive odds, 2% commission rates on winning bets only and a wide range of markets on offer, they are fast becoming the must-have betting account for punters everywhere.
Special 1% Commission Deal: The great news is that as an SBC reader, you can pay 1% commission on your first week of betting with Smarkets PLUS enjoy a £10 risk free bonus. Click here to open a new Smarkets account.
SBC: First off, can you explain why punters should consider using Smarkets?
Smarkets is the smart choice for price sensitive customers. We offer the lowest industry commission, only on winning bets, and this allows us to consistently offer the best odds on any market we offer.
As a quick comparison of how you would be better off at Smarkets let's compare the odds for the top 5 to win the premier league title at a selection of bookmakers and Smarkets (odds correct at the time of writing this interview). We are offering the best odds on Chelsea, Man City & Liverpool, even when you account for our low commission, which is on winning bets only.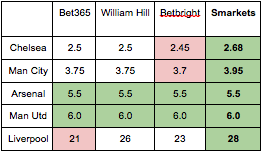 SBC: What are your current commission rates?
Smarkets customers pay a flat 2% commission on all winning bets. Customers who sign up through the Smart Betting Club do have a special deal though and receive a week at 1% commission, along with the £10 risk free bonus. This applies to your first week of bet settlement.
SBC:  Can you remind readers of the football markets you offer?
We're really excited about the start of the new football seasons across Europe. Smarkets offers all the biggest leagues in the world, all the way through the Conference in England with all the regular markets like over / unders, correct score and of course 1×2. The bigger the league, the more liquidity will be available, but football and horses are our strongest areas and we intend to keep it that way.
SBC: What new leagues or markets are you offering this football season?
We've just added the Premier League winner and relegation markets, and the Championship outright winner market as well. Customers backing long term markets at a bookmaker aren't going to see a return for up to 9 months, but trading at Smarkets lets you get in and out of the market and take profit throughout the year without tying your bankroll up.
SBC: One concern punters have with exchanges is the amount of money or liquidity available in your betting markets. How does that stand up on Smarkets?
Liquidity is always improving, we are growing at an incredible rate and with more customers comes more liquidity. We're especially strong on football and horse racing, but customers should have no trouble getting their trades on and matched in most sports. Essentially we want people to know that they can bet with confidence with Smarkets, that their bets will be matched (at reasonable odds of course!) and that our in-play offering has improved immeasurably since the start of the last football season.

SBC: How exactly have your in-play markets improved?
Since the start of last season in-play has seen a huge lift in liquidity which makes it quicker and easier to get bets down on during the match. We've also cleaned up the interface and added a play tracker that shows you which team is attacking, defending and key moments.
SBC: How about betting on a mobile or tablet with Smarkets?
You can use your mobile or tablet to bet with Smarkets. There is an android app available and we're working on IOS at the moment. There's also a great mobile version of the site that's compatible with most handsets and gives you the same great value prices as the desktop site.
SBC: Another concern for exchange punters is site stability, something Betfair continually suffer from a lack of. How stable is the Smarkets website?
Vast improvements have been made to the site stability in the last 6 months. Smarkets has been aggressively hiring which has seen the engineering team increase by 50%. This, alongside investment into hardware has helped to prepare the site to allow for greater scalability as more and more customers join. Like all sites there are some things outside of our control, but we work harder than everyone else to put the customer first and get them back to trading as soon as possible. We're also open about our stability, it's there to see on Smarkets for anyone who wants to know what our uptime record is and how many breaks there have been in availability https://smarkets.com/about/status/
SBC: What other developments are new on Smarkets since we last spoke?
There's been massive investment in the development team to ensure the site is able to cope with the huge upturn in customers and traffic we're seeing. With every new customer there is more liquidity in the markets and that's part of the service we want to provide to everyone.
SBC: Finally, can you explain how the £10 risk free bonus works for new customers?
The sign up offer is £10 risk free following an initial deposit of £20 or more. It's probably the simplest bonus available at any site! Just start placing your trades and the bonus automatically refunds your first £10 in losses, direct to your account, in cash.
We run promotions throughout the year (Wimbledon Men's Final tickets was a big one over the summer), and this season will be no different with plenty planned to give value back to our customers.

SPECIAL SBC DEAL
Try out Smarkets and pay just 1% commission on your first week of betting PLUS a £10 risk free bonus. Click here to sign-up with Smarkets now