With the start of the New Year, it's an optimal time to update you all on the progress of the 9 Hall of Fame racing tipsters I have been blogging about in the past few months, which you can also familiarise yourself with via my 2 previous articles from November and December.
The big question therefore now that 2010 is done, is just what the exact figures were for the full 12 months if you followed each racing tipster in on every bet they supplied that year.
That includes betting in all types of races, weather, courses and conditions and with all manner of race distances, jockeys, trainers and form to consider.
My Granny might be able to make a profit over 10 bets simply by sheer luck, but over a full 12 months and a large number of bets – it takes real skill to eke out a profit.
2010 IN FULL!
Here in full therefore are the complete statistics for the 9 racing tipsters services that are part of our Smart Betting Club Hall of Fame…

(Please note – the actual names of each tipster have been protected and are available to full SBC members only).
As this table reveals there has been some outstanding results from this group of tipsters, with Service's 3, 6 and 9 all achieving a Return on Investment of over 20%. What this means is that for every £100 you risked, you would win back at least £20 in profit. In fact 8 out of these 9 have all made a profit with only Service's 1 and 2 making a small loss and profit respectively and so letting the side down slightly.
Here at the Smart Betting Club, many of our members follow these tipsters together and combined all 9 would have made £9124 at just £10 stakes. On a basic points profit level this equates to 912.4 pts over the full year from 6838 bets at a ROI of 13.83%. Whichever way you look at it, the profits have been very strong and we have no reason not to expect this to be replicated in 2011.
A Storming December!
Those of you who have been following these blog posts may well be keen to know the final progress since I last updated on the 6th December (Read here). How exactly did the 9 tipsters fare in the last month of the year? This is especially relevant when you consider the arctic conditions across much of the UK, which made punting very tricky at times.
Well the answer is that despite the weather, the majority of tipsters actually thrived and ended up posting a fantastic profit in December as these stats reveal…

Easily the most outstanding performer in December was Service 3, which picked up a 24.4 pt profit from the 24 bets advised at an amazing 131.89% Return on Investment. Noticeably 5 more tipsters also made a ROI in advance of 20%, with only Service 1 and Service 9 posting a loss.
Once again if we combined all 9 into a Racing Tipster portfolio, the returns are outstanding with a 28.86% ROI and over £4610 at just £50 stakes from 373 bets.
Horses for courses – Sensible money management
Of course, in reality, it wouldn't make sense to simply lump £50 on every bet. Some tipsters have a higher strike rate or bet turnover than others meaning you'd burn through your money prematurely unless you set up a proper betting bank.
For example in the whole of 2010, Service 7 advised 3654 bets, whilst Service 3 only gave out 259. It would be wrong to place the same amount of money on each bet so  we adjust the amounts we place based upon each service and its strategy.
For example – in the table below we have £80 on each Service 3 bet and £25 on each Service 7 bet.
By using some sensible money management and employing what we call betting banks, you can make your betting much more efficient.
Below is an example of the type of staking and subsequent profit levels we would suggest for each service this season.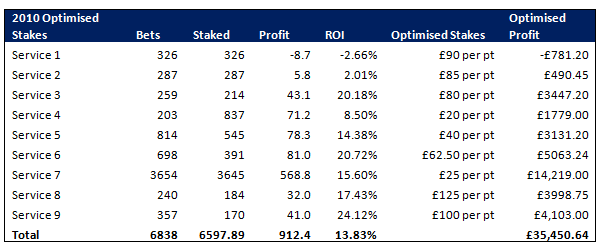 The average stake works out to be around £70 per point risked. The total profit via this method for all 9 services would be £35,450.64 and you would also have the peace of mind that you are staking correctly on each service.
Now we're not suggesting everyone should follow all of these racing tipsters, but it does give you an idea of the importance of varying your stakes depending on the service.
Help Is At Hand
If you are not familiar with the idea of a betting bank and are keen to find out more, than help is at hand as a member of the Smart Betting Club.
As a new member you can access all our beginner's advice on money management, which contains easy to follow guidance on how to apply all of this to your own betting.
The learning curve for understanding it all is low and once you have a grasp on it, you could see your betting improve exponentially just like many of our members.
Also, if you're keen to find out all the details on the 9 racing tipsters above, their identities and how you can start following them, all of this is available as a Smart Betting Club member.
We place thousands of pounds ourselves each week following these tipsters so as always we put our money where our mouth is.
Sign up for a Smart Betting Club membership here today.