February is an exciting month for us here at SBC Towers as not only do we have a fantastic new magazine out next week (including a new review of a particularly profitable football tipster), but we will also be releasing our 2014 Betting & Tipsters Awards Report as voted for by SBC members.
I love these awards as not only do they reveal just who our members rate to run the best tipster services but also the best betting website, forum and experts…and of course the best and worst bookmakers!
And as I rate SBC members to be amongst some  of the most clued-up punters out there, what they have to say is well worth listening to.
So today as a bit of a spoiler I want to discuss the perhaps least-sought after but most highly-competitive award of all – THE WORST BOOKMAKER!
Read on to find out just who took our 'Wooden Spoon' Bookie Award….

Tipster Awards: One Member One Vote
Just to set the groundwork first of all, each award is based on the votes given by SBC members across a range of categories. Each member was allowed to vote only once in each category, including for the worst bookmaker.
So here without further ado are the 3 worst bookmakers from the past year as voted for by SBC members: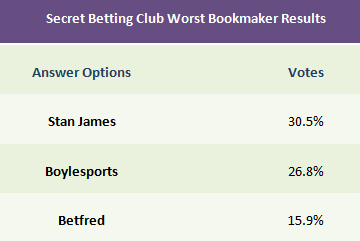 Top of this particularly poor pile is Stan James who despite increased visibility over the past year with their 'Stan and James' adverts, continue to alienate a large number of customers.
Not far behind was the oft-panned Boylesports (AKA Spoilsports) who scooped the Silver Award with 26.8% of the vote. Taking home the Bronze award was Betfred who were rated worst of all by 15.9% of all voters.
All in all a pretty damning indictment on all 3 of these bookies, and Stan James can look forward to receiving our Wooden Spoon Award very soon as we seek their feedback on these results.


Why Are These Bookies So Poorly Rated?
So whilst we might have a bit of fun at the bookies expense with this award, there is a very serious point behind it all as to just why they are so poorly rated.
To help understand that, first of all I recommend reading my article from May last year, which explored this further, largely based on the findings of the still very relevant 'Independent Racing Bookmaker Guide'.
The reality is that many of the votes cast in this category was due to the number of customers who suffer from account closures or limitations, simply for being identified as too shrewd. For example, In the Independent Racing Bookmaker Guide we revealed that 39.6% of SBC members had their Boylesports account closed with a further 36.6% suffering heavy restrictions. It's fair to say when over 75% of all Boylesports customers can't get a bet on, they will be quick to complain!
It's a similar issue for customers of the likes of Stan James and Betfred as well, no doubt a very clear reason why they are so poorly rated.
This is also not simply down to 'arbing' or the odd punter here or there – we regularly hear stories of punters who actually have losing accounts being impacted or closed down after just 1 or 2 bets.
So What Can Be Done?
It's not all doom and gloom however and there are two things that we as punters can do…
1) Is to raise the profile of this problem – something that is gaining noticeable traction with serious discussions via Bet Racing Nation and Racing UK recently on the topic. Bookmakers continue to bury their heads in the sand and hope it will go away so the more we discuss it, the more they will have to face it head on. We need more media outlets brave enough to tackle it head on and not be overly fearful of alienating the bookies.
2) Is to be wise to the problem and bet accordingly – Not all racing bookmakers are as bad as Stan James and their ilk but it still pays to understand who the best and worst culprits actually are.
Adopting tactics such as not having large racing wagers the night before or mixing up the type of bets you place can also help keep your accounts alive.
There are actually many tactics you can employ to help keep your betting 'under the radar' -far too many to list here so if interested I would recommend checking out some of the expert advice on it available to SBC members.
Look Out For The Award Report
Hopefully today I have been able to reveal a little bit about how bookies work and expose some of the worst 'turf accountants' as rated by many of our members. If you have experienced problems with the 3 bookies listed above, don't fret as you are not alone!
If interested in more on our Tipster & Betting Awards, the full report will be released next week to Smart Betting Club members. Other categories to look out for include Best Racing Tipster, Best Football Tipster, Best Overall Tipster, Best Betting Expert, Best Betting Website & Forum.
Peter – Smart Betting Club Editor