The very latest Smart Betting Club magazine (Issue 85) is out now and is an absolute must-read for those of you keen to find more on what makes money betting.
Sign-up here to gain instant access to this latest mag (and our entire back catalogue) or read on for more details…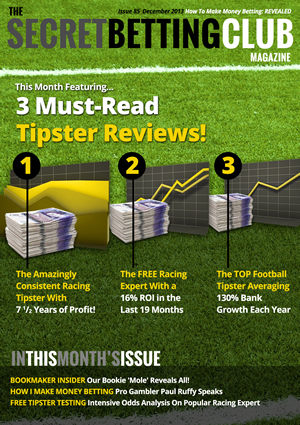 THIS MONTH'S SBC MAGAZINE REVEALS:
The amazingly consistent Racing Tipster with 7 1/2 years of profit behind him! Many SBC members swear by his tips, find out why (Major SBC Discount available)
The FREE Racing Expert with a 16% ROI in the last 19 months backing big price each way bets
The TOP Football Tipster service averaging 130% bank growth per year since 2009!
Insider Interview: Bookie 'mole' reveals all in an exclusive Q and A with currently employed odds compiler.
How I Make Money Betting: Paul Ruffy talks about the secrets behind his 8 years of punting and tipping success.
Tipster Testing: Intensive odds analysis reveals if one popular free racing expert is really worth following.
Grab Your Copy Immediately (And Access The Entire Back Catalogue Too)
You can pick up your copy of the latest magazine, the instant you join the Smart Betting Club.
That's not all though because as an SBC member you will also gain access to our huge 7 1/2 year back catalogue full of tipster reviews, expert interviews and guides, betting systems and profitable betting advice.
All of this is supplied complimentary to every new member.
Risk-Free Membership With Money Back Guarantee
The great news is that all of this is available for the equivalent of just 22p per day and comes with a full money back guarantee if not in any way satisfied once you joined. We are that confident you will love this service!
This effectively means you have nothing to lose and everything to gain from taking up an SBC membership today.
Sign-up for the Smart Betting Club and get started right away!