>
A question that I regularly get asked as the Editor of the Smart Betting Club, is just who the best performing and most reliable tipsters actually are?
After all, knowing exactly who you should follow with your own hard earned cash is critical to making money betting.
Well the good news is that my team and I at the Smart Betting Club regularly publish reports on the latest performance levels of an elite list of betting tipsters.
We can this elite list our 'Hall of Fame' which is a fully vetted and recommended list of tipsters for you to use. If features those betting experts that have proven themselves to win money for SBC members again and again.
To keep the Hall of Fame relevant, it is regularly updated based on the detailed proofed results records we keep for over 50 tipsters – thus ensuring it's always fully accurate and up to date.
To help illustrate just how well our Hall of Fame tipsters perform, below you can find the all-time profit figures from the top ten performing services (as taken from our most recent 'Tipster Profit Report')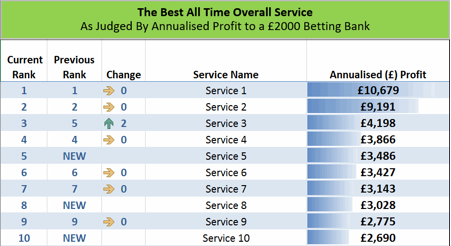 How This Table Can Help You
To explain how the table works, if you had started following Service 1 with a £2000 betting bank, in an average year you would make a profit of £10,679.00.
Even the 10th best service in this list would make a profit of £2,690 in average year – from just a £2000 bank.
What's more, we are uncovering more and more top tipsters all the time as can also be observed by the new entries at numbers 5, 8 and 10 in the table above.
Now whilst I can't reveal who is on this top ten list to those of you not yet SBC members (for obvious reasons) it does help to showcase what can be made from following them.
What I can tell you is that it contains a mixture of Horse Racing and Football based tipsters, providing a nice blend of sports for you to bet upon.
I can also reveal that on average, the 22 tipsters that currently make up the Hall of Fame have been active for 71 months. That's just shy of 6 years – so you know they are proven to work.
These are not your useless 'here today, gone tomorrow' tipsters you see elsewhere.
It's fair to say that these are the tipsters who have proven to be reliable performers and most of all have demonstrated a clear edge over the bookmaker.

Discover The Best Tipsters As A Smart Betting Club Member
You can discover the identifies of those tipsters recommended by the SBC team (and holding a Hall of Fame entry) with a Smart Betting Club membership.
Alongside 'tipster league tables' which outline the latest performance figures, you can also read our original detailed reviews for every tipster we feature.
SBC reviews are renowned for going into huge depth when it comes to scrutinising a tipster – and best of all as we are 100% independent, you can rely on us to tell the truth as to whether a tipster is any good or not (not something all tipster review sites can claim!)
What's more, we also provide you with new reviews all the time on the best up and coming tipsters that you need to know about – before anyone else!
So if you are interested in betting to make money using tipsters, why not sign-up for your instant Smart Betting Club membership right away!