If you are anything like me, then the chances are you have already started to suffer from acute football withdrawal – a deadly disease that affects many gamblers at this of year.
Symptoms of this debilitating illness include:
Not knowing what to do on Saturday and Sunday afternoons;
Inability to think of things to talk about at the pub;
Watching TV shows about cooking.
BUT don't be disheartened, I have some good news for those of us suffering from this affliction – as there still remains plenty of football to bet on (and watch)…you just need to know where to look.
Take for example leagues such as the Brazil Serie A, the MLS in the States and others such as the Norwegian Tippeligaen. Now they might not feature household names, but these leagues do offer competitive football to bet on…and most importantly showcase great ways to make a profit if you know what you are doing.
A Tipster That Specialises In Summer Leagues
A prime example of this has been provided by 1 of the 7 tipsters who feature in our Best Tipster Guide (supplied for free to all new SBC subscribers).
This tipster service provides betting advice on all 3 of the leagues named above and helps punters take advantage of the bookies general lack of knowledge of these markets – making a clear profit for their subscribers (hence why they are in our Best Tipster Guide!)
Check out their graph betting on these summer leagues over the past few years, which showcases the steady profits made over more than 400 bets.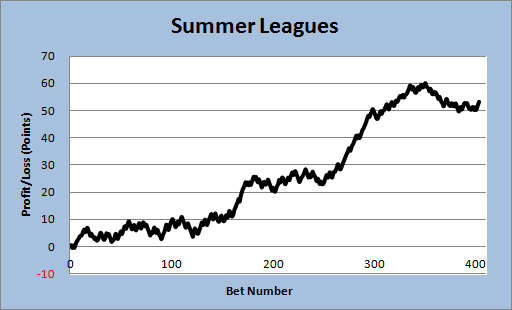 .
Taking Advantage Of Bookies Weaknesses
This tipster takes advantage of the bookies lack of knowledge in these markets as James, who runs the service explained to us…
 "This service was really built around the MLS and Brazil Serie A because I felt there was a niche in the tipster market (not many tipsters predict these leagues successfully) and it would allow punters to enjoy a service in the summer months.
I have found great success in these leagues by finding exceptional value. In my opinion the value comes from bookmakers not following these leagues as efficiently as they do with the big 4 and they particularly struggle with having good access to team news etc. … Team news is certainly not easy to find on Brazil Serie A unless you speak Portuguese. I challenge anyone to use google and find some comprehensive team news. You will struggle. I certainly don't claim to speak the language but I do claim to have some incredible resources to help me with my betting decisions. Knowledge is power and this is a huge factor to why we succeed in this league."
All of this makes perfect sense and James is simply repeating what many other very profitable tipsters do – exploiting markets where they have more experience or knowledge then the bookies.
What's more – by following him, you can keep going with your football betting all year round…and keep those betting withdrawal symptoms at bay!
Find Out More With Instant SBC Access
You can find out full details on this tipster service, who they are, how they work plus details on how you can save £5 a month on their subscription costs by subscribing to the Smart Betting Club.
They are just one of the seven tipsters featured in our Best Tipster Guide – listing the very best services we have uncovered in the past seven years.
Worth £59.99, this guide is supplied for free to all new Smart Betting Club members. Click here to access your copy immediately.