Latest Premium Tipster News

30th May 2022
More wins this weekend = New profit highs for these two golf tipsters

It was a bumper weekend of action for 2 of SBC's Golf Tipsters with two of them on the same winning golfer – Sam Burns who was victorious in a playoff finish to oblige at 33/1.
Burns was put up by both PGA Profit and Weekly Golf Value – with both services also enjoying place returns on Davis Riley (50/1) and Kevin Na (45/1) to boot.
PGA PROFIT – 3RD BIG WIN IN MAY ALONE!
Yesterday's winner was the 3rd big payout in May for PGA Profit, following in the footsteps of Justin Thomas (16/1) and Max Homa (45/1) – each of whom was a max bet for the service.
All of which has taken their 2022 stats to 42.99% ROI and a profit of 171.11 points.
Long-term they now sit on a 32.8% ROI from 1423 bets – which you can take with either bookmakers or on exchanges. Full figures as below:
WEEKLY GOLF VALUE – MORE THAN DOUBLED THE BANK IN 2022 ALREADY!
The outstanding Weekly Golf Value service also put up Sam Burns (at 30/1) as part of its shortlist of best value bets that it sends out every Wednesday lunchtime.
This was the 7th winner of 2022 alone and the year is now sitting pretty with a profit of £2,029.99 at 45.01% ROI from 272 bets.
More than doubling the starting £1000 betting bank of anyone that joined at the start of 2022 in just 5 months!
Going back even further, since May 2019, the Weekly Golf Value best bets have made a £9,591.97 profit at 35.38% ROI from 1830 advised tips.
EXPLORE BOTH SERVICES AND LEARN HOW TO PROFIT ON GOLF
Both PGA Profit and Weekly Golf Value are two of the long-term most profitable golf tipsters available on the Smart Betting Club website.
PGA Profit sends out golf tips every Monday evening for the PGA Tour only and is available to follow with both bookmakers and exchanges. Explore the PGA Profit service​
Weekly Golf Value sends out golf tips every Wednesday evening for both golf tours for those with bookmaker accounts only. Explore the Weekly Golf Value service.
Both services also offer discounts to those of you with SBC memberships too!
3rd March 2022
The Rainmaker's New Golf Service Is Now Live!

I am delighted to unveil full details on The Rainmaker's new Golf Premium Service – the only way to follow this true expert's golf betting advice from next week onwards.​
Dating back to March 2021, The Rainmaker has put up 371 bets, staked 982.5 points and made a profit of 317.48 points @ a superb 32.31% ROI.
12 Months Of Free Advice
Having proven his expertise by supplying all advice for free since March 2021 as an 'SBC Free Tipster', The Rainmaker has hopefully made those of you following him in during a tasty profit!
Its once again shown the power of the Free Tipsters available to Smart Betting Club members.
For all advice from next week onwards, a subscription to his new service is required as The Rainmaker has joined SBC Golf as the 4th expert tipster on SBC's books.
You can read more about SBC Golf and the quartet of expert tipsters here: https://smartbettingclub.com/sbcgolf/​
You can also view all of The Rainmaker's bets alongside those from each of the SBC Golf Tipster range at this regularly updated spreadsheet.
31st January 2022
What a golfing weekend. Winner at 80/1 and placed efforts at 100/1, 90/1, 28/1 (twice) and 7/1

It was one helluva weekend for the 3 tipsters that make up SBC Golf with an 80/1 winner and several big priced placed efforts on the early-finishing PGA Tour event at Torrey Pines. All of which has served to get 2022 really up and running from a golf betting perspective.
First up, the Weekly Golf Value service took the spoils after tipping Luke List at 80/1 – returning a very healthy £576 profit at advised stakes based on a £1000 bank. Those with bigger banks will of course have made more. WGV also advised Jon Rahm at 7/1 who placed in a tie for 3rd one shot back.
List took the win after winning a play-off with Will Zalatoris who was tipped by Golf Insider which is another service that makes up SBC Golf.
Zalatoris was unlucky to lose a play-off after finishing with the same score of 15 under as List, but followers of both SBC Golf tipsters would not have cared much either way. Golf Insider also had Sung Jae Im at 28/1 who finished 2 shots back in a tie for 6th.
And just to add the icing on the cake, the final tipster that makes up SBC Golf – PGA Profit also hit 2 big priced places in Jason Day at 100/1 and Cameron Tringale at 90/1.
Both players featured towards the top of the leaderboard all weekend and also finished tied 3rd on 14 under, meaning it was a profitable weekend for every single SBC Golf service.
In fact – at one point with a few holes to go, each of the 3 SBC Golf tipsters had a golfer tied for the lead at 80/1, 28/1 and 100/1, so it was just a case of which of the trio would edge it out. ​
​
Weekly Golf Value took the spoils with Luke List, but each of them showed their ability to pick out golfing value.
CHECK OUT SBC GOLF
Golf is one of the most successful sports to bet on currently and the 3 experts that make up SBC Golf each have long-term profitable stats and a track record of winning behind them.
If yet to check out SBC Golf therefore – its well worth doing so and each of the experts to find which suits you best!
Whether you bet with bookmakers and/or exchanges and whether a total golf novice or advanced bettor – there is a service there for you.
​You can find out more about SBC Golf here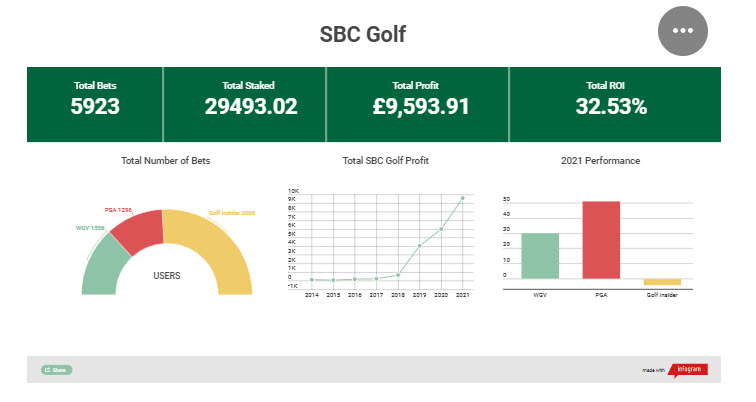 10th January 2022
Wadsters Winners Open Now – 50 Spaces Up For Grabs

The doors are now open for the hot new SBC Tennis Premium Service – Wadsters Winners with 50 membership spaces up for grabs.
Details on how you can join are available now at Wadsters Winners​
Once these 50 spaces are snapped up, we will introduce a waiting list, so make sure if this service interests you, to lock in your membership whilst you can.
All memberships are also available via the unique pay-as-you win structure, whereby you only 'pay' for winning bets on terms that suit you.
Sign-up today and find out more at Wadsters Winners​
7th  January 2022
Introducing this new Premium Tennis service with 3 years of profits @ 10.02% ROI and a unique pay-as-you-win structure

I am delighted to reveal the first news today on a fantastic new Tennis Tipster addition to the SBC Premium section for 2022 that you won't want to miss out on.
The service is called Wadsters Winners and is overseen by top tennis expert, Aidan Wardle and comes with a unique pay-as-you win structure that put the odds and terms firmly in your favour.
Over the first 3 years of the service operation between 2019 and 2021, Aidan has made a 10.02% ROI from 1484 bets as settled at fair odds through this service.
With demand expected to be high and in order to protect the viability and profitability of this service, a 50 member cap is being put in place upon the official launch of this service, which is scheduled for Monday the 10th of January.
Ahead of that I wanted to give you the opportunity to learn more about this new service , which you can do so via: https://smartbettingclub.com/wadsters-winners/​
Here you can view the service setup, past results, bookmaker settlement policy and much more!
The first chance to join and be one of the initial 50 members taken will be sent out on Monday Evening. I will be back with an email when it goes live so you can sign-up!
​Visit this page to find out more.
19th October 2021
Final chance to save and get the 14 day trial offer for The Value Machine

Demand has continued to be very strong for the revamped 2.0 version of The Value Machine racing service thanks to the continued build up of profits across several different bookmakers since its launch.
The results dashboard for the service shows a total profit of £13.18k at 11.7% ROI over 11,259 bets. You can explore results and stats like individual bookmaker profit tallies via this link.
SPECIAL OFFER PRICES END THIS FRIDAY
If yet to try the Value Machine out, do be aware that the special relaunch offer prices, including the 14 day trial offer for £7 are due to finish this Friday the 22nd October at 6pm.
After this time, the SBC members pricing will rise and the cost of an annual subscription will go up £100.
Current SBC member special offer prices (Ends Friday 6pm)​
​
£7 for 14 days then £57 per month
£7 for 14 days then £147 per quarter
£347 for an annual membership
​
​New prices for SBC Members (Start Friday 6pm)​
​
£57 per month
£147 per quarter
£447 for an annual membership.
EXPLORE THE VALUE MACHINE…
The Value Machine Version 2.0 was recently launched and includes a massively updated odds feed, improved results dashboard and best of all – Telegram Bet alerts meaning you can get real time notification of new value bets to place.
Its fully customisable so you can tailor it to fit the odds you like to take, at the time of day that suits you and at the bookmaker accounts you have available.
The Value Machine fits around you and best of all – it continues to be very profitable long-term!
You can explore more on performance via the major new results dashboard also now available on site.
​Get all the info and learn more here 
24th September 2021
Get a 14 day trial for just £7 to the new and improved The Value Machine service

I'm writing to let you know about the new and improved The Value Machine racing service – which you can now try out for a limited time for just £7 as part of a 14 day free trial.
Its revamp includes a massively updated odds feed, improved results dashboard and best of all – Telegram Bet alerts meaning you can get real time notification of new value bets to place.
The SBC team has been putting it through its paces since version 2.0 of The Value Machine was launched back in July 2021.
And early results are very encouraging.
If taking all bets put forward by The Value Machine, you would be up £9570 at £10 stakes (11.21% ROI)
You can explore more on performance via the major new results dashboard also now available on site.
Safe to say we think the improved 'The Value Machine' is going to be a bit of a game changer.
You can find out more about this fantastic new service on the SBC website.
We go through details of profits, exclusive SBC member discounts (including the 14 day trial) and why its is so good.
Plus we've recorded a special YouTube video with founder and owner of TVM and hugely respected racing tipster Kieran Ward to showcase the benefits of the tool.
​Get all the info and learn more here 
3rd August 2021
Bassie 90 Memberships For The New Football Season Now Available!

Hot on the heels of our detailed tipster review on Dutch football expert Bassie 90, he is now accepting memberships for those of you keen to follow him in during the 2021/22 season.
You can sign-up now via the links over at https://smartbettingclub.com/bassie-90/ where there are discounts available for Smart Betting Club members.
Why Follow Bassie In?
Since 2017, Bassie 90 has expertly navigated the Dutch Football betting markets and returned an impressive 136.67 points profit at 6.74% ROI over 5 football seasons.
This includes regularly beating sharp bookmakers like Pinnacle, where he has made a 7% ROI from 730 bets in total.
As the detailed review outlines, Bassie ticks a lot of boxes in terms of
Making a long-term profit;
Beating some of the best bookmakers;
Odds availability & edge over closing line;
Betting bank growth.
Check out his profit graph below:
Not Yet Read SBC's Review?
Bassie's review was released last Friday, if yet to read it, you can do so directly via this link or through the Betting Magazines page. (SBC member login required to access)
​​
FIRST BETS FOR 2021/22 SEASON COMING FRIDAY
The first bets from Bassie will be coming this Friday as the Dutch 2nd division returns so make you sign-up ASAP to lock in your membership space and to get all his advice.
20th July 2021

£10 trial month offer ending soon….

The Weekly Golf Value service keeps knocking it out the park as ANOTHER winner was tipped in the golf on Sunday.
This time Collin Morikawa did the business in the British Open, meaning WGV followers secured the win for the 9th time this year.
That takes 2021's profits to an incredible £3,317.47 or a 50.62% ROI from a £1000 bank.
The all time record is just as impressive with the total profit at £7,732.68 @ 41.03%.
Again that is to a £1000 bank and it's likely if following you would be staking at much higher levels in reality (especially as the profits accumulate!)
​See the results for yourself here (WGV sheet)​
The edge this service has is clearly not in doubt but it's amazing how easy it is for followers to take advantage of it due to the nature of golf betting.
If you have bookmaker accounts available – it's highly recommended.
Stable prices and minimal effort needed makes this an absolute winner of a betting strategy that will be a powerful addition to your portfolio.
£10 First Month Offer Expiring ​
As an SBC member, you can test the service out for just £10 for the first month.
That's a 72% reduction on the usual monthly price!
But hurry as the trial offer is expiring soon.
At Midnight on Monday the 26th July, this £10 first month offer will end and new subscribers will need to pay the full membership price.
So that's just £10 to join one of the hottest services around and one that is the fulcrum of my own profitable tipster portfolio (and other members of the SBC Team too!)
​Sign up for the £10 First Month offer whilst you can
23rd June 2021

New Walkthrough guide to the Multiple Power service
I wanted to let you know about a new members-only video I've recorded to showcase the Multiple Power service, the revamped service that went live earlier this month.
It's a service that tips horse racing bets using a multiples betting strategy in order to stay under the radar of bookmakers and prolong account life.
It's also a service that is running at an extremely healthy 49.78% ROI (advised prices) since records began, all the way back in November 2017.
You can watch the full video which explains how it works below:
22nd February 2021

PGA Profit at it again!
It was a nail biting finish to the Genesis Invitational 2021 golf tournament for PGA Profit members on Sunday with nothing to separate their 66/1 tip, Max Homa and his rival Tony Finau after 72 holes.
This meant a nerve-wrecking play-off was needed to decide the winner, which Max Homa managed to eventually take following some very tense golf over two playoff holes
It was richly deserved as Homa played fantastically well and more than justified why PGA Profit members had their money down on him at 66/1.
The profits didn't end there either as there was a place profit for two of PGA Profit's other selections – Cameron Smith at a huge 100/1 finished 4th and Jon Rahm who claimed 5th at 12/1.
All told from 6 selections, PGA Profit had the 1st, 4th and 5th placed golfers and made a 152 point profit from 17 points staked to continue their phenomenal start to 2021.
Needless to say – some of the PGA Profit followers were quick to send us their betting slips!
Max Homa's victory was the 3rd win in the first 2 months of 2021 for PGA Profit and subscribers of the service have banked some incredible returns this year so far.
From 46 bets in 2021, the service has returned a huge 206.3 points profit at 153.38% ROI
Not bad for a few minutes of work on a Monday afternoon!
Better still the tips are advised at the exchange (as well as bookies) making it ideal for those of you restricted at bookmakers or those looking for viable long-term strategies.
In fact – better odds are often available on Betfair with odds of 80 for Homa to win easily obtainable as per the bet slip below.
Our resident professional bettor Rowan is a huge advocate of the service which he uses as part of his betting portfolio. You can read all about the success he's had with it here.
We also took a deep dive into PGA Profit's results and strategy in SBC Magazine #121. You can download it via this direct link or through the Betting Magazines section (member login required to access)
PGA Profit is in red hot form and with two tournaments to tackle this week – now is the time to check the service out!