Latest Premium Tipster News

19th October 2018
255 points in 3 months – How this SBC member is on track for 1000 points profit this year

Those of you after a unique, fully customisable racing tipster could do a lot worse than check out the highly recommended SBC Premium Service – The Value Machine as it continues to impress.
But don't just take my word for it, instead listen to one SBC member – D.G, who sent this unprompted email earlier this month on the profits he has made following the Value Machine.
Here in his own words (shared with permission) is what he had to say:
"As it's been 3 months since I've been using the Value Machine I thought I'd drop a line to say how it's gone for me. Bloody fantastic !! Up to yesterday I have 255 points of profit. I've settled on settings of 3 to 11 and aim to get 25-30 bets on per day.
My plan at the start was to try to get 1000 points profit in a year (have to say I thought it cloud cuckoo land at first but I'm on target). It was an odd feeling at first betting on a concept rather than some bloke sending me a list of selections but this Machine just works. Having said that I had a rare losing week just gone dropping 30 points, but that's the only one I've had.
Had to write as I'm absolutely delighted with this service. SBC state that 'you run the machine, put your bets and collect your money' which pretty much sums it up.
Best regards, D.G.

Expert Racing Tips On Demand
What D.G. (he asked me to only use his initials to protect his identity) refers to above are the customisable settings that the Value Machine provides. He has chosen to back selections considered value when priced between 3.0 (2/1) and 11.0 (10/1) at a time each day that suits him.
Which is the real beauty of the The Value Machine as you can choose which day and time you want to bet PLUS the profile of bets that suit you and the bookmakers you can bet with.
So if you…
Prefer to bet early in the morning
Prefer to bet at lunchtime
Prefer to bet on your days off
Prefer to bet on weekdays only
Prefer to bet during big festival meetings only
OR if you are…
Limited to betting with certain bookmakers
Limited to betting on exchanges
Prefer betting at short odds
Prefer betting at long odds
Then Value Machine software is here to help.
Watch My 6 Minute Video Explanation
To best illustrate how the Value Machine works, I have recorded a simple walk-through video that explains how easy it is to use.
It should only take 6 minutes to watch and helps to neatly summarise everything that it offers.
Click here to watch on YouTube
For more details on the service, the exclusive SBC member deals available, results and a lot more – please visit The Value Machine Premium Page.
23rd September 2018
How to bet on Golf & win – SBC recommended tipster shows the way ahead of the Ryder Cup

This Friday sees the start of the Ryder Cup tournament and whether you are a big Golf fan or not, there is no doubting that Golf Betting when done right can be extremely lucrative.
…And one person making the most of Golf value betting opportunities is SBC Premium Tipster – The Golf Insider who has shown an exceptional talent for making long-term profits on the sport.
Actively tipping since 2014, we have long recommended him for one simple reason – his outstanding record which to date has seen him make a £15,832.92 profit from 1869 bets at 13.63% ROI.
(Best of all as an SBC Member you can get a 60-day trial AND 10% discount on his service)

Easy To Follow Bets With Bookies & Exchanges
This profit record is based on a mixture of mostly Outright tournament tips (with an average price of 80/1) and extremely successful additional 3-ball bets.
Stakes range from usually £10 to £25 each way on Outright tips and £50 to £100 on the less frequent 3-ball tips, yet can choose to follow at the stakes you prefer.
With around 10 bets in total each week advised on Tuesday and Wednesdays, there is no pressure on the odds quoted making it relatively easy to follow.
Especially as the quoted odds can usually be matched or even beaten by using either Betting Exchanges offering Golf betting markets (Betfair, Smarkets & Matchbook for example) alongside your traditional Bookmakers.
Making the Golf Insider the right kind of long-term profitable and sustainable service for a professional tipster portfolio.
60 Day Trial & 10% Discount
If you are interested in the Golf Insider service, there is an exclusive 60 day trial and 10% discount offer available for SBC members.
You can read on for more on this unique offer via the Golf Insider SBC page, where you also can find details on the service, how it works and links to sign-up.
Be aware though that the Ryder Cup starts this Friday and the Golf Insider will be sending his first bets for the tournament on Wednesday so make sure you sign-up before then if interested.
Through the trial offer, if you like the Golf Insider service, you can take up a membership but if its not for you, cancel the trial and get a full refund. Best of all, you have 60 days to make your decision.
Simply visit the Golf Insider for more information and links to sign-up.
13th September 2018
A Special SBC Offer For This Expert Football Tipster (4 Seasons of Profits)

Back for another season with a discounted membership is the SBC Premium Service: Scottish Football Income Booster.
Featuring football betting advice from The Scotsman' – a bonafide expert on the 4 leagues north of the border, the service continues to rack up the profits for those onboard.
Starting out in August 2015, over the course of his first 3 full seasons, The Scotsman made a 135 point profit at 14.09% ROI from 620 bets to showcase his expertise.
And he has also returned with a bang this season after bagging 18.13 points at 36.26% ROI from his first 30 bets so far.
Below you can see the breakdown of profits over the past 4 seasons…

Supplying a mixture of easy-to-follow 1X2 and Over/Under bets for games across all 4 Scottish football divisions, its easy to see why we recommend the service.
Especially as it comes with a 30-day money back guarantee AND cheaper memberships for the 2018/19 season.
To find out more and get this weekend's tips from The Scotsman, click here to read more.
31st August 2018
The Accountant's Place Laying Service Now Live

As of 6pm today, we are now inviting memberships to the place laying racing tipster – The Accountant, following a full year of supplying Betfair SP tips for free via the SBC website.
You can read more about his service and how you can join via this link: The Accountant Premium Service.
The Accountant put up his first tips on the 29th of August 2017 and as of the 28th August 2018, had grown his betting bank from £1000 into £2875 simply by risking 3% on each place lay.
Similar strong performance has been made if staking in a different way as simply risking a £100 liability on each lay has made a profit of £4161 at 3.48% ROI.
Best of all as results are calculated at Betfair SP and minus 5% commission as standard, its extremely easy to replicate.
You can download a results spreadsheet via this link to see more on the long-term track record and why this service has proven to be so popular.
Premium Service Starts This Monday
The Accountant's new Premium Service will supply its first tips this Monday the 3rd September and moving forward, this is the only way you will now be able to follow his advice.
This service will work in exactly the same way as the free service, with several place lays put up around 11.30am Monday to Friday for you to bet on the exchanges.
With a membership cap in place to protect the odds availability of the place lays, make sure if interested you secure your space now.
For more visit The Accountant's new Premium Page
2nd August 2018
Football Lay Profits returns – bigger and better than ever this season

This Weekend sees the return of Football in England and Scotland and with it a new season of profitable opportunities for the unique SBC service, Football Lay Profits.
Led by Jon Roberts, this high strike-rate (82% of all bets win) laying tipster has made a profit of 64.82 points from 303 lays already in 2018 to build on the fine form it has shown long-term.
This includes a profit of 219 points at 5.40% ROI in live proofing since November 2016 (all results are based on accurate odds taken from Betfair and remove 5% commission from every winner as standard)

A choice of how to follow this season
This season for the first time, we have introduced 2 membership options, to help you choose the type of service you prefer.
Option 1: Receive all FLP tips across all European leagues
The first option available is to receive all the Football Lay Profits tips across all European leagues. You can expect to receive an average of around 65 lays each month.
Since 2013, this approach has made 513 points profit at 4.41% ROI over 2811 tips.

Option 2: Receive all FLP tips across 5 Major European leagues only
The second option is to receive lay advice for the following 5 major European leagues only:
English Premier League
German Bundesliga
French Ligue 1
Italian Serie A
Spanish La Liga
You can expect to receive an average of around 45 lays each month via this method concentrated only on these 5 major leagues. So around 20 less selections each month than Option 1.
Since 2013, laying in these 5 leagues only has made 209 points profit at 3.68% ROI over 1390 tips.

Secure Your Membership Today (30 day money back guarantee)
You can now secure your membership to Football Lay Profits (either option 1 or option 2) with monthly, half-season and full season options available.
But be warned – the best value 'season pass' memberships are only available until next Thursday the 9th of August.
Best of all, you can also join with the peace of mind of the 30 day money back guarantee we offer new Football Lay Profits subscribers. Enabling you to sign-up and if you find it not to your liking, you can request a refund at any point within your first 30 days.
To get started – simply visit the Football Lay Profits page and follow the subscription links.
29th June 2018
New Spaces For Racing Bet Profits Now Available (More Winners In June)

Those of you interested in the Racing Bet Profits service can now secure one of 25 new membership spaces just made available.
Supplying an average of 3 to 4 daily racing tips and profitable at both bookmaker and Betfair SP (minus commission), this service continues to go from strength to strength with another profitable month in June so far.
As of the 27th June, to Bet365 odds, a profit of 24.14 points has been made at 18.86% ROI, whilst at Betfair SP its been even better with a profit of 44.03 points at 34.40% ROI.
Of course, what matters more is the long-term record and after 13 months and 1419 tips, the records at both Bet365 and Betfair SP odds continue to be strong as the tables below indicate.


25 Spaces Currently Available
Memberships are being limited to protect odds availability for subscribers to this service and only 25 spaces are on offer – so grab yours whilst you can.
The cost to join is just £47 per month – take on a recurring monthly basis which you can cancel at anytime.
Full details are available at the Racing Bet Profits page.
22nd June 2018
Bang in form: Exclusive £1 deal for your first 30 days with this recommended tipster

It's been a fantastic June so far for SBC Premium tipster, Bet Alchemist and with an exclusive £1 deal for you to sample this exceptional service for 30 days, its a great time to sign-up and see what all the fuss is about.
Winners this month include the likes of Ostilio (16/1 at Royal Ascot on Tuesday), Alfredo Arcano at 16/1, Shore Step at 10/1, Via Serpendidty at 6/1 and Study of Man at 5/1.
To ensure independence we removed Bet Alchemist from our June Tipster Profit Report (as we do for all SBC Premium Tipsters) yet it continues to pick up the profits and deserves your attention.
Bet Alchemist is very highly rated for one simple reason – the consistently strong profits made by head tipster, Nicky Doyle at realistic and achievable odds since 2012.
Over this 6 year period, 511 points profit have been plundered at an ROI of 15.20% from more than 3150 bets.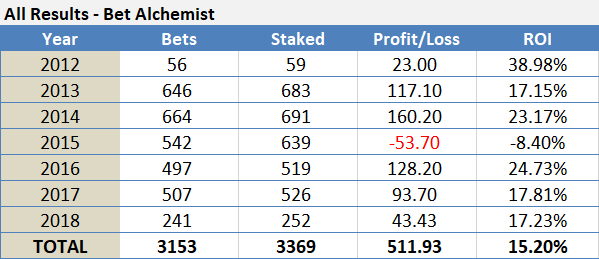 It is this strong long-term form, coupled with the professionalism of service, obtainable and realistic odds for both bookmaker and exchange users that have led us to secure Bet Alchemist as an SBC Premium Service.
Best of all, you can also sign-up for just £1 for your first month (with a full 30 day guarantee) and enjoy ongoing reduced membership rates once your first 30 days are complete.
Full details on performance and how you can sign-up can be found at the Bet Alchemist SBC Premium Page.
More Info On Bet Alchemist
For those of you after more detail on Bet Alchemist and why we rate them so highly, here are some more links for you to explore:
Bet Alchemist's Results (Follow links under the 'results' menu for full details of every bet)
2017 Best Tipster Guide Review (Opens up a PDF for download). Review first published in June 2017
4th June 2018
4 bets, 14 points staked & over 300 points profit in 1 day. Copy my winning strategy

Those of you reading Rowan's Bet Diary blog last week might well have noticed how Monday May 21st will be a day that will go down in history for him – thanks to 4 winners that returned over 300 points profit from just 14 points staked.
These winners were all supplied by SBC's very own winning strategy – the Fake Mug Bets Club, something I (and now Rowan) have been religiously following for several years now with great success.
It's a strategy I can wholeheartedly recommend to you as an SBC member, especially if you are looking for a proven, under the radar and easy to follow method that has worked since 2013.
With ROI figures ranging from 34.67% up to 284.46% and with over 3030 points profit since 2013, the stats are there to show how it has won long-term.
It might have a daft name but it works…
I appreciate the term "Fake £10 Mug Bets" seems utterly ridiculous…
And you probably think I've lost my marbles…
But I can assure you the "disguised" bets you can find out about by clicking here, definitely make you appear to look like a total mug to the bookmakers.
Yet in truth, you are simply pretending to be a loser as you wait, hidden in plain sight for a big winning day like we saw on Monday the 21st May, which returned £3306.30 profit from just £140 staked.
99% of punters won't use it. You can be different
Since the Fake Mug Bets Club strategy began back in 2013 there have been many days like Monday the 21st May with big returns from just a few simple, multiple bets.
As its a low strike-rate method, it does require patience and I will be honest with you – 99% of most regular punters don't have what it takes to follow my lead and to win from this high profit, low stakes strategy.
But if you're brave, resilient and are ready to constantly trick the bookies by acting like a wolf in sheep's clothing…
And if you think differently from the vast majority of punters…then it will work for you.
Click here to see how you can seriously profit from this "Fake £10 Mug Bets Strategy"
[NOTE: You'll even have the next 30 days to try it out yourself with your Completely Risk-Free Trial]
22nd April 2018
Introducing: New £1 Offer For 'Hall of Fame' rated Tipster

I am delighted to reveal that SBC have teamed up with long-running Hall of Fame and 'Best Tipster Guide' tipster – Bet Alchemist to provide an exclusive £1 deal for you to sample this exceptional service on preferential terms.
You can sign-up right now for just £1 for your first month with Bet Alchemist and also enjoy significantly discounted 1, 3 & 6 month options via this special SBC-members only deal.
Bet Alchemist is very highly rated for one simple reason – the consistently strong profits made by head tipster, Nicky Doyle at realistic and achievable odds since 2012.
Over this 6 year period and more than 3000 bets advised, in excess of 500 points profit have been plundered at an ROI of 15.93% and ROC (Betting Bank Growth) of 342%.
It is this strong long-term form, coupled with the professionalism of service, obtainable and realistic odds for both bookmaker and exchange users that have led us to secure Bet Alchemist as the latest SBC Premium Service.
In turn this has allowed us to secure this preferential deal whereby you can sign-up for just £1 for your first month (with a full 30 day guarantee) and ongoing reduced membership rates.
Punchestown Festival & Sandown – A Great Week To Start Your Membership
By signing-up today you will also get in ahead of what promises to be a busy week for Bet Alchemist with bets expected every day at the Punchestown festival (Nicky has a tremendous track record at the big Irish meetings as this review outlines) as well as at Sandown on Friday and Saturday.
Full details on this offer and how to take it up can be found at the new SBC-Bet Alchemist Premium Page.
More Info On Bet Alchemist
For those of you after more detail on Bet Alchemist and why we rate them so highly, here are some more links for you to explore:
Bet Alchemist's Results (Follow links under the 'results' menu for full details of every bet)
2017 Best Tipster Guide Review (Opens up a PDF for download). Review first published in June 2017
27th February 2018
Football Lay Profits – Another Winning Month, Q&A With Jon & How To Join

With no horse racing on today (and the forecast bad for coming days) I though it might be useful to discuss the ongoing strong form of the SBC Premium Service, Football Lay Profits (FLP) especially as we have just re-opened it to new members who wish to join.
Following on from a superb January for FLP subscribers, February continued the upward trend as it ended up 8.9 points in profit from 45 lays advised.
2018 as a whole is up 38 points profit from 111 lays. All in all, its been a very encouraging start to the year, which continues to build on the long-term profits as built up by the service as the table below reveals.


Football Lay Profits as the name indicates, provides lay tips with a high strike-rate of around 82% across all major European football leagues. Its a service well suited for those of you who use betting exchanges such as Smarkets, Matchbook and Betfair and looking to diversify what you bet upon.
The average lay this year is priced at 4.36 (a smidgeon over 10/3 in old money) and it works to a simple 1 point stake on each lay to easily obtainable prices.
Get Better Returns Than Those We Quote
Although 2018 is up 38 points profit to our official figures – the reality is that by using different exchanges, you would have made a much higher return.
This is because we deduct the 5% Betfair baseline commission as standard off each lay when it wins, even though most punters won't be getting charged that sum.
The more you use Betfair, the lower your commission level is – and of course, if you use any of Smarkets, Betdaq or Matchbook, the commission rates are much lower. Smarkets & Betdaq charge just 2% as standard, whilst Matchbook's commission rate is also low.
All 3 of these firms are considerably lower than Betfair and their 5% base rate…Yet this is what we use for our results at Football Lay Profits.
Q & A With FLP Head Honcho, Jon Roberts
Mindful of the fact a number of you have been in touch with questions about laying – from the overall concept of it through to where you can place their lays, I also ran a few questions past the tipster behind the service – Jon Roberts.
Jon was good enough to answer my questions as below
SBC: Why do you feel football laying has been such a profitable angle for you and what would you say the appeal is for those new to the idea of laying?
Jon: It's funny in that I'd ignored laying on football for a number of years as I subscribed to the misguided view that you couldn't really make money from it, that the markets were too efficient etc.
That changed once I was able to put some intelligence into it and look what the data was telling me. This showed quite clearly that there were actually many profitable angles that could be taken when laying.
Laying is a little divisive at times, you'll have people who love being able to do it whereas others will dismiss it out of hand.
What I have proven to myself initially and to Football Lay Profits members is that it is not as cut and dried as all that.
After all, if you replaced the word 'Lay' with asian handicap (+0.5) or double chance, your perception maybe different – yet all three markets are effectively the same.
SBC: What do you think the advantages of laying over backing are?
Jon: For me the advantages of laying are four fold.1. It is good for the soul. We put emphasis on patience, long term thinking and how to deal with losing runs and it is all correct and sage advice. But it sure is nice having a model in the portfolio that delivers lots of winners on a regular basis – it can be very handy for morale at the tougher moments. The long-term strike rate sits at 83% so roughly 5 out of every 6 lays will 'win' for us.
2. Laying adds diversification to your portfolio and as any investor will tell you – be it gambling or shares – diversification is key to any successful portfolio.
3. When done right, like we do at Football Lay Profits, it will deliver long term and steady profits and bank growth. Other approaches may deliver more rapid growth, but they also have bigger swings, so it's nice to balance that out against a no frills. long term profit making approach.
4. Most importantly – you can only lay on an exchange so its ideal for those punters unable to bet with bookmakers or looking for scalable options that won't get closed down if they win.
SBC: Speaking of exchanges, which firms would you recommend holding accounts with to maximise the returns from the Football Lay Profits service?
Jon: We take the price from Betfair when recording our results at Betfair, along with a 5% commission deduction. This just ensures a consistency of reporting. Although whether you want to place these lays with Betfair might depend on your commission level with them – if its 5% then you might want to look elsewhere.
Personally the majority of my lays will go on to either Betfair or Matchbook, depending on the odds and any promotions around commission. The only reason I don't use Smarkets at this time, is due to some account opening challenges based on my current location and their KYC process, which is a little more involved. I do know though that many of you at SBC use Smarkets a lot, and it is worth the effort to open the account if you can, so I would recommend adding them into the mix too.Recently, Betdaq also slashed their commission rate to just 2% to go into direct competition with Smarkets, so they also provide another option for you.
Ultimately, you can't go wrong with any combination of Smarkets, Matchbook, Betdaq and Betfair – simply choose those where you have the lowest commission rates, best promotions and best odds.
You don't need accounts with all 4 to make a profit, but the more you have, the greater the overall profit you might be able to pick up, especially those with lower commission rate firms.
My thanks to go to Jon for taking time out to answer my questions.
For those of you keen to find out more on the service, there is further information on the Football Lay Profits page, where you can also find subscription links.
All subscriptions come with a 30 day guarantee that enables you to sign-up and if not for you, claim a refund within your first month of membership.There is a limit on membership numbers so if keen to sign-up, be advised to do so sooner rather than later to avoid disappointment.