Bassie 90 – The Dutch Football expert with 6 consecutive years of profits

Since 2017, Bassie 90 has expertly navigated the Dutch Football betting markets and returned an impressive 132.72 points profit at 5.86% ROI over 6 football seasons.
This includes a high ROI at Pinnacle Sports alone as Bassie 90 advises bets with 'sharp' bookmakers that don't restrict winning customers.
An ideal service therefore for profitable bettors, lock in your membership now and get all of his tips during the 2022/23 season.
As a subscriber you'll get…
Expert football tips delivered straight to your inbox – saving you hours of time and effort.

Tips available at major bookmakers and exchanges – you'll have plenty of choice for where to place your bets.

Years of Dutch Football expertise – valuable niche football expertise that will provide opportunities others won't find.
Memberships Now Available: You can now join for as little as £85 a quarter or £269 for a full year as a Smart Betting Club member. Subscribe Now
Bassie's Dutch Football Expertise
Bassie is a Dutch Football expert that specialises in both the Eredivisie (Dutch top flight) and Eerste Divisie (Dutch 2nd division) with a proven edge over the 8 years he has been actively tipping.
Bassie first began tipping on the Blogabet platform back in 2015 as a free service, only charging a fee for his tips in January 2017 due to his strong form.
Then, after building a substantial proofed profit between 2017 and 2020, Bassie agreed to supply his tips free of charge from February 2021 to May 2021 to SBC members in order to showcase his expertise.
Following a very successful few months as a 'Free Tipster', in July 2021 he became the latest member of SBC Football and one of our paid tipsters, with subscriptions available to access his advice on Dutch football.
In terms of his bets, all of them are advised with Asian bookmakers, usually Pinnacle or ISN, with a focus on Asian Handicap and Under/Over markets in general. 
The Bassie 90 service is great for those of you facing bookmaker restrictions as these bets will be available to back with no major staking limits and viable long term profits!
Bassie 90's Impressive Betting Record
Bassie 90's success as a free tipster meant that the decision was made to include the service under the SBC Premium section and charge a fee for his expertise from the 2021/22 season onwards.
Football tipping is perhaps the hardest market in betting to turn a long term profit from as the markets are so efficient, meaning it takes supreme expertise to find an edge.
That's why Bassie's tipping record is so impressive as his profits over 6 years of betting in the Dutch leagues demonstrate a clear edge and one that is sustainable over the long term.
Since January 2017, Bassie has made a 132.72 point profit @ 5.86% ROI from 1,775 advised bets.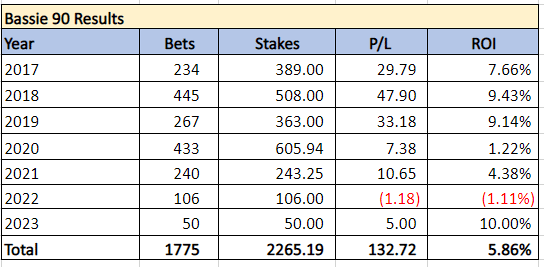 Having tipped hundreds of bets in these competitions and recorded a profit over multiple seasons, it's clear Bassie has expertly crafted a winning formula.
His consistency and solid profits provide a low-risk formula that is suitable for bank growth as demonstrated in the table below:

For those of you wishing to explore these results further, you can access a Google Sheets spreadsheet via this link. This results spreadsheet will be updated on a regular basis (usually bi-monthly) with the latest figures.
More On Bassie 90's Edge
Below you can see the ROI figures for Bassie's tips across every bookmaker he advises bets at.
The largest proportion of bets over the last few years continue to be with Pinnacle and you can see a breakdown of the major firms (those with 30 or more bets) and the performance levels obtained.
Pinnacle were quoted on 47% of all occasions and have a circa 7% ROI from the 730 bets put forward. To be able to beat one of the sharpest bookmakers around is hugely impressive and a sign of a great service.
Similar firms – 188bet and SBOBet represent a further 511 bets, where this is 2% and 14% ROI respectively – again illustrating the edge that the service has.
Note – Pinnacle is now increasingly used as the main bookmaker (more than 80% of all bets these days).

To emphasise this point we also measured Bassie 90's performance against closing line value (CLV) at bookmakers. We discovered that Bassie was regularly beating the closing line, which further backs up his edge and is sign that long term profits are on the cards.
Service Nuts & Bolts
About: Bassie is a football tipster supplying advice within the Dutch leagues with a focus on high limits that you can take with the likes of Pinnacle Sports or on the Betting Exchanges. An Economics graduate, Bassie became a professional bettor in 2015 and has beaten the market each season to date with a 7% ROI between 2017 and 2021. He takes a lot of data into consideration to determine his own odds, which he analyses together with team news to equate value betting opportunities.
Bet Timing: Tips for the Dutch 1st division (Eredivisie) will mostly be sent on Friday afternoon (90%) with the remaining 10% sent on Monday to cover midweek fixtures. You therefore have a full 24 hours to place your bets.
Tips for the Dutch 2nd division (Eerste) will also be sent on a Friday afternoon – between 2 to 4 hours before kick-off (Eerste games take place on Friday Evening). This timing ensures that there is a good mix between value odds and the most liquid markets.
Bet Type: Bets are all single bets on Asian Handicap and Asian over/under markets with enough liquidity on Pinnacle or with Asian brokers and Betfair to ensure all followers can place them.
Bookmakers: Bassie quotes odds from industry leaders in these markets such as Pinnacle and ISN. You are able to easily take his bets with any bookmakers, brokers or exchanges.
Number of Bets: The service averages around 20 to 30 bets a month. Sometimes more, sometimes less – it all depends on the quantity of value betting opportunities and the fixture list.
Staking: Stakes range from 0.5 points up to 1.5 points as a maximum bet. The majority of bets are for 1 point level stakes.
Betting Banks: We advocate a 60 points betting bank size.
30 Day Money Back Guarantee
You can also join Bassie 90 with the peace of mind of knowing that you have a 30-day anytime Money Back Guarantee.
This states that if at any point during your first 30 days with the service, you would like a refund, then simply request this via email to info@smartbettingclub.com and we will cancel your membership and send your subscription fee back to you – no questions asked.
Subscribe Links – Now Open
We are now welcoming new subscribers to the Bassie 90 service – sign-up to follow him in during the 2021/22 via the following subscription options:
SBC Member Rates
£85 for 3 months + VAT

£269 for 12 months +VAT
Normal Rates
£99 for 3 months + VAT

£309 for 12 months + VAT
SBC Member Discounted Rates
If you hold an SBC membership, login with your username/password and return to this page to discover the discounted payment links.
If you are not an SBC member and wish to join to access these savings, Subscribe to SBC now and then return to this page to access the discounted links.
SBC Non-Member Rates
Join Bassie 90 For 3 Months @ £99 +VAT
Join Bassie 90 For 12 Months @ £309 +VAT
*Please note that all membership payments are taken on an automatic recurring basis. You can cancel the recurring payments at anytime or simply ask us to do this on your behalf at any point.