Multiple Power – Win On Horse Racing

Hugely successful multiple betting strategy for horse racing – proven to work since 2017!
Long-term record of success since 2017 betting on multiple racing bets (Doubles, Trixies, Yankees & Super Yankees);
Profit of 24.92% ROI at advised prices and 45.50% ROI at Best Odds Guaranteed prices;
Simple to follow – Just one email a day tells you all you need to know;
Solid strategy, based on the shrewd, value bets generated by Kieran Ward;
Ideal for going under the bookmakers radar;
30 day refund available for all new members to give full peace of mind.
Outstanding Performance at Advised Prices & BOG

Since November 2017, this is what the recommend staking for Multiple Power has made at 1 point stakes per bet:
Total Points Staked: 4,949
Profit at Advised Price: 1,233.41 points @ 24.92% ROI
Profit at SP: 700.58 points @ 14.16% ROI
Profit at BOG: 2251.91 points @ 45.5% ROI
If these figures interest you and you have the patience and resilience to make this strategy a success, I invite you to explore more on this service via the information throughout this page.
LATEST RESULTS: You are also invited to view the long-term results via this regularly updated spreadsheet.
Background & History

First launched in November 2017 and run until May 2021 under the name of the 'Fake Mug Bets Club', the newly renamed 'Multiple Power' service is here to help you make serious profits betting on multiples.
By multiple bets – we mean a mix of Doubles, Trixies, Yankees and Super Yankees – the exact nature of which depends on the number of value selections uncovered each day.
To the advised staking plan, this strategy has made 14.16% ROI at SP up to 45.5% ROI at Best Odds Guarantee prices.
It can be followed by anyone with access to bookmaker accounts by following the advice outlined in our one daily email at just after 10.30am each day.
Read on for more details, including full results details and testimonials from those following it since 2017.
How It All Works – The Secret Behind Its Success
The bets that make up Multiple Power are put forward by  Kieran Ward, via his Value Betting Service – which has generated serious profits over the years betting on horses.
A professional backer of some 20+ years, Kieran has an enviable reputation for outstanding professionalism and credibility, hard work (lots and lots of it!), dedication, discipline and years and years of consistently profiting from horse racing.
This background and proven winning edge meant that we had no hesitation in teaming up with him in highlighting the performance of his racing tips priced up between 7/4 and 3/1 – which form the basis of the success behind the service.
Quite simply, whenever at least two bets between 7/4 and 3/1 are advised by Kieran at around 10:30am each day, these are the bets which form the basis of the Multiple Power service.
Why at least a couple of bets?
Because Multiple Power is all about using easy-to-place and bookie-friendly multiples (Doubles, Trixies, Yankees and Super Yankees) to generate seriously profitable returns.

Yes, if you want, you can also choose to back the bets as win singles. But whilst the historical results going back to 2017 show a good ROI when using this approach, the greatest bang for your buck comes when you combine the bets in multiples.
Hence the name – Multiple Power!
Why Bet on Multiples?
From a bookie's point of view "losing" or "mug" punters bet on favourites and 2nd favourites. And mugs definitely try their luck with Doubles, Trixies, Yankees and Super Yankees. Or indeed Lucky 15s and Lucky 31s, which also work well with Multiple Power.
The reason that mug punters place these type of bets?
Simply put – they are on the hunt for a big payday if 3, 4 or even 5 horses all win in the same multiple.
Yet the issue most punters have is they 1) Back the wrong horse or 2) Take a bad value price
This 2nd point is extremely valid, because if you are taking 2/1 about a 9/4 shot several times over, you are only multiplying the bad price you take and increasing your likely losses.
The bookies know that, which is why they encourage multiple bets. To them multiple bets are often a cash cow and a way to make more profit from mug punter losses.
The trick therefore is to only back horses that are value prices and shrewd selections in multiples.
To use the simple example above – its about taking 9/4 about a horse that should be 2/1 several times over. When doing it the right way round, this serves to compound your profits, not your losses.
Which is where Kieran Ward comes in as his bets are our source of value.
Proven over a decade to beat the bookmakers, his bets between 7/4 and 3/1 highlight value that works very well in multiple bets – hence the name Multiple Power!
Best of all – bookies actively want you to place these bets with them, because they assume the vast majority of multiple bets placed are mug bets. Especially on first or second favourites priced between 7/4 and 3/1.
So whilst placing Multiple Power bets might make you look like a mug, you can actually end up winning like a professional.
Acting like a mug is the perfect cover if you want to win like a shrewd bettor.
Now as someone reading this, you'll no doubt know what the bookies are like yourself.
If they even sniff you know what you're doing – such as taking early odds and regularly winning bets on singles – they'll make life difficult for you and choke off your earning potential.
So you NEVER want to appear to them as a shrewd operator – even though that's precisely what you'll be when you start taking full advantage of Kieran's strategy.
The bookies will readily accept these multiple bets because they totally fly under their bet monitoring radars and make you appear to look like a mug (when you're obviously not!)

Sky-high ROI's and Profits
Performance wise, the Multiple Power strategy has worked miracles long-term and made some substantial profits for followers.
We present subscribers with two plans on how to follow the service:
Plan 1: Original Plan (Singles, Doubles, Trebles and 4-Folds)
We call this 'the original plan', which was to bet all singles and possible doubles, trebles and 4-folds.  You would put a 1 point stake on each bet.
Since November 2017, this is what the original plan made profit wise at 1 point stakes per bet
Total Points Staked: 8,708
Profit at Advised Price: 997.52 points @ 11.46% ROI
Profit at SP: 386.92 points @ 4.44% ROI
Profit at BOG: 2,405 points @ 27.62% ROI
As good as this staking plan was, we felt it could be improved upon – and hence why the New Plan was born, which is what we firmly recommend everyone uses…
Plan 2: New & Improved Recommended Plan (Staking based on number of tips in any given day)
In May 2021 we carried out a comprehensive study of historic results advised since November 2017 to see if any simple solution could improve the quality of the service. This saw us refocus on the multiple strategy depending on the number of tips advised in any given day. We highly recommend you follow this staking plan:
Staking is based on the number of tips given out each day as follows:
2 selections – double (1 point staked),
3 selections – Trixie (4 pts),
4 selections – Yankee (11 pts),
5 selections – Super Yankee (26 pts)
6 selections – 2 x Trixies (8 pts),
7 selections – Trixie + Yankee (15 pts),
8 selections – 2 x Yankees (22 pts)
Since November 2017, this is what the new plan made profit wise at 1 point stakes per bet
Total Points Staked: 4,949
Profit at Advised Price: 1233.41 points @ 24.92% ROI
Profit at SP: 700.58 points @ 14.16% ROI
Profit at BOG: 2,251.91 points @ 45.5% ROI
View The Results & Performance To Date
Information is power when it comes to betting and I invite you to explore more on this service and its long-term results via this regularly updated spreadsheet.
Here you can view
An overview of how the service works
A complete line-by-line results breakdown for the service since November 2017
A full profit breakdown for the 'Original' Plan
A full profit breakdown for the recommended 'Improved' Plan
Additional suggestions on how you can secure bonuses if preferring to place Lucky 15's or Lucky 31's instead of Yankees or Super Yankees
Confused? Don't Be – Learn More
If you are confused by the above – don't be as once you get to grips with it, this strategy is really very simple.
To help explain things easier, we have put together this presentation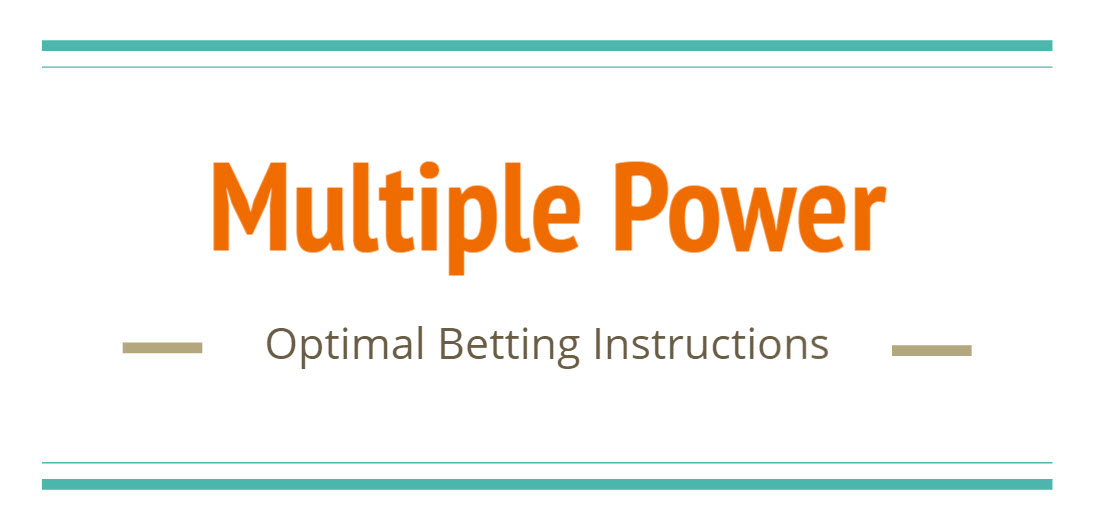 The Nuts & Bolts of the Service

The SBC team pride ourselves in running an easy to follow, functional and practical service so that as a subscriber to Multiple Power, you can get your bets on with the minimum of fuss.
Here is how the service works:
Bet Co-ordination: At 10.30am each morning Monday to Saturday, Kieran Ward indicates to myself and the SBC Team the selections he thinks that are value for that day. Behind the scenes, we work away to build a breakdown of what multiple bets to advise.
Bet Supply: At just after 10.30am, we send out the selections for Multiple Power via email for that day with full details on what type of bet and staking to use.
For example on the 27th May, we had 3 selections and therefore advised a Trixie Bet as follows:
2.30 Ripon, Wildcitydiva, 3/1 generally available.
3.45 Worcester, Johnny B, 9/4 generally available.
7.50 Carlisle, Iron Sheriff, 11/4 generally available.
One point win trixie 
Total outlay: 4 points
Clear Advice: Whenever we have a bet, we make it clear what type of multiple bet to place and also the staking required.
No Bet Days: We do not bet everyday – only when Kieran makes it clear there are 2 or more selections so you can expect no-bet days and quiet weeks. We also do not bet on Sundays.
Number of Bets: You can expect an average of 40 to 50 bets per month, although they are weighted towards the big race meetings and days when there is more racing on than others. For example – Summer months when there is evening racing and Saturdays.
Staking: We advise the staking on each bet, which ranges from a 1 point win double to a 26 point Super Yankee. It really depends on how many selections there are in any given day.
Betting Bank: Now this is important as it is not a strategy that will guarantee a profit each month. You will have losing days, weeks and months – therefore working to a betting bank is crucial.
We advocate a 600 point betting bank, so if you are betting at £1 a point, you would need £600 in real money to follow the service.
Examples of Big Winning Days

The Multiple Power strategy works best with a patient mindset, which waits for the big win to come in – such as we enjoyed on Saturday the 29th of May 2021.
On this day, we advised 5 selections as follows:
1.15 Haydock, Quickthorn, 11/4 Advised. Won at 3/1 SP
2.35 Beverley, Poets Lady, 2/1 Advised. Won at 2/1 SP
2.40 Chester, Ejtilaab, 9/4 Advised. 2nd at 6/4 SP
4.15 Catterick, Bollin Neil, 9/4 Advised. Won at 9/4 SP
5.35 Chester, Soapy Stevens, 2/1 Advised.  Won at 5/4 SP
On a day with 5 selections, we would advise placing a 26 point Super Yankee, which comprises of 10 doubles, 10 trebles, five four-fold accumulators and one five-fold accumulator.
The total profit at advised prices on this day was 283 points (from 26 points staked).
At SP the profit was 236.75 points (from 26 points staked).
As the bet split below showcases, this worked out at a £3283.75 return from £310 staked for one follower of this strategy who placed the bets at Bet365 as a Lucky 31. A Lucky 31 is similar to a Super Yankee, yet also includes 5 single bets.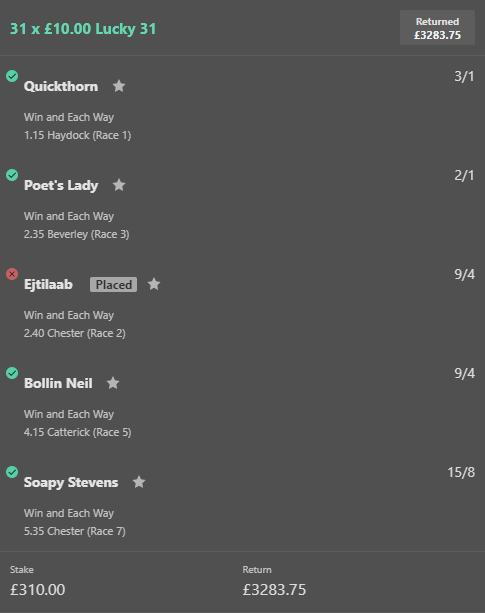 Another example can be found in this Yankee bet, placed on Monday 29th of August 2022: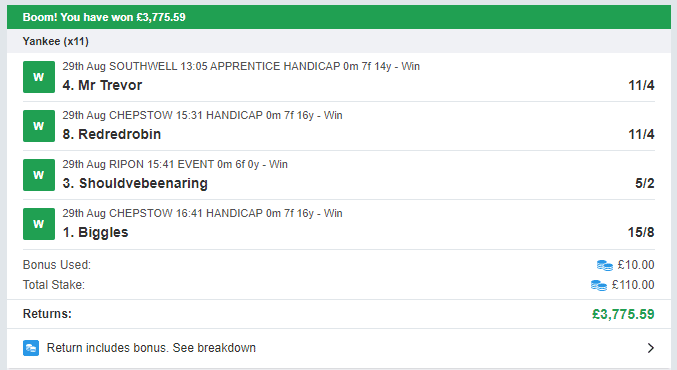 Despite the biggest prices in this bet being 11/4 (or 3.75), the compounding of value across these 4 selections resulted in a 367 point profit from just 11 points staked. As you can see, the doubles, trebles and four-fold that make up a Yankee can boost value bets exponentially, especially when all four selections win.
Success Comes To T

hose Who Wait
As profitable as Multiple Power is – I do want to take a moment to talk about expectations and the patience that is required when using this service.
Betting profits do not come in a straight line and you can never guarantee a winner every week or even month, especially with a multiple strategy like this.
Let me be very clear: You will have losing runs and losing days if following Multiple Power.
You will have days when we advise 5 bets and only 1 of them wins.
You will have days when we advise 4 bets and only 1 of them wins.
You will have days when we advise 3 bets and none of them win.
But equally as the long-term results showcase – you will have days when we advise 4 bets and all 4 of them win. And days with 3 bets when all 3 of them win. And days with 5 bets when 4 of them win.
And on those days (as the bet slips throughout this page prove) the rewards are huge!
Yet it's a service that ONLY WORKS if you understand this and the need to be patient for profits.
That is to get the bets at 10.30am and place them each day come rain or shine. Not getting too down on the days we lose and knowing that when we do win, we win big.
But don't just take my word for it – read the results spreadsheet and the monthly breakdown of performance for yourself.
The nature of the bets – Doubles, Trixies, Yankees and Super Yankees means it's an inevitable mathematical certainty that winners will be in the minority.
But it's not important what happens on a day-to-day basis. It's the performance over the LONG-TERM which counts for everything. And as you've seen from the past results analysis provided above, consistently backing the bets through thick and thin is the only way you can come out financially on top.
Which is why you need to be brave, mentally resilient, disciplined and have the determined stamina to benefit from this service.
Testimonials
Between November 2017 and May 2021, Multiple Power ran under the name of the 'Fake Mug Bets Club' and during this time it had several very dedicated followers who have shared with me the details on some of the profits they have made.
Example 1: Thomas on the 19th April
One member, Thomas shared with me his betslip which made a £5,229.88 return from a £217 Lucky 31 placed on the 5 bets we advised on the 19th April 2021.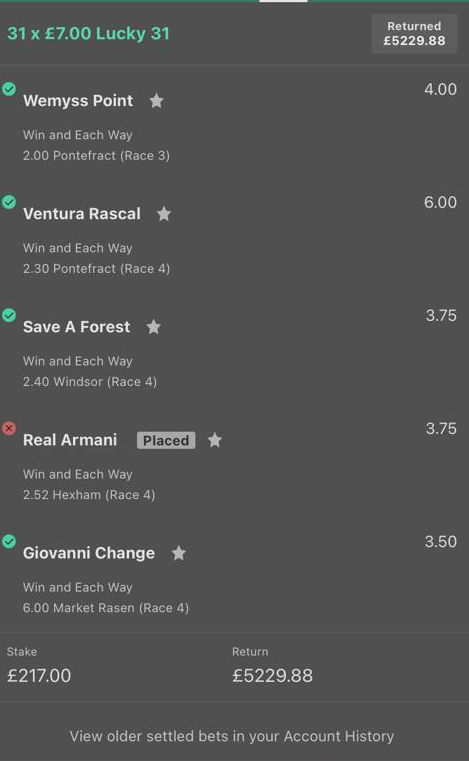 Example 2: Sean on the 15th March
Another member, Sean shared his bet slip which made a £3,375 return from a £25 treble placed on the 3 bets advised on the 15th March.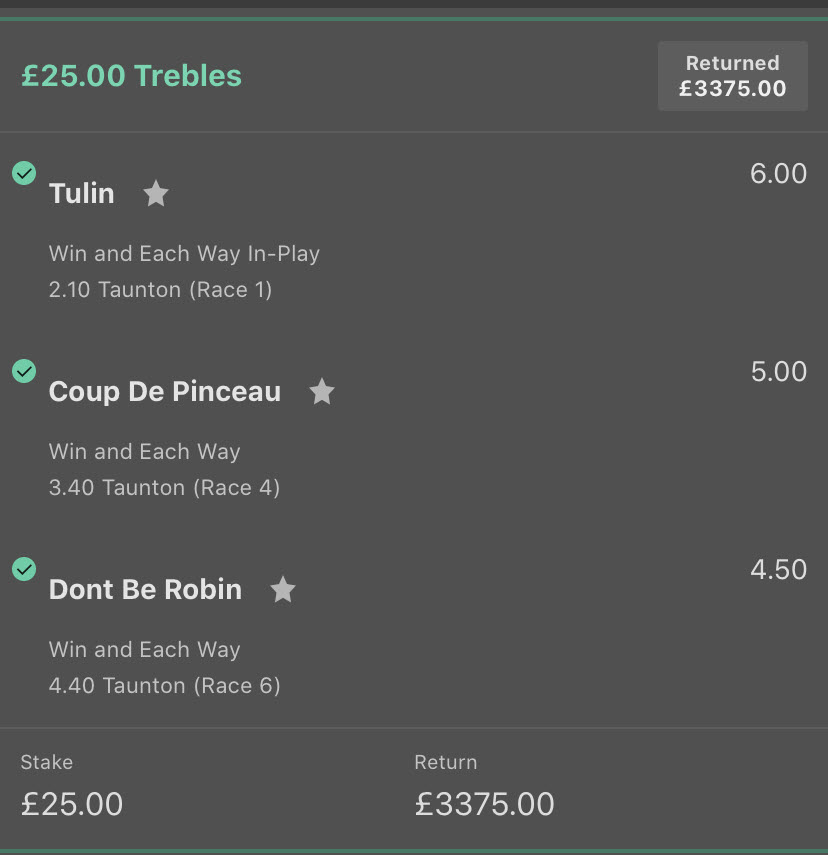 Example 3: Markus on the 20th January
This service is enjoyed by customers across the world, including the likes of Markus, a native German speaker who outlined the profits he made at Bet365 from Doubles, Trebles and 4-ways on the 20th January. We make it a return of €4260.96…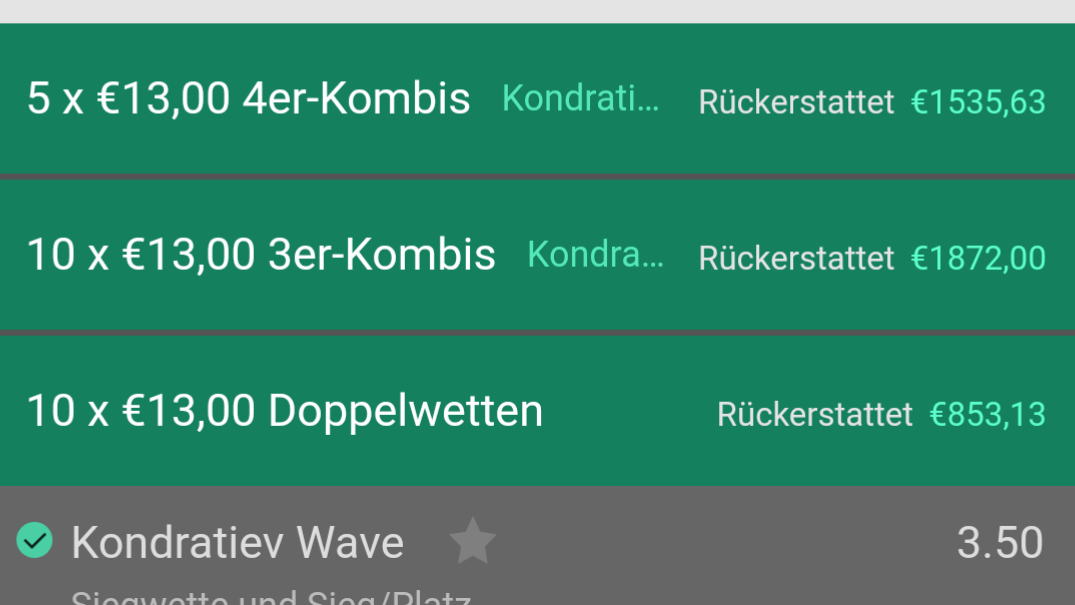 Example 4: Markus on the 19th April
Markus also secured another winner recently by switching his bet placement to the betting exchanges. Here is what he told us about how he made over €16,000 on the 19th April using this method….
"What an amazing day again!
We really had a few of those since I started to follow this. The difference is that I don´t have a bookmaker account for horse racing at the moment any more (at least none where I can stake more than 1€), so I tried to build a strategy for this on the exchange.
Now the problem is of course you can´t make multiples on exchanges and I know that this also never was the reason for the service. But I thought it could be really profitable there too, if I find a way to "simulate" the multiple bets. And I have to say, it really works very well! Like today I´m pretty sure I had a greater profit than if I had bet it on bookies.
It may sound weird to simulate multiples on exchanges, but I calculated exactly how much I have to stake on each horse to have 1 point on singles, doubles, trebles and 4-way accas, like I would have on a bookmaker account. It gets tricky when you only have a few minutes between horses like today and to calculate how much you have to stake on the next when one wins and the other not and so on.. but it pays off!

Today I made over 16k with that and no worries on restrictions 😉
Just wanted to share this with you and of course thank you again for running this! 🙂
30 Day Refund Guarantee
Because I understand that a potent, patience service like Multiple Power is not for everyone, I am offering a 30 day refund guarantee on all membership options available.
This simple offer means that you can personally test out the bets yourself for 30 days knowing that I'll very happily give you a FULL REFUND of your subscription if, for whatever reason at all, you decide they're not right for you.
I offer this once per customer as a way for you to trial out the service to see if it suits you.
All I do state is that – you don't simply join if you expect to make money betting right away or in your first 30 days.
Multiple Power does not work in this way and it isn't realistic to expect big winners each and every month. Betting profitably does not work that way.
Instead it is a strategy that will work long-term and the results bear that out. Yet it can never guarantee a profit over any 30 day period.
Yet if you want to trial it out and have the peace of mind that this approach suits you, then be assured you can join up and take advantage of this 30 day refund period.
Lock In Your Memberships
Currently, we are not accepting new subscribers to the Multiple Power service. Check back in the future if spaces open again.