THE 'MVS LITE' SERVICE
Sign-up now for this exclusive service featuring easy to follow bets with a strong track-record long-term.
At simple £25 stakes, since 2011, this service has made £13,750.00 profit at a ROI of 8.84% backing horses only between 7/4 and 3/1
With bets supplied twice a day – at 10.30am and 4.30pm, it is an ideal service for those of you looking for a genuine, easy to follow racing expert with a track record of profits.

Available with a 30 point profit guarantee if joining for a full year, read on for more details on the service or click here to subscribe now!


Introducing The  MVS Lite Service

The Morning Value Service Lite (or MVS Lite for short) is a horse racing tipster service, providing 2-3 tips on average per day between the price range 7/4 and 3/1.
As all bets are taken from the fantastic Morning Value Service (more about that shortly) they all come from a proven source with a tremendous record of betting success since 2011.
The MVS Lite service is ideally suited if you are looking for…
2-3 tips per day from an easy-to-follow tipster.

Tips with a high-strike rate, superb ROI and bank growth figures.

Tips that are affordably priced with a profit guarantee.


Tips at odds between 7/4 and 3/1 only – backing 1st or 2nd favourites.

Tips that won't get your account easily restricted or closed
Tips that you can back on the exchanges
The MVS Lite Service Explained

The MVS Lite service is based on the same selections that have been advised by Kieran Ward and his renowned Morning Value Service since 2011, so you know its based on sound logic and has a great record behind it.
If you are a member of Kieran's full Morning Value Service, then you can expect to receive as many as 20 tips per day at a wide range of odds up to 20/1. Although profitable, we recognise that not everyone has the time to place so many bets each day.
Which is where MVS Lite comes in as it only provides those qualifying tips that are priced up between 7/4 and 3/1. This generates an average of around 2 to 3 tips per day.
Thus giving you the ability to follow Kieran's excellent advice, yet in a much more manageable and easy to follow way
The fact that these tips between 7/4 and 3/1 have a great record dating back to 2011, also means you can follow with full confidence that they make a profit long-term.
Essentially, MVS Lite is the same service as the Morning Value Service but features some of its best performing tips within a strict price-range and with a fantastic track-record to boot!
Perhaps best of all – it also comes with a 30 point profit guarantee if signing up for a year and is exclusive to the Smart Betting Club.
Find Out More On MVS Lite..

We understand that some of the above might seem a little confusing, so to help explain MVS Lite further, we asked Kieran a series of questions about the service, how it works and its results.
Download it via the link below..
Read our MVS Lite interview with Kieran Ward (opens up a PDF download file)
MVS Lite Betting Record

The MVS Lite service results are based on all the bets advised between the price range 7/4 and 3/1 as originally supplied to Morning Value Service members since 2011. These bets are supplied each morning at 10.30am and around 4.30pm in the afternoon, whenever there is evening racing to bet on.

We know these results are correct as they are the exact same tips as proofed to us here at the Smart Betting Club and which originally earnt Kieran a coveted SBC Hall of Fame award.
As the table below indicates, his stats read as follows: 6219 bets, 549 points profit at a ROI of 8.84%, which equates to a ROC or Betting Bank Growth of 610.99%



To be as transparent on the service results as possible, in the table below you can also view a breakdown of exactly how these tips have performed on a yearly basis since it began on the 11th July 2011.
This table of results is based on placing a 1 point win bet on each tip to win.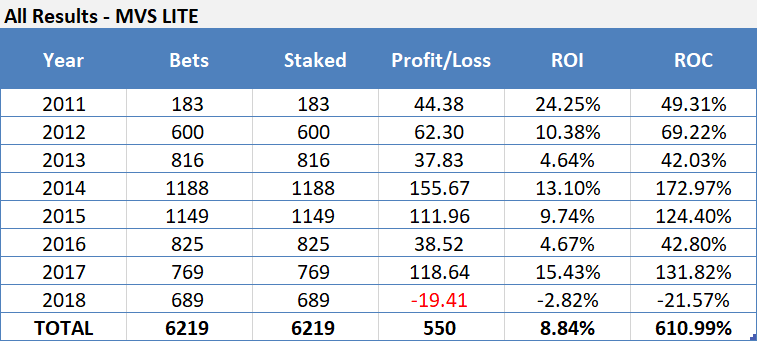 Easy To Get On With Bookies & Exchanges

Another crucial part of the appeal of the MVS Lite service is the fact it allows you to get on both with bookmakers and exchanges. Making it a perfect service for those of you worried or already impacted by betting restrictions.
This is because as all bets are at the front end of the market (between 7/4 and 3/1), it ensures you are regularly betting on the 1st or 2nd favourites in any given race. Obtaining the odds on such short-priced selections is often a lot easier with less issues surrounding price movement and bookmakers restrictions.
Bookmakers will easily accept a punter who picks up a big winner on a bet at 2/1 or 5/2, than they will a big winner at 10/1 or 20/1.
Equally as all bets are win only, you can also follow the service using betting exchanges, such as Betfair & Smarkets.
Again, as these bets are often 1st or 2nd favourites, you can find good money available to match on the exchanges to ensure you can get on.
Odds Settlement Policy

Mindful of the many issues punters face in obtaining odds for certain tipsters, Kieran has his own very fair odds settlement policy as follows:
"

I never settle to a price that is available with less than 2 bookmakers and nearly 70% of bets are available generally (I classify generally as being available with at least 5 bookmakers)
This policy ensures that very often you can match, if not beat the odds quoted by Kieran in each email.
Easy To Follow Daily Tips Emails

As a MVS Lite subscriber you will receive your morning bets in one concise email at 10.30am each day Monday to Saturday.

The Evening selections will be sent through 45 minutes before the first Evening race Monday to Saturday.
Please note – there are no bets advised on Sundays, but there should be plenty during the other 6 days of the week to occupy you!

The quantity of tips will average around 2 to 3 for each email, but this is obviously dependent on how many are within the price range and qualify via Kieran's tipping selection procedure.

For simplicity, all bets are advised and recorded to 1 point level stakes across the board.

All bets are also win only and are recorded as such.
30 Point Profit Guarantee

To provide further reassurance (should any be needed) that the MVS Lite service is for you, all 12 month membership subscriptions also come with our unique 30 point profit guarantee.

This states that you will receive selections from the service until you make at least 30 points profit (all at 1 point level stakes).
So, if for any reason over your 12 month period we fall short of that standard, we will keep sending you tips until this 30 point profit barrier is reached.
We don't expect to have to utilise this offer very often given the overall success of the service, but it is there to give you full peace of mind that you can join in confidence!
What You Can Expect As A Member

As a subscriber to any of the MVS Lite service you can expect to receive regular tips from Kieran and his team via email.

Each tip details the racetime, horse, course, advised odds and the bookmaker(s) offering this price at the time of email being sent.
You can also access the tips via a secure members area should you prefer.
Secure Your Membership Space Now

The MVS Lite service is exclusively only available to Smart Betting Club members so be sure to secure your space now and start benefiting from Kieran's advice!

6 Months Membership: £269 + VAT
Click here to subscribe
12 Months Membership: £399 + VAT
Comes With 30 Point Profit Guarantee
Click here to subscribe