Introducing The Scottish Football Income Booster
The Smart Betting Club have teamed up with the Scottish Football Income Booster Service to provide exclusive access to their fantastic betting advice.
Having achieved a 11.63% ROI over 1023 bets since the service began in August 2015 (all of which has been proofed to us), it's a deal you won't want to miss out on!
You can get signed-up right away via this exclusive link or read on for more on this exciting and unique offer.

The Scottish Football Income Booster service features regular betting advice from 'The Scotsman': A bonafide expert on the 4 main Scottish Football Leagues: The SPL, Championship, League 1 and League 2.
Whilst teams like Montrose, Alloa or East Stirling might mean little to you – to The Scotsman they are his ticket to betting profits and his expertise 'North of the Border' has been proven over the past 5 years.
Proofing his tips to us since August 2015, he has made a 11.63% ROI from 1023 tips in his favoured 1X2 and Over/Under markets.
To allow The Scotsman to concentrate on picking winners, he has teamed up with betting expert, Matthew Walton, who manages his service for him – sending out his tips and generally ensuring everything runs smoothly.
Matthew should be a familiar name to many SBC members thanks to his excellent work with the Golf Insider and Racing Intelligence services – both of which continue to rack up significant profits for followers and come highly recommended.
Matthew prides himself on offering a high quality and personalised service (all members have his personal mobile number) with the focus on making it as easy as possible for you to get your bets on and most importantly of all – achieve a profit from your betting.
11.63% ROI From 1023 Scottish Tips Since 2015

Onto what matters most – results and this is where the Scottish Football Income Booster service has thrived with a 11.63% ROI from 1023 Tips since August 2015.
You can see the full rundown over the past 5 seasons and his current stats for this ongoing season below: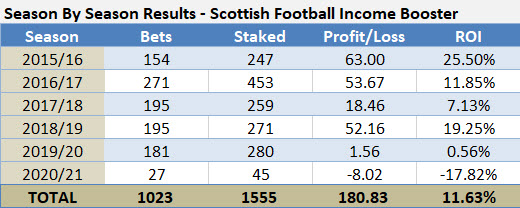 These tips are spread across all 4 Scottish Leagues from the SPL down to League 2 and are predominantly advised in 2 main betting markets: 1X2 and Over/Under bets. 1X2 bets for those unfamiliar with the term are your traditional bets on either a home/away win or draw.
Tips are sent on well in advance of each game starting with clear guidance on the bet supplied, stake, best odds and recommended bookmakers.
Averaging Between 150% & 226% Betting Bank Growth

When it comes to Betting Bank Growth, the Scottish Football Income Booster service also ticks all the right boxes.
Hitting a 47.20% strike-rate over and with average odds of 2.57/1, it allows us to follow The Scotsman in with optimised banks for growth.
We recommend 3 different betting bank sizes depending on your preferences – 80 points, 100 points and 120 points. Here is how the service stacks up to each in terms of betting bank growth to each recommendation:

All Bets Settled At Fair Odds & Easy To Follow

Most importantly for followers of The Scotsman, all tips are advised with achievable odds as put forward from the main UK bookmakers – those you will find pricing up on Oddschecker. Normally the prices on any tips are available with at least 2 to 3 bookmakers at the time of advice.
It's important to note that no tips are put forward with lesser known bookies such as the likes of Netbet, Winner or BetStars.
For those of you who like to bet with betting exchanges, The Scotsman also quotes the best exchange odds for reference in each email he sends. He also flags up the "next best price" to make life easier for you.
No odds are quoted with any 'Asian' based bookmakers such as Pinnacle or SBOBet as UK and Ireland customers are unable to use their services at present.
Tips are supplied via email usually a few days in advance ahead of any games. This means for any Saturday fixtures, you will receive an email on any of Wednesday, Thursday or Friday and for any Midweek fixtures, you will receive an email the day before. A text alert is also sent to notify members when the bets are on their way.
Read This Exclusive Interview With 'The Scotsman'

To understand more about The Scotsman and exactly how the Scottish Football Income Booster service can benefit you – then make sure you read this recent interview with him.
» Download The Scotsman Interview (opens up a PDF file)
Inside, he discusses his background in betting, his tipping strategy, the markets he focuses on, the bookmakers he uses and why exactly he has been so successful.
With a deep rooted background in betting on Scottish Football (both as an odds compiler and now a tipster) he has forgotten more than most people will ever know about all things 'North of the Border' football wise.
30 Day Money Back Guarantee

Best of all, in order to showcase their confidence in the service, as an SBC member you can also subscribe to the Scottish Football Income Booster service with a 30 day anytime money back guarantee.
This enables you to sign-up for the Scottish Football Income Booster service now and if for any reason you are not happy with it, you can get a full refund within your first 30 days.
Effectively you can sign-up today, try the service out for size and if it's not for you, request your money back and walk away. Even if you decide to do this on Day 29!
Should you wish to continue as a member after the 30-day trial ends, the cost stands at £47 + VAT per month.
How To Sign-Up Right Away

To subscribe – simply visit this exclusive link where you can find subscribe links for the 30-day trial.
Should you have any questions, you can also get hold of Matthew both via email and over the phone where he will be only too happy to discuss this offer with you.
Visit the Scottish Football Income Booster