Jason James Quantum Racing

Sign-up now to follow top tipster Jason James via his Quantum Racing tipping service.
Jason has proven himself to be a bonafide expert racing tipster thanks to his long-term record of success, much of which has been supplied totally for free to SBC members as part of his proofing period.
Here are the key facts to be aware of:
Long-term record of 998 pts profit from 4287 bets since October 2014;
Strong ROI of 14.09% and ROC of 499% obtained during this period;
25% ROI from 475 bets during 'Free Proofing' period available to all SBC members;
Average of 2-3 easy to follow tips per day;


All bets settled to generous fair price odds settling policy – ensuring all can achieve advised prices;
How Jason's Tips Can Make You Money

Since October 2014, Jason James has developed an outstanding record of betting profits and proven to be a constant thorn in the bookies side.
If you are looking to make money by following a high quality racing tipster, then Jason ticks all of the boxes.
You can sign-up to receive Jason's tips exclusively via email each and every day, via his Quantum Racing service.

Jason James Betting Record

To illustrate just why Jason is regarded so highly in the betting world, we only need look at his outstanding betting record since he began tipping.
Since October 2014 he has made a 998 profit from 4287 bets at a Return on Investment of 14.09%. This equates to a ROC or Betting Bank Growth of 499%.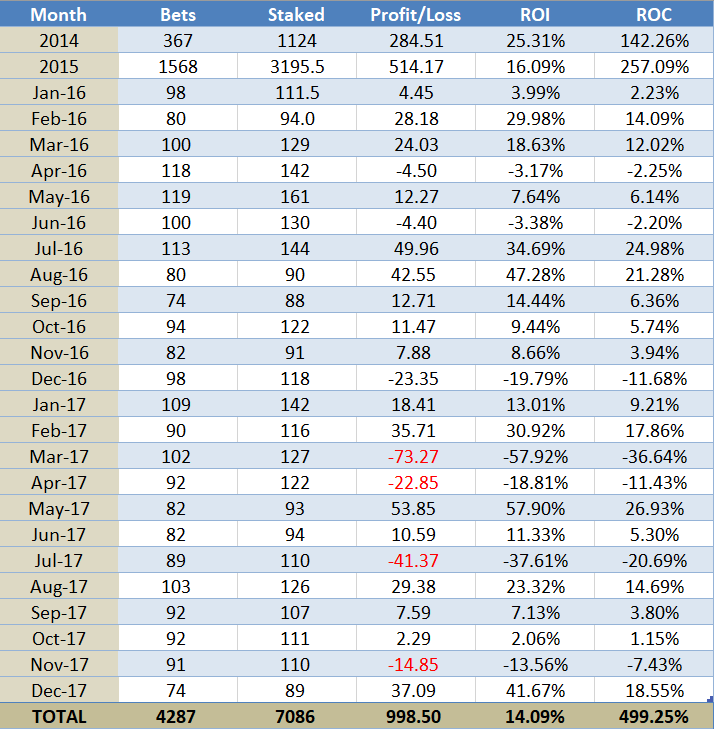 Jason's success has been based on a consistent approach to finding value tips each and every month.

Just as with any genuine tipster, there will be periods of both profit and loss but the key fact is that over any medium to long-term period, Jason has made excellent profits.
In the interests of full transparency – you can also download a full results spreadsheet and view updated results via the Jason James Racing Proofing webpage.
158 Points Profit From 433 Bets In Public SBC Proofing Period!

Although Jason has a record of success dating back to October 2014, between the 16th July 2015 and 30th November 2015, he also sent on all of his tips totally for free to members of the Smart Betting Club. You can view each and every bet that Jason has put forward during this period via the SBC Forum.
During this free proofing period, Jason achieved some sensational results from the 475 bets advised. In total he made SBC members an 162 pt profit at a Return on Investment of 25% and a Return on Capital (ROC) or Betting Bank Growth of 80.99%.

Easy To Follow Daily Emails – How & When You Receive The Tips

As a subscriber to the Jason James Quantum Racing service you can expect to receive 1-2 emails each day outlining his tips for the days action.
The quantity of tips does vary based upon the amount and quality of racing each day, but in general you can expect to receive an average of around 2-3 tips per day..
All of these tips are sent via email each morning like clockwork, ensuring that you can follow Jason in with the minimum of fuss.
The first email of the day is sent between 8.30 and 8.35am, with notice included within that on when to expect any further emails (usually there is a second update sent between 10 and 10.05am).
Bets are not released until 8.30am as this is when the bookmaker, Black Type, releases its own prices. Thus, as a member you will be able to place your bets with this firm.
After each day's racing, Jason will also send on a review email, outlining the profit and loss of the tips supplied, alongside any thoughts on each race. At all times, you will know exactly how the service is faring.
There are a mixture of bets to be backed both win only and each way, with occasional double bets or ante-post tips
There is a simple staking plan in place for you to follow with the vast majority of tips a simple 1 point to win or 1 point each way. We also advocate a 200 point betting back for those following the service for optimal returns.
Fair Odds Settlement Policy – Now Based On Average Odds (Not Best Odds!)

Both Jason and SBC recognise that quoting bookmaker prices that are genuinely achievable is essential for any tipster service.

This is why Jason has adopted a fair price odds availability policy and now settles all bets at the average prices offered from at least 6 of the following bookmakers:
Bet365, Bet Victor, Betway, Betfair Sportsbook, Black Type, Coral, Ladbrokes, Paddy Power, Skybet, Tote/Betfred (same company), William Hill.
By taking the average odds and not the best odds, you will easily be able to match, if not beat the settled odds on all advised bets. Very often, through the use of exchanges such as Betfair/Smarkets/Matchbook or by taking a stand-out price with one bookmaker you will be able to improve upon results.
To see this policy in action, take the following tip as advised on the 3rd January 2017 at 8.35am.
1.30 MUSSELBURGH (5) DREAM FLYER 6/1 (7.0) 2PT WIN
6/1 (7.0) TOTE B/FRED W/HILL
11/2 (6.5) SKY B/VIC P/POWER LAD B/WAY B/TYPE B/FAIR
Dream Flyer was available at 6/1 with both Tote/Betfred and William Hill, yet this tip was settled at the 11/2 on offer as this was the average price with 7 other bookmakers. There will have been no issue in obtaining at least 11/2, and many of you may also have taken 6/1 and improved upon our settled results.
Furthermore, in those rare instances where the odds on an advised tip change significantly after Jason tips them up, we will also settle at the lower, available odds. This happens very occasionally, such as when a high-profile tipster like Hugh Taylor picks out the same horse.
It should be noted that as with any good racing tipster, odds are vulnerable to movement and especially so in the modern racing betting & bookmaker world. Although every care is given to ensure any advised price is available at the time of email, our advice is to ensure you place your own bets soon after they are received. This will ensure optimal returns from following the service.
Secure Your Membership Space Now
1 Months Membership: £75 + VAT
This is a recurring monthly subscription
Click here to subscribe
3 Months Membership: £189 + VAT
Click here to subscribe
6 Months Membership: £319 + VAT
Click here to subscribe
12 Months Membership: £449 + VAT
Click here to subscribe