Football Lay Profits

Unique High Strike-Rate Football Laying Strategy
Ideal For Betting Exchange Only Punters!
Football Lay Profits is a unique service featuring high strike-rate laying advice from football tipping expert, Jon Roberts.
Here are the key facts to be aware of:
Regular football lay tips to be placed on betting exchanges;
Very high strike-rate: 82% of all lays have won historically;
3 year proofed performance of 219 points profit from 1466 tips at 3.6% ROI;
Ideal for those of you restricted by bookmakers or looking to diversify your betting;
Fair odds settlement policy where quoted results can be often improved upon;
All memberships come with a 30 day money back guarantee;
Secure Your Membership Now 
You can get started and sign-up immediately for Football Lay Profits via this subscription link.
Save an extra 5% as a Smart Betting Club member

You can save an additional 5% on the cost of joining Football Lay Profits simply by holding an active Smart Betting Club membership. Subscribe to SBC now.

If you have an active SBC membership, login with your username/password and return to this page to discover the 5% discount link.
What is Football Lay Profits and how can it help you?

Football Lay Profits is an exclusive service to the Smart Betting Club, providing high strike-rate laying advice across all major European football leagues.
As a subscriber you will benefit from following this winning strategy as developed by football tipping expert, Jon Roberts who since November 2016 has proven his edge live in these lay markets.
And with the results of SBC's very own odds tracking study suggesting you can actually beat these profits simply by placing your bets on exchanges with lower commission rates, its an opportunity you don't want to miss out on.
Football Lay Profits is ideally suited for those of you who use betting exchanges such as Smarkets, Matchbook, Betdaq and Betfair and are looking to try something new and exciting.
Jon's Profitable Laying Strategy Explained
To help explain the potency of this service, its important to understand the history behind Football Lay Profits.
In Autumn 2016, football betting expert, Jon Roberts approached the Smart Betting Club to share details on a profitable laying strategy he had uncovered and was keen to have monitored by the team here.
After crunching the numbers on other 200,000 games from over 10 seasons of results, Jon was convinced he had put together an extremely profitable method for laying football bets.
…And as I will go onto explain, he genuinely had found a winning strategy!
All told, between August 2013 and early November 2016, his laying strategy had made a profit of 294 points from over 1800 lays at a ROI of 3.88%.
(If this ROI sounds low – it isn't for a laying service – I will explain the different ROI staking for laying we use further on)
This was based on placing fixed stake 1 point lays at Betfair odds minus 5% commission.

It was at this point I asked Jon to start sending us these lays each day so my team and I could observe their performance in the live betting exchange markets.
For me, one key question needed to be answered:
Could Jon replicate these fantastic profits in live proofing over at least a 12 month period?
The answer, I am pleased to say is a resounding yes, as not only did he replicate them, but he actually improved on these profits!
Since November 2016, Jon has advised a further 1466 tips and made a profit of 219 points at 3.6% ROI in live proofing. This is correct as of the 17th July 2019.

These results are based on accurate odds taken from Betfair only, with 5% commission deducted as standard.
Not only this, but the simple act of betting on exchanges with lower commission rates can easily ensure you can often match if not beat these quoted odds regularly.
Better Profits Available – Take Lower Commission Rates
Whenever you place a lay on the betting exchanges – it is imperative to make sure you take the lowest commission rate possible, and this is very much the case with Football Lay Profits.
All results between the 2013/14 and 2018/19 season we quote are based on the assumption that you are paying a 5% commission rate on each successful lay. This 5% is Betfair's base rate and is a figure deducted off your winnings as payment for using Betfair's service.
These days, there is simply no reason to pay this fee as several alternative exchanges to Betfair – Smarkets, Matchbook and Betdaq all start at a top commission rate of 2%, rather than 5%.
The differences in paying a 2% versus a 5% rate are stark and as the table below outlines, over the course of all 6 seasons, you would be 80.25 points better off simply through this practice.

Both Jon and I therefore highly recommend those of you that do join Football Lay Profits, make sure you have an account with Smarkets, Matchbook and Betfair.
The Leagues Covered

As a Football Lay Profits subscriber, you can expect to receive tips across all major European leagues including the following:
English Premier League
English Championship
German Bundesliga
French Ligue 1
Italian Serie A
Portugal Primiera Liga
Spanish La Liga
Belgium Juliper League (1st division)
Italian Serie B (2nd division)
Dutch Eredivisie (1st division)
Scottish Premiership (1st division)
Spanish Segunda (2nd division)
Turkey Superliga (1st division)
You can expect to receive an average of around 55 lays each month and since 2013, laying in these leagues has made 513 points profit at 3.8% ROI over 3272 tips.
Profits To 'Liability Staking'
I wanted to talk about the differences as per how we calculate lay staking here at SBC, which is something we term 'lay liability'.

Lay Liability is needed as it calculates the amount you risk on a lay when you place it on a betting exchange. It is very different to the amount you might stake with a more traditional 'backing' tipster service.
To illustrate why we use Lay Liability – let me explain with the following example lay:
In 2017, Jon advised a 1 point stake lay on Barnsley against Norwich at odds of 4.12. Effectively this means we are hoping for either a draw or a Norwich win to make a profit.
Now lets say you placed a £100 lay on Barnsley on Betfair at odds of 4.12.
Here you would be risking £100 X your odds of 3.12 (4.12-1), which means a possible loss to you of £312 if Barnsley were to win.
You would need to have that sum (£312) in your account with the betting exchange to place this lay as that is the amount you are risking.
As the lay was successful and Barnsley didn't win, you would have made a £100 profit minus any commission.
Yet in our records, we record the total sum we risked (£312 or odds of 3.12) as our Lay Liability. This is why the ROI for a laying service always looks inferior to a more traditional 'backing' tipster.
Betting Bank Calculation & Profits

Whilst the ROI might seem low from a laying service, where it comes into its own is through the use of a betting bank.
Currently we recommend a 150 point betting bank for followers of the Football Lay Profits service.
Since 2013, this betting bank size has returned growth of 342.0%.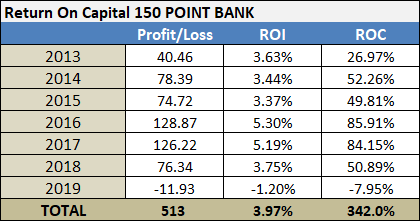 For those of you willing to accept a little more risk and a 100 point betting bank, the same lays will have made a 513.1% growth figure.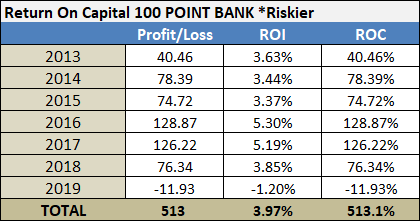 Our recommendation here at SBC is to look at not just ROI, but also ROC and betting bank growth when judging a laying tipster.
Why The Odds Quoted Are Fair And Beatable

Prior to launching the Football Lay Profits service, I also commissioned a study into the odds availability and movement of the lays that Jon advised.
All the lays supplied by Jon were based on the Betfair prices available in the lay market at 8am each morning.
SBC's study tracked the advised odds Jon put forward on 99 lays to gauge how they compared both immediately after receipt and after 15 minutes elapsed.
I compared the prices available on Betfair, Smarkets and Matchbook and here is what I found:
If placing each lay immediately at the best lay odds available, you could actually IMPROVE your ROI by 1.49%
If placing each lay 15 minutes after it had been advised, you could also IMPROVE your ROI by exactly 1%
Proving to both Jon and I that these odds were not only accurate, but through the simple act of placing your bet on the exchange with better odds, you could improve the profits claimed.
About Betting Expert, Jon Roberts

The Football Lay Profits service is based on the expert advice from from betting guru – Jon Roberts. He developed the Football Lay Profits system after many years working in the betting industry and knowing what it takes to make a profit.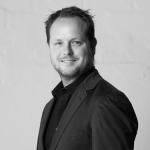 The Nuts And Bolts Of The Service

Jon Roberts prides himself in running an easy to follow, functional and practical service so that as a subscriber to Football Lay Profits, you can get your bets on with the minimum of fuss.
Here is how the service works:
Set Time Windows: All tips are sent daily at 8am UK time so you always know when the next advice is coming. You can expect the majority of advice to fall on weekends and when fixtures are taking place.
Number of Bets: You can expect an average of between 50 to 60 lays per month, although please note that these are weighted towards Saturdays and Sundays when the majority of fixtures take place.
Staking: All lays are advised with a level staking plan of 1 point and a 150 or 200 point betting bank is advised – depending on your level of risk.
Odds Range: We recommend lays only when priced between 3.76 and 10.0 in decimal odds.
Bookmakers: All lays are advised at Betfair prices available at 8am UK time. I recommend checking Smarkets, Betdaq, Matchbook and Betfair for the best priced lays.
Your 30-day Risk-Free Trial
"Getting the very best value" is essential to winning money when you're betting like a professional and this same ethos has been applied to the offer I can give you today.
You can get your name down for any of the subscription options, where your first 30 days are covered by a no-nonsense Money-Back-Guarantee.
Offering you tremendous value and loaded in your favour in terms of your subscription.
You can personally test out the FLP service yourself for 30 days knowing that I'll very happily give you a FULL REFUND of your subscription for whatever reason at all, should you decide its not right for you.
Secure Your Membership Now 
You can get started and sign-up immediately for Football Lay Profits via this subscription link.
Save an extra 5% as a Smart Betting Club member

You can save an additional 5% on the cost of joining Football Lay Profits simply by holding an active Smart Betting Club membership. Subscribe to SBC now.

If you have an active SBC membership, login with your username/password and return to this page to discover the 5% discount link.
Best Regards,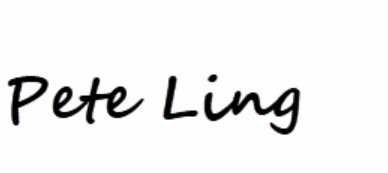 Pete Ling
Founder, Smart Betting Club