Introducing The Fake Mug Bets Club

It might have one of the weirdest names of any of the Smart Betting Club's Premium Services, but I can assure you that the Fake Mug Bets Club is a very serious, highly professional and hugely profitable advisory service.
Background & History

Although the service only officially launched in early November 2017, the professional who supplies the bets – Kieran Ward – is very well known to us here at the Smart Betting Club.
A professional backer of some 20+ years, Kieran has an enviable reputation for outstanding professionalism and credibility, hard work (lots and lots of it), dedication, discipline and years and years of consistently profiting from horse racing.
This background and proven winning edge meant that we had no hesitation in teaming up with him in highlighting the performance of his racing tips priced up between 7/4 and 3/1 – which form the basis of the success behind the Fake Mug Bets Club!
The 7/4 to 3/1 Sweet-Spot
Quite simply, whenever at least two bets between 7/4 and 3/1 are advised by Kieran at around 10:30am for afternoon racing, or approximately 40 minutes before the start of evening racing, these are the bets which form the basis of the Fake Mug Bets Club.
Why at least a couple of bets?
Because the Fake Mug Bets Club is all about using easy-to-place and bookie-friendly doubles, trebles and occasional 4-way accumulators to generate seriously profitable returns.

Yes, if you want, you can also choose to back the bets as win singles, but whilst the historical results going back to 2013 show a double figure ROI when using this approach, the greatest bang for your buck comes when you combine the bets in multiples – doubles, trebles and accumulators.
What's the reason for the name Fake Mug Bets Club?
Now from a bookies point of view, mug punters bet on favourites, and mugs definitely back doubles, trebles and other types of accumulators.
But the bets on this service – those supplied by the hard work and expertise of Kieran Ward – are anything but mug bets.
Instead, a much better description is "Real and professionally sourced precision value bets of the very highest quality".
So in reality, the bets you can place when you sign-up are "Fake Mug Bets".
They make you look like a mug, but you can actually end up winning like a professional. [And you can also win alongside me because I've been following the multiple bets myself day-in, day-out for a long time without needing to worry about bookmaker restrictions for winning too much money].
Acting like a mug is the perfect cover if you want to win like a shrewd operator
Now as an SBC member, you'll no doubt know what the bookies are like yourself.
If they even sniff you know what you're doing – such as taking early odds and regularly beating starting prices – they'll make life difficult for you and choke off your earning potential.
So you NEVER want to appear to them as a shrewd operator – even though that's precisely what you'll be when you join me and start taking full advantage of Kieran's strategy.
But whether you decide to back the bets as singles, doubles, trebles or 4-ways, the bookies will readily accept them because they totally fly under their bet monitoring radars and make you appear to look like a mug (when you're obviously not!)
You can basically benefit from these twin advantages…
1. Betting freely with the bookies
And also…
2. Avoiding all-too-common and annoying stake restrictions
So not only can you enjoy access to this superb service.
You can actually win money from the bookies which on some days can add up to hundreds, if not thousands of pounds of profit.

Which brings us on to the past year's results and the fact that with your 30-day Risk-Free Trial, you can get you access to one of the most profitable sources of horse racing information I've ever seen since I founded the Smart Betting Club over a decade ago.
Sky-high ROI's and profits every single year
Performance wise, the Fake Mug Bets strategy has a clear profit each and every year since 2013 to the tune of 3,652 points.
Here is the yearly breakdown of profits if following all of the singles, doubles, trebles and 4-way accumulators: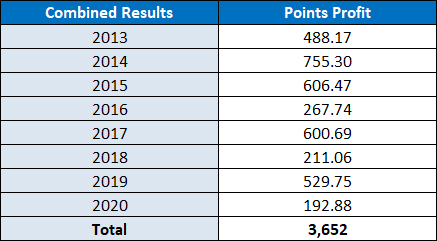 For those of you keen to know how this breaks down, below you can view the performance of backing the bets as singles, doubles, trebles or 4-way accumulators for every year.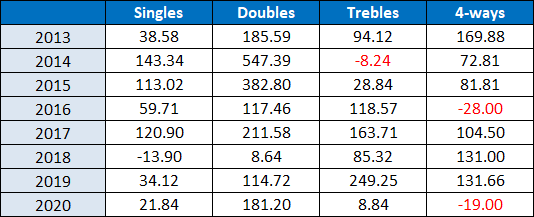 To provide context to these figures, below you can also find the Return on Investment (ROI) for each type of bet since 2013.

As you can see, each method is long-term profitable with a whopping 264.40% ROI from the 4-ways and a very profitable 29.74% and 28.58% ROI from the doubles and trebles respectively.
Even the singles contribute significantly and a 9.32% ROI backing short priced horses between 7/4 and 3/1 is a tremendous edge.
Your 30-day Risk-Free Trial
"Getting the very best value" is essential to winning money when you're betting like a professional (and not a mug!), and this same ethos has been applied to the offer I can give you today.
You can get your name down for a £37.50+ VAT monthly subscription where your first 30 days are covered by a no-nonsense Money-Back-Guarantee.
Offering you tremendous value and loaded in your favour in terms of your subscription hardly eating in to what could end up being very serious profits for you (even staking to just small £10 bets)…
You can personally test out the bets yourself for 30 days knowing that I'll very happily give you a FULL REFUND of your first month's £37.50+VAT subscription if, for whatever reason at all, you decide they're not right for you.
Plus you also won't be boxed in to having to commit yourself for, say, 6 or 12 months upfront.
What to do next
99% of regular punters don't have what it takes to follow my lead and win money from the "high profit, low stakes" strategy used by Kieran Ward to supply the bets for the Fake Mug Bets Club.
What I mean is that the vast majority of punters pull the quit trigger far too quickly on a long-term very profitable venture (which is exactly what the Fake Mug Bets Club is) at the first sign of a few losers.
Because of the nature of the bets – doubles, trebles and 4-way accumulators – it's an inevitable mathematical certainty that winners will be in the minority.
But it's not important what happens on a day-to-day basis. It's the performance over the LONG-TERM which counts for everything. And as you've seen from the past results analysis provided above, consistently backing the bets through thick and thin is the only way you can come out financially on top.
Which is why you need to be brave, mentally resilient, disciplined and have the determined stamina to benefit to this service.
And if you can say "yes" to that list of criteria, then click on the link just below.
Click here now and sign-up for your 30-day Risk-Free Trial to the Fake Mug Bets Club
Best Regards,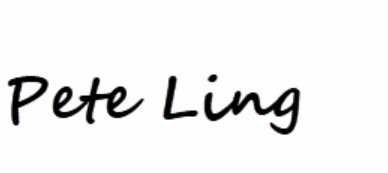 Pete Ling
Founder, Smart Betting Club