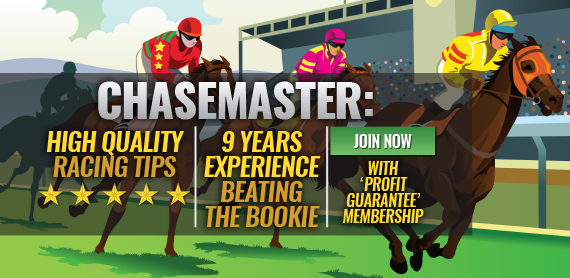 With 9 years of profit behind them, results that you can easily improve upon and minimum profit guarantees, Chasemaster offers everything you need to make regular, genuine profits from horse racing.
Sign-Up Now To Follow The Chasemaster Racing Experts
How The Chasemaster Experts Can Make You Money
As their name suggests, Chasemaster are specialists when it comes to chase racing, with all advice drawn from the expertise of a crack team of 3 professional gamblers.
Here are the key facts to be aware of:
Long-term record of 330 pts profit from 2935 bets since 2008;
Strong ROI of 11.83% and ROC of 220% obtained during this period;
116.49 points at 32.63% ROI from just the past 12 months alone;
11% ROI from 129 bets during 'Free Proofing' period available to all SBC members;
Quoted results often very easily improved upon thanks to fair odds policy;
Tips not supplied until early afternoon when the racing markets are formed;
100 or 200 point profit guarantee for those subscribing for 6 or 12 months.
Profitable Racing Tips Since 2008
Chasemaster have been supplying racing tips since September 2008, during which time they have made a substantial profit for those following them.

All told, from 2935 bets since 2008, they have made 330.16 points profit  at a ROI of 11.83%.
During the past 12 months (November 2015 to October 2016) they have enjoyed an ever better run of form with 116.49 points profit from 288 bets, at an ROI of 32.63%.

All Chasemaster results are available to access and download via their designated page at the Racing Proofing website.
18.30 Points Profit (11.66% ROI) In Free Trial
Between the 1st of May and the 8th November 2016, the Chasemaster team agreed to supply ALL of their tips for free to members of the Smart Betting Club. This is as part of a public proofing period.
If you hold an SBC membership, you can view each and every bet that the Chasemaster team put forward during this period via their SBC Forum Tipping Thread.
During this free proofing period, they made a generous profit from the 129 bets advised with 18.3 points profit from 129 bets at a ROI of 11.66%.

Why Chasemaster's Obtainable Odds Matter
One key reason why Chasemaster's performance is so impressive, is because you can actually easily obtain and regularly beat the recorded odds. Making the quoted record above easily improved upon.
Their tips are not distributed until early afternoon, at which time most bookmakers are much more willing to take and stand your bets.
Not only, this but the Chasemaster service also operates a fair odds settlement policy to ensure all members are fully confident they can get their bets on and at least match the results on display.
Results are only settled to a price if available from at least two of the following – Bet365, BetVictor, Bet Bright, Black Type, Coral, Ladbrokes, Paddy Power, Skybet, Sportingbet, Tote & William Hill.
We believe that this policy will enable all members to at least match the results we settle all bets to. Very often, through the use of Betfair or by taking a stand-out price with one bookmaker you will be able to improve on the quoted results.
How The Service Works
As a subscriber to the Chasemaster Racing service you can expect to receive regular emails outlining the tips they have for any given day.

There is usually 1 email each day, which is generally sent between  between 1 and 1.30pm for afternoon racing and between 3 and 3.30pm for any evening race meetings.
Sunday messages will be posted between 11.30am and 12pm. There may also be occasional early bet notifications if and when there is a value price to be taken before 1pm.
Depending on the quality and quantity of racing, there will be days where no advice is supplied. You will be notified as far in advance as possible about any no bet days.
All of this has been designed to make following Chasemaster's expert advice as easy as possible!

25 & 50 Points Profit Guarantee

To provide further reassurance (should any be needed) that Chasemaster will make you money, all 6 and 12 month membership subscriptions also come with the following guarantees:
6 Months Subscription: You will receive tips from Chasemaster until you make at least 25 points profit.

12 Months Subscription: You will receive tips from Chasemaster until you make at least 50 points profit.
So, if for any reason over your 6 or 12 month period we fall short of these standards, we will keep sending you tips until this 25 or 50 points profit barrier is reached.
We don't expect to have to utilise this offer very often given the overall success of the service, but it is there to give you full peace of mind that you can join in confidence!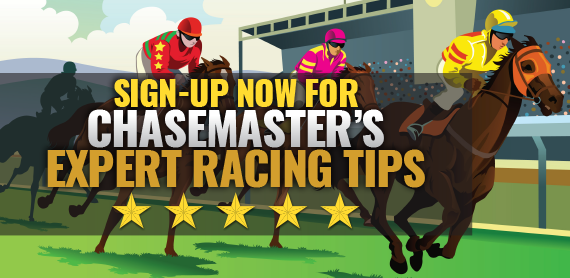 Secure Your Membership Space Now
Sign-up now to secure your subscription to Chasemaster whilst membership spaces remain available!
3 Months Membership: £129
(Effectively £43 per month)
Click here to subscribe
6 Months Membership: £199
(Effectively £33.16 per month)
Comes With 25 Point Profit Guarantee
Click here to subscribe
12 Months Membership: £299
(Effectively £24.91 per month)
Comes With 50 Point Profit Guarantee
Click here to subscribe