You can now secure your membership to the exclusive Asian Handicap tipping service – AH EDGE

for the forthcoming 2017/18 season.



Sign-up NOW using the coupon code '

AHEDGE5

' and save 5% on the cost of membership. But hurry as this offer will expire at Midnight on Friday the 28th July!


Easy To Follow, Profitable Football Tips
The AH Edge service is quickly becoming one of the most popular football tipping services thanks to its record of success, affordability and ease of following.
Here are the key facts to be aware of:
Live performance during 2016/17 season of 5.73% ROI from 494 tips;
Historical record pre-August 2016 of 8.59% ROI from 1315 tips;
Tips supplied by top football expert, Jon Roberts;
95% and 70% bank growth from past 2 seasons results;
Great value betting markets – very easy to get your bets on at advised odds;

Ideal for those of you impacted by horse racing betting restrictions and closures;

Fair odds settlement policy and consistent 8am supply of tips via email;
Read The SBC AH Edge Review
To highlight the profits made by AH Edge, you can now download a special SBC review of the service.

The review tackles the important questions on the service including 2016/17 season results, betting bank growth, performance broken down by country and its overall profitability.

The Expert Behind The Service

The AH Edge service features expert Asian Handicap tips from football betting guru – Jon Roberts.
Jon is the brains behind the renowned Football Advisor service, which since May 2014 has made 324 Points Profit at 8% ROI (over 3000 tips) from a multitude of football tips covering several markets such as 1X2, Asian Handicaps, Accumulators & Antepost Bets.
The AH Edge service is focusing solely on Jon's very own private and personal Asian Handicap tips, which made a 8.59% ROI from 1315 bets between May 2014 and May 2016.
During its debut 'live' season in 2016/17 the AH Edge service made a profit of 28.3 points from 494 bets – all at a ROI of 5.7%.
AH Edge – Jon's Personal Betting Record

We first launched AH Edge based on the strong performance that Jon Roberts has achieved historically from his own personal Asian Handicap betting.
First of all, here are the results stats from Jon's personal AH betting record between May 2014 to May 2016.
Each calendar year made a positive ROI and ROC with the long-term stats showcasing a 113 point profit at 8.59% ROI from 1315 bets.

The odds quoted for these bets are based on the average prices from a group of 10/15 bookmakers available on Oddsportal, such as Bet365, Ladbrokes, Pinnacle, VCBet & William Hill.
Jon's Proofed Asian Handicap Performance

Jon has also been running his successful Football Advisor service since August 2014, during which time he has advised and proofed a series of Asian Handicap tips.
SBC independently reviewed Football Advisor back in May 2016 and highlighted his Asian Handicap tips, which if followed on their own, had a 56 point profit at 7% ROI from 621 bets. The table below is taken from the review first published in SBC Magazine Issue 97:


Although these bets remain separate to those advised via AH Edge – this table does go to show how strong his record is in the Asian Handicap markets with a 7% ROI dating back to 2014.
AH Edge Live Performance During The 2016/17 Season.

Given the success from both Jon's personal betting and those Asian Handicap bets he advised via his Football Advisor service, we set-up the AH Edge service in August 2016.
Initially offered with a simple £10 a month fee and a full refund guarantee if the service did not make a profit within its first 3 months, the results during the 2016/17 season were excellent.
In total there were 494 bets with a 28.30 points profit at 5.73% ROI.
As of the end of the 2016/17 season, here were the final results: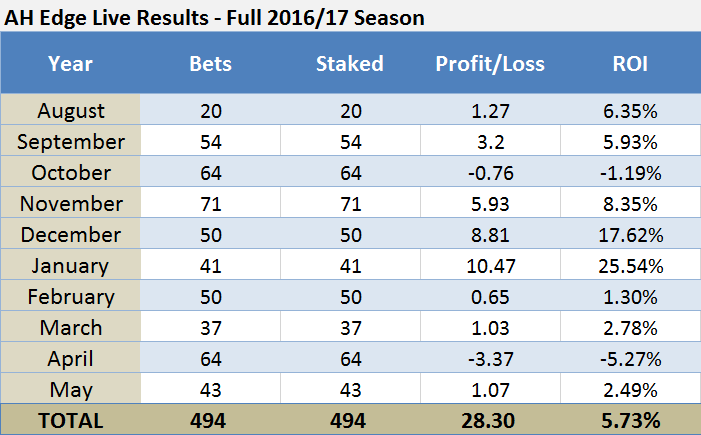 You can download the entire AH Edge results via this link (opens up excel spreadsheet file)
Why Asian Handicap Betting?

Asian Handicap (AH) betting is extremely popular for a series of reasons…

Great Value Markets: Due to the amount of money traded in AH markets, the bookies work to very small profit margins – ensuring you get great value and competitive odds. Perfect for shrewd punters.
No Restrictions or Closures: Most major AH bookmakers & exchanges (Such as Matchbook, Pinnacle, SBOBet) will not close or restrict your betting account if winning money. Ideal for those of you closed down betting on sports like Horse Racing or those of you looking to diversify what you bet on.
Potential for Strong Return on Capital: The vast majority of AH bets are at short odds, which allows for smaller betting banks and in turn, a greater potential for Return on Capital (ROC).
Easy To Get Your Bets On: Unlike other markets such as Horse Racing, a tipster like AH Edge will not impact the betting market, ensuring you don't have to chase the best odds.
Short Losing Runs: All tipsters, no matter who they are suffer losing runs, but due to the high strike-rate, any losing runs betting on Asian Handicaps are generally shorter and less dramatic. Ideal for those of you who are particularly risk-averse!
Fair Odds Policy

It is vitally important for any football service to offer a fair policy on how they advise the odds quoted for any football tips put forward.
For AH Edge, we have developed a very simple and effective approach and quote odds for each tip from a panel of bookmakers as follows:
Best Bookie Odds: – We quote the best price as put forward by a panel of bookmakers and exchanges including: 188bet, Bet365, Ladbrokes, Matchbook*, Pinnacle Sports, SBOBet, Victor Chandler & William Hill.
*1.15% commission will be deducted off Matchbook's quoted odds.
All told, we feel this approach helps to ensure that you can obtain the advised odds supplied and quoted.
Bets are supplied via email each morning at around 8am.
Smartbet Supported

During the 2017/18 season, you can also now automate the placement of AH Edge bets through the Smartbet Bot – first reviewed by the Smart Betting Club in our Betting Tech issue – SBC 101.
AH Edge fully supports Smartbet and those of you keen to automate the placement of all AH Edge bets, can do so through their service.
Details are provided on Smartbet setup upon subscription to the AH Edge service.
Please note – Smartbet only currently works with Pinnacle Sports, so all bets will be placed with this bookmaker. Whilst Pinnacle Sports odds are known for being highly competitive, you can expect to achieve different odds from those quoted and settled by AH Edge at times.
Save 5% On AH EDGE Membership Before Midnight, Friday 28th July

You are now able to subscribe to the AH Edge service for the 2017/18 football season, which starts on August 1st 2017 and will run until May 31st 2018.
Sign-up NOW using the coupon code 'AHEDGE5' and save 5% on the cost of membership. But hurry as this offer will expire at Midnight on Friday the 28th July!
Two membership options are now available – Half and Full Season
Half Season Membership: £175
Membership runs from the 1st August until the 31st December 2017
Click here to subscribe
Full Season Membership: £299
Membership runs from the 1st August until the 31st May 2018
Click here to subscribe