Revealed: The Secret Reports on Tipsters and Systems That Can Make You Money Betting
Imagine you had your hands a series of private reports that finally revealed the truth about betting and how you can make money from it!
Reports that:
Reveal the elite tipsters that the bookies really fear;
Detail the betting methods, systems and strategies that actually make money;
Work with the brightest betting minds willing to share their expertise;

AND Expose the failed tipsters who will do anything to get your cash.
In a perfect world, there would be no need for this report, but in the betting world things are far from perfect.
But then you probably already know this!
You might already be feeling angry about the tipster service that promised you regular winners, but lost you a ton of cash.
You might be close to giving up after being let down by yet another useless betting system or 'twitter expert' who tipped up nothing but a string of losers.

You might even be tempted to start betting, but don't want to get your fingers burnt because of all the horror stories you've heard.

Becoming A Full-Time Bettor
– John from Dundee
WHY WONT ANYONE TELL YOU THE TRUTH ABOUT BETTING?
These days, there are all manner of 'betting experts' on the internet, promising you untold betting riches and the moon on a stick for only £499.99 upfront!
Everything they offer can often look very professional and compelling so you might as well join, because after all, no-one would go to so much trouble to rip you off like this would they?
Sadly, yes they would as there are plenty of people out there trying to pull the wool over your eyes.
We admit it, like you, we were sick of it all.
We'd had enough of the false claims from these so called 'experts'.
Worse than that were the people who claimed to be on your side. The people writing 'independent' reviews who were actually getting a kick back for promoting failed tipsters or dodgy betting systems. They weren't independent or trying to help you, instead they just wanted their sales commission!
DOES THIS SOUND FAMILIAR?
Sadly for many of us it does and the situations above will no doubt ring true for countless people.
It's a sad fact that just as betting becomes more and more popular these days, so as well do the number of people trying to swindle a quick buck out of you.
It may come as no surprise to you to learn that there is a whole network of scam-artists and conmen who connive together to rip you off when it comes to betting and tipsters.
WE HAD TO DO SOMETHING
We'd had enough of all the lies, half truths and conflicts of interest. Enough was enough. It had to stop.
Back in 2006 when we set-up the Smart Betting Club, we joined every tipster we could afford and bought every system we could find. We logged every tip from every tipster and system. We recorded any false claims or dodgy dealings. We lost a lot of money, but that first year was priceless.
We now had a definitive list of exactly what lost money and what brought in real cash.
Hidden amongst all the rubbish were tipsters and systems that actually made money.
We had a plan. To keep proofing and reviewing tipsters – wading through the rubbish to find the genuine experts.
Year after year we have refined this list, putting more money on the genuine winners as our bank grew and grew. The best just kept on getting better.
And now, a decade later in 2016, we can say with full confidence that you can make money betting and we can show you how!
You can make as little or as much as you want – it all depends how much time and money you have to invest.
Want to simply make a few extra quid each week by placing a handful of shrewd bets? We know the expert tipsters that can help you do that!
Or maybe you are keen to make a part-time or even full-time income from your betting? If so, we can definitely help you achieve this goal too!

'The Best Decision I Have Ever Made'……
Actual member testimonial
About Us
Pick Up Our Private Reports On Winning Tipsters, Systems & Strategies
YES! You can now access our secret list of the best performing EXPERT tipsters that quite simply MAKE MONEY BETTING.
INTRODUCING THE Smart Betting Club
For the last ten years, the Smart Betting Club has been publishing regular secret reports on the betting world. "Secret", that is to anyone not part of our private club, which is an absolute goldmine of winning betting information.
Here at the Smart Betting Club we have compiled a list of all the very best performing tipsters that MAKE MONEY BETTING.
And when we say make money betting, we don't only mean just £10 here and £20 there, but the chance to make some serious amounts of cash, all totally tax free!
This winning information has come via years of working closely in the betting industry, investigating the good the bad and the ugly of the tipster world.
Through our continuously updated reports you will soon be in a position to make yourself money from betting (and all totally tax-free).
Whether it is to simply make a bit of extra cash to go on holiday each year or a genuine attempt to make betting your full-time occupation, we can help you.

Secret Betting Reports
OK, so how exactly can we help you achieve this dream lifestyle of making money betting?
We do this in the form of 2 Key Reports that are produced for Smart Betting Club members as follows:
1. The SBC Tipster Profit Report
2. The SBC Magazine.
Each year we produce on average 6 Tipster Profit Reports and 6 Smart Betting Club Magazines exclusively for SBC Members, the contents of which will finally help you make money betting – let us show you how!
START WINNING WITH OUR TIPSTER PROFIT REPORTS
Our Tipster Profit Reports are quite literally your ticket to finding out just who the best-rated tipster services actually are…those that can make you money.
Each report contains the exact profit and loss details of around 55 different short-listed tipsters, so you can see how they have performed both over the short and long-term.
These are the very best tipsters when it comes to betting and by gaining access to this report, you will know exactly who is in profit, who is in form and who to follow with your own money.
The SBC Tipster Profit Report is the only genuine place you can find out about the best tipsters and it's no exaggeration to say it could transform your betting!!
VIDEO: How SBC's Tipster Profit Reports Can Help You!
To understand more about how our Tipster Profit Reports can help you – SBC Editor Peter Ling explains all in this short video…
THE TOP 10 PERFORMING TIPSTER SERVICES
To illustrate the power of each Tipster Profit Report, check out the example table below as taken from a recent edition.
It features the top 10 tipster services based upon their annual profit if working to a £2000 betting bank. As you can see, the profits on offer are quite exceptional!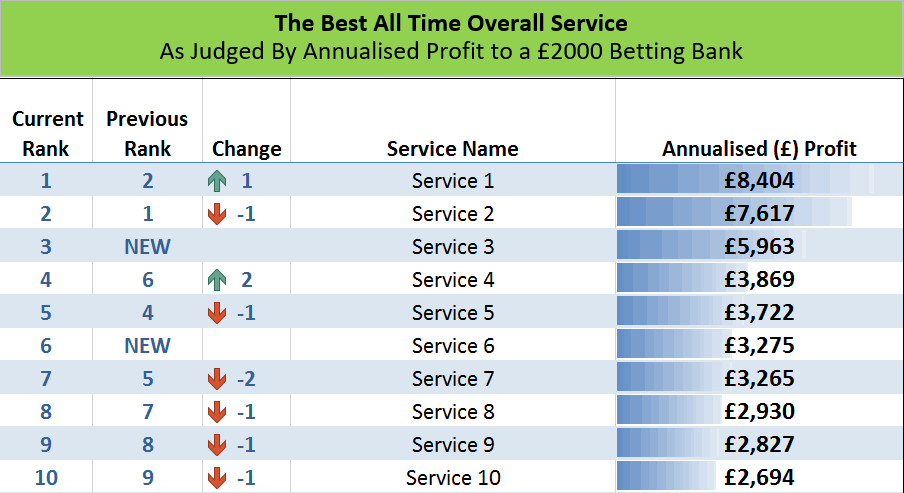 Table correct as of December 2016

To explain how the table works, if you had started following Service 1 with a £2000 betting bank, in an average year you would make a profit of £8,404.00
Even Service 10, would have more than doubled your starting bank in an average year with a profit of £2,694.00!
What's more, we are uncovering more and more top tipsters all the time as can also be observed by the new entry at numbers 3 and 6 in the table above.
In each full Report, you can find a full rundown of each of the top services, who they are and how much they have made both in recent months and over the fullness of time.
As you can imagine each Tipster Profit Report is a veritable goldmine of information. In each you can also find several tables dedicated to revealing which tipsters…
Have made the largest profit of all-time.
Have enjoyed the best past 12 months.
Generate the highest Return on Investment.
Make the largest betting bank return.
Offer the lowest workload to follow.
Are easy to get advised odds with.
And most importantly…can genuinely make you money betting!
'Taken My Earnings From Betting Into A New League'……
Actual member testimonial
THE TOP TIPSTERS FROM THE PAST 12 MONTHS
In each Tipster Profit Report we produce several other 'Tipster Tables' so you can quickly and easily find the best, most profitable services out there.
Our Tipster Tables are also designed to be completely realistic, so you can also find out the total profits after all costs have been deducted, such as tipster subscription fees.
For example, check out the top tipsters from our Best Overall Tipster Service table below, which lists the top performing tipsters from the last 12 months if working to a £2000 betting bank.
Once again, we have blanked out the names as this is for full members only (after all, it's a secret!), but as you can see, the top tipsters are making an excellent profit. This table also includes other key figures such as Return on Investment (12 month ROI) and Return on Capital (12 month ROC).
The highlight of this table is clearly Service 1 who made a £7,708.00 profit in the past 12 months and all from just the £2,000 starting point.
The SBC Magazine
EXPERT BETTING HELP WITH THE Smart Betting Club MAGAZINE
As a member not only do you benefit from access to the unique Tipster Profit Reports, but you will also gain access to each issue of our fantastic Smart Betting Club (SBC) Magazines and Special Reports.
Each SBC magazine is jam-packed with all the latest reviews on new tipster services, betting systems, bookmakers and much more besides. Giving you the lowdown on all the best new tipsters and betting angles to make you money!
These reviews are always in-depth, honest, independent and totally trust-worthy as a Smart Betting Club recommendation is much sought-after by many in the betting industry.
'A Massive Fan Of Your Service'……
Actual member testimonial
Each issue of the SBC Magazine regularly clocks in at over 30 pages long and is rammed full of fresh information, reviews and news that is available exclusively to our members only.
All of which is absolutely crucial to keep you one step ahead of the betting pack!
Just look at some of the amazing things we have uncovered…
The horse racing service that would have increased your starting bank nearly 10 times over since it began! If you started off with £2000, you would now have £19,811.93 just by following their tips.
The South American expert football tipster that continues to astound. Since April 2012, he would have made you over £28,000 at £50 stakes
The horse racing tipster that the bookies can't stand as since April 2004 he has racked up the profits year-in, year-out. Following him at just £20 stakes would have made you over £30,000 from his advised bets.
The darts tipster who has made £9600.00 at just £50 stakes from his unique betting advice. If you thought you could only profit from backing Phil Taylor in this sport, think again!
The Asian Handicap football tipster with a 51% strike-rate and over 1800 points profit since 2009
The little-known racing tipster service, which in a year's proofing to us, grew its betting bank by a fantastic 374.59%! Read about our exclusive live bet testing and how we mirrored these returns with real-life bookmaker accounts.
Plus many, many more tipsters and systems that we continually uncover and report back to you about each month. There is simply too much covered to list here!
'Changed My Betting Life Completely'
Actual member testimonial
.



The 2017 Best Tipster Guide
The Experts To Make You Money Betting This Year
Since the Smart Betting Club began in 2006, we have painstakingly reviewed, proofed and tracked hundreds, if not thousands of tipsters…all with the goal of finding the very best ones proven to work.
…And we have placed 6 of the VERY BEST in a special report – The '2017 Best Tipster Guide', which is now available to all as part of our Platinum 'Pro Punter' Membership package
Part 1 of the 2017 Best Tipster Guide is out now, with Part 2 due later in 2017 and all told it features…
Reviews of 6 exceptional tipsters all with a proven track record of making money betting;
Incisive tipster analysis based on sound investment logic to help set you up for long-term betting success;
Real-life betting experiences from genuine punters who have followed these tipsters on the path to profit for several years;
Exclusive savings and membership offers to help give you every possible advantage.

Six Of The Very Best Tipsters Explored!

The tipsters featured inside the 2017 Best Tipster Guide are amongst the very best, most profitable we have uncovered over the past decade. To give you a flavour of how they could change your betting outlook, here is a brief rundown on 3 of them and just why they are so good…
Tipster 1: The *New* Racing Tipster Up 1094% Bank Growth In 17 Months

Reviewed for the very first time in the 2017 Best Tipster Guide is the unique racing tipster service that has been producing some absolutely phenomenal results.
In the second half of 2016 alone, this tipster made 812 points profit from 3845 bets at a Return on Investment of 16.64%. Most crucially of all, if following our recommended betting bank that equates to 406% bank growth in just a 6 month period!
This backs up their longer term form, which since July 2015 has seen them make over 2200 points profit at a Return on Investment of 16.49%. Again, this if judged over betting bank growth is an unbelievable 1094%!!!
It's safe to say this tipster is a real game-changer, hence its inclusion within the 2017 Best Tipster Guide.
Tipster 2: The Football Expert Up 13.6% ROI Since 2010

Making money betting on football is never easy, yet the 2nd expert featured in the 2017 Best Tipster Guide has made it look like child's play – ever since he began tipping back in 2010.
Specialising in Asian Handicap tips across just 2 leagues – Serie A in Italy and La Liga in Spain, his proven strategy has made a significant 13.6% Return on Investment with a high strike-rate of success – 47.5% of all advised tips have won.
Our in-depth review examines all of this plus provides evidence and just how easy it can be to obtain his advised odds – there is no mad scramble to get the prices on the tips he puts forward!
Tipster 3: The Outstanding Racing Guru Up 1145 Points Profit Since 2013
Our third review tackles the renowned racing tipster guru whose very own private service has made exceptional profits since inception in 2013.
Over 2000 bets in a 4 year period, he has made 1,145.20 points profit at a Return on Investment of 19.8%.
Operating a highly professional service with excellent customer service and achievable odds, our review highlights just how this expert can make you money betting on horse racing.
Best of all, you can sign-up as a member to receive tips until you hit a certain profit target – ensuring that you make a guaranteed return for your investment when following.
Also – Enjoy Both Parts Of The 2016 Best Tipster Guide

By signing-up for a Platinum 'Pro-Punter' membership, not only do get the 2017 Best Tipster Guide, but you can also gain complete access to both Parts 1 and 2 of the 2016 Best Tipster Guide.
Featuring in-depth analysis on 6 more top tipsters as uncovered and investigated in-depth by the Smart Betting Club team, the 2016 Best Tipster Guide reveals:
Tipster 1: The Football Tipster With 110 Points Profit at 11.% ROI In The Last 5 Seasons
Tipster 2: The Racing Guru With 484 Points Profit @ 19.4% ROI In 8 Years
Tipster 3: The Racing Tipster With 1178 Points Profit In 6 Years!

Tipster 4: The Free Tipster With 335 Points Profit From 1482 Bets


(Including 79.6 Points Profit At 28.5% ROI In 2016!)
Tipster 5: The Footy Tipster With 549 Points Profit From 4,589 Bets
Tipster 6:

The Horse Racing Tipster With 1013.7 Points Profit From 9,987 Bets – All On Betfair


(And 345% Betting Bank Growth in 2016!!!)
There are also numerous savings and discounts deals (updated for 2017) for several of these tipsters – many of whom continue to make excellent profits.
Available Now With A 'Pro Punter' Platinum Membership.

You can now sign-up instantly and grab your copy of the 2017 Best Tipster Guide (and the 2016 edition too) via our complete 'Pro Punter' Platinum Membership Package.

ONLY PROFESSIONAL AND INDEPENDENT REVIEWS
If you need further convincing, be assured that we only review and recommend the right services. We do not take bungs or backhanders for positive reviews.
It simply would not be worth considering, as if we were to advise a duff service it would cost us a fortune, as each of our members would request their money back!
Therefore each service we review has to meet strict criteria to be put forward for recommendation. We have very high expectations and demand nothing but the best as our members will testify.
We also do not take advertisements, which means all of our reports and magazines are purely editorial with carefully researched information. Nothing goes in them for recommendation unless we know it is profitable and will be of benefit to Smart Betting Club members.
Only genuine tipsters that MAKE MONEY achieve a Smart Betting Club recommendation.
A Smart Betting Club recommendation cannot be bought or paid-for. It can only be earnt by tipsters proving themselves as genuinely profitable and offering a high quality service.
The One Place You Can Go
– Actual Member Testimonial
We are also proud to have a clear non-affiliate policy which means we never take a cut or make a profit share from any tipster we review. That way all members know our reviews are 100% accurate and genuine, with no hidden agendas!
This is vitally important though as many people are caught out these days by 'free review' websites who are biased towards the services or systems they review. This is because they take a commission for every sale they refer, so you need to be very careful who you trust.
With the Smart Betting Club you can be 100% confident that all our reviews and reports are completely independent.
Expert Advice
BETTING EXPERTISE ARTICLES FROM PRO GAMBLERS
All SBC magazines and reports also regularly feature specialist articles from a whole host of betting experts and professional gamblers, to help you understand new and unique ways of succeeding from betting.
These are written by leaders in their respective fields and contain amazing insight into the secrets that professionals employ.
'A Full time Professional Gambler'……
Actual member testimonial
Just look at some of the recent betting expertise articles…
Our exclusive special 30+ page 'Expert Guide to Greyhound Betting' based on professional gambler Dan James's insider knowledge of the sport. Dan covers everything you could ever possibly need to know about betting shrewdly on the dogs including how he picked out the 40/1 winner Taylor Sky in the Derby.
Our guide on how to make money betting on a budget, as our Editor Peter Ling, walks you through his own methods and approach. Get all his hints and tips on getting started plus his own simple method of testing out a new tipster –how he expects with just one tipster to make £2,3377.50 in a 12 month period without breaking the bank.
A fantastic look at the impact of draw bias at the Chester racecourse and how you can use these stats to make a profit if you know what to look for. Written by David Renham, a renowned expert when it comes to horse racing systems and statistics, it's a must-read article for anyone who bets at Chester.
A look at how by utilising the 'doubles' market you can help to squeeze out each profits from your betting. When done correctly, this doubling up method can be highly lucrative. Let our article show you exactly how!
Advice from one of our professional gambler contacts who explains a great strategy on 16 runner handicap races and how to profit from them. Bookies hate these kind of races as they are extremely vulnerable to canny punters who know how to use them to their advantage.
Our three part essential guide to in play football betting including full beginners guides and expert insight. Want to make profits from in play betting? Get started now and learn from the best with our interview with the professional footballer turned in-play betting expert!
Asian Handicap Betting Demystified.

F

ind out all about this new and exciting way of betting on football

and exactly how easy it is to understand 'Asian Handicaps' with our comprehensive guide.

EXCLUSIVE INDUSTRY INTERVIEWS AND EXPERT ADVICE
In each SBC magazine, we also regularly feature in-depth interviews and expert advice from a whole range of betting industry figures – all designed to help you make money from your own betting.
With interviews with everyone from bookmaker insiders to betting fund managers, we have plenty to share with you including…
An exclusive interview with a former odds compiler, turned bookmaker consultant who lifts the lid on what goes on behind the scenes at the bookies. Find out his suggestions for where and with whom to bet including the bookmakers who are vulnerable and the markets to watch out for.
It CAN be done – Read our fascinating interview with Irish racing expert & author Kevin Blake on the secrets behind his book on betting successfully.
Our interview with ex-racing trader, greyhound bookmaker and current BettingExpert.com top tipster – Stephen Harris on his own approach to betting. Find out just how he learnt to make money betting and how you can follow his profitable racing tips for free.
And many, many more as well! Including revealing interviews with the likes of Laurence Lambourn, Ed Hawkins, Simon Hopper, Russell Clarke, Ben Linfoot, Goran Trpevski, Phil Brown & Will Lattimore.
'Steady Success At Gambling'……
Actual member testimonial
Practical Betting Help
FOLLOW A REAL-LIFE TIPSTER PROFESSIONAL VIA OUR BET DIARY
For those of you looking for real-life guidance on how to make a profit using tipsters, then you will also love our members-only Bet Diary Pro section.
The Bet Diary Pro was introduced in January 2015 with the goal of helping to communicate some of the practical realities of following tipsters to make money betting.
It is penned by full-time gambling professional Rowan Day, who shares all aspects of his ongoing betting journey, including the tipsters he follows and just how he is performing (win or lose – he is always refreshingly honest!)
Rowan has been punting for profit using tipsters for several years and is a shrewd and canny operator who knows how to make money betting.
Through the Bet Diary Pro, you can read all about Rowan and his betting quest including:
The tipsters he follows

The profits (and occasional losses) he is making

The bookmakers he uses

How and when he increases his stakes

How he deals with losing runs (and winning ones too)
How he built a winning betting portfolio
For those of you after even more help, you are also welcome to email Rowan and ask his advice on any aspect of your betting and tipster following life.
Rowan's Track Record of Success

Over the years Rowan has consistently generated strong profits simply by following many of the tipsters the Smart Betting Club recommends.
His expectation is to achieve a Return On Capital of between 50% and 100% in any given year, based on the tipsters he follows.
During his last betting year (April 2015 – April 2016) he achieved a 64.4% betting bank growth.
Applying this to actual monetary sums, a 64.4% ROC would have brought about the following profits:
£2,000 into £3,288
£5,000 into £8,220
£10,000 into £16,440
£20,000 into £32,880
Betting can also be a lonely game sometimes – and the Bet Diary Pro is our way of trying to foster the most supporting 'expert punter' community possible.
Access to the Bet Diary Pro is supplied to all SBC members with either a Gold or Platinum subscription. Start your Smart Betting Club membership today.
Free Betting Tipsters
Available as part of your SBC membership!

As a Smart Betting Club member you can now follow 4 extremely profitable tipsters as part of your subscription with tips available via both email and through access to the members-only SBC Forum.
This provides you with 4 ready to follow experts that have a proven record of making profits behind them. Saving you both time and money in terms of finding and paying for quality tipsters.
Here are the 4 top tipsters currently supplying their advice via email and on the SBC Forum:
Chris Baker Racing Tips:

Chris is a racing tipster with an outstanding record sharing all of his tips for free every day on the SBC Forum.
Since he began posting his bets in January 2016, he has put up 414 tips and made 61.3 points profit at a ROI of 15.3% – all to advised prices and stakes. Looking back to his performance pre-SBC Forum proofing, he also has a fine record with a 15.6% ROI in 2015.


You can pick up ALL of Chris's tips FREE via email or the SBC members only forum

James Boyle:

SBC Hall of Fame award winning tipster, James Boyle is now sharing all of his tips for free with SBC members keen to follow his excellent advice in!
James is a true tipping expert, having made over 400 points profit from more than 1500 tips and at a ROI of 19.8%!


You can pick up ALL of James's racing tips FREE via email or the SBC members only forum.

.


Pilelist Racing Tips:

Over the past two years, the Pilelist Racing service have made a 17.6% ROI from 769 bets (all advised either later morning or early afternoon at easily obtainable odds!).
Focusing on big value each way bets – the average price of tips is around 12/1 making it an ideal service for those of you looking for some big winners!
Since June, Harry has been posting all of his each way value tips up on the SBC Forum for members to enjoy for free.


You can pick up ALL of Pilelist Racing's tips FREE via email or the SBC members only forum.

Roosters Racing Tips: In June 2016, we welcomed another top racing tipster – Rooster Tips onto the forum and he joined us having made a 37% ROI from 729 bets since January 2014.
With a particular skill for highlighting big priced racing tips he is up 74.5 points profit at level stakes for 2016 already with a string of winners behind him for the year.
You can pick up ALL of Roosters tips FREE via email or the SBC members only forum


.
More Profitable Tipsters Available On The SBC Forum

As well as the 4 tipsters above, you can also find several other profitable tipsters who also post all of their tips only up at the SBC Forum.
At any given moment there are dozens of tipping threads on the SBC Forum for you to check out, with many of them providing effectively free tips to go alongside your SBC membership!
'Your Forum Is To My Mind The Best'……
Actual member testimonial

Tipster Discounts
MASSIVE SAVINGS ON ALL THE BEST TIPSTERS!
As a Smart Betting Club member you can benefit from a large number of exclusive special deals, free trials and large discounts on many of the very best tipster services.
Very often you can also find yourself saving more than the cost of joining the Smart Betting Club with some of these deals!
This is all part of our Tipster Savings Section, which includes a series of very special deals such as…
An anytime 2 week trial with top racing tipster – the Northern Monkey Punter;

A free 60 day trial with the Master Racing Tipster service;




20% off a subscription to the Football Advisor tipster service;



25% off a Bet Advisor subscription;

A £24 discount if joining the Football Investor service for a season


£100 saving on a season's subscription to Scottish Football Bets

20% deduction on the cost of 2 very profitable horse-racing tipster services;
If you regularly pay for betting tipsters or services – you really ought to have a Smart Betting Club membership.
These deals and offers are only available thanks to the combined power of the Smart Betting Club, where through our unique contacts, we are able to negotiate exclusive deals for you as a member.
Priority Subscriptions
It's not only discounts and free trials that you can access as a Smart Betting Club member but very often priority subscription deals for the most popular of services.
Occasionally the very best tipsters apply membership number limits to protect the quality of service, although many of them offer Smart Betting Club members the first option to join before anyone else!
'I Would Have Saved Myself A Fortune'……
Actual member testimonial
HOW ELSE YOU CAN BENEFIT FROM OUR ADVICE
As you can probably tell by now, we are not here to sell you a system, premium line number or tell you about our stable contacts with insider information. We won't lie to you about frankly impossible dreams of regular 33/1 winners 'betting coups' and suchlike.
Equally we are not going to tell you a pack of lies or cleverly dress up results in order to get you to join any service of ours.
WHAT WE WILL DO to is supply you with our regular reports and reveal to you details on the top tipsters that make money betting.
The dream of earning fortunes a year from betting can be done but here at the Smart Betting Club we work to realistic profit figures.
This is a world away from the claims that so many glossy leaflet tipsters suggest of making millions of pounds overnight with the luxury yachts, attractive women (or men for our female readers!!), champagne and the rich and famous lifestyle that accompanies it.
We can't make you famous or more attractive to the opposite sex, but we can help make you some very good sums of money from betting.
All of this is made through following a few of the key tipsters that we have spent years and years (not to mention thousands of pounds in subscription fees) monitoring and researching on your behalf.
Not only this but we back these services so much we are prepared to put our money on the line and offer you a fantastic risk free subscription offer that means you have absolutely nothing to lose if joining.
'I Joined SBC Which Opened My Eyes'……
Actual member testimonial
START SMALL, WIN BIG!
To date we have uncovered dozens of superb profitable services all of which combined can start to make you money betting.
You don't even need a big amount of money to begin with as even starting with only a small betting bank, in time you can gradually grow this up to a full-time income like many of our members.
We are fully dedicated to helping those of you who have only a relatively small budget to get started with. Betting to win is not merely for the already rich of us, and anyone from even a small starting point can begin to make money.
There are plenty of free and very affordable ways for those of you on a budget to begin making money betting!!
Really And Truly Enlightened And Amazed…
Actual member testimonial
Make Money Guarantee
LET US RISK OUR MONEY TO SHOW YOU HOW TO MAKE MONEY BETTING

The great thing about our service is that there is absolutely no risk to you if choosing either our Gold or Platinum membership options, which come with a full 90-day money back guarantee.
Sign-up for either a Gold or Platinum membership and if you don't like what you see, you can get your money back at any time during your first 90 days as a member.
Subscribe to the Smart Betting Club and if during your first 90 days membership you feel for any reason whatsoever that we won't be able to help you make money betting then you can get your subscription fee back. …

NO QUESTIONS ASKED!!
The dream of making money betting is very difficult if going it alone as let's be honest it's a jungle out there. It is only through having the experts on hand to do all the required researching and testing for you, that you can expect to make an actual profit.
And when its offered on terms such as ours where you can get it effectively for free within the first 90 days, it's an offer not to be missed!!
I Found SBC Which Was A Eureka Moment For Me
– Actual Member Testimonial

PLACING OUR REPUTATION ON THE LINE FOR YOU!
As you can probably imagine, this is quite some offer we have put forward. With these guarantees we place our livelihoods on the line that we will make you money betting!
If we don't, then for any reason whatsoever then you can request your money back. We hope that this guarantee helps reveal our confidence in the service we can provide to you.
Think about it, because if our service didn't help you out, there is no way we would have been in existence since 2006 and have thousands of satisfied members.
Our business would have simply collapsed. Our reputation would be mud. We would be a laughing stock!
Just think how out of pocket we would be if we didn't provide to you the high class service we promise…
Out of pocket wasting our money on finding out which tipsters make money. Lost subscription fees not to include the money lost on losing bets.
Out of pocket following the bets and advice ourselves.
Out of pocket having to refund all our members.
So if you are in any doubt about our service, we encourage you to take advantage of our risk-free offer and let us prove to you how lucrative our service can be for you!
Delighted With My Annual Subscription
– Actual Member Testimonial
Subscription Renewed
– Actual Member Testimonial
Essential Football Betting Compendium
Exclusive 6-Part Guide To Making Money Betting During The 2016/17 Football Season!
Learn how to make a profit betting on the beautiful game this season with our amazing 6-part 'Essential Football Betting Compendium' – available now to all Smart Betting Club members.
Inside you can discover the best football tipsters, websites, systems, bookmakers, brokers & exchanges to help make it your best season ever!
The Essential Football Betting Compendium will help you whether a total newcomer or experienced campaigner when it comes to profitable football punting!
…Here is what you can find inside:
Part 1: Sports Tipster Report The best sports tipsters revealed with league tables, best buy rankings and guidance on 25 of the best experts we have uncovered since 2006.

Part 2: Football Tipster Guide 2016/17 Read exclusive interviews and analysis on 13 top football tipsters – including those recommended in our Hall of Fame.

Part 3: Tipster Review #1 The fantastic Brazilian Football Tipster with a 7.5% ROI from more than 750 Asian Handicap bets.

Part 4: Tipster Review #2 The FREE Football Tipster with an outstanding 12% ROI record across Europe in 2015/16 (Plus how you can follow for free during the whole of the 16/17 season)

Part 5: Tipster Review #3 The unique Football 'Loophole' Tipster up £2302 from just £3006 staked in 2015/16. Learn how to utilise accas, bookie specials and shrewd low-risk bets to make easy profits.

Part 6: Best Bookie Report Discover the best exchanges, brokers & bookies to use – those that offer the most competitive odds and lowest commission rates. A must-read!

VIDEO: How The Essential Football Betting Compendium Can Help You!

To understand more about how our 2016/16 Compendium can help you – SBC Editor Peter Ling explains all in this short video…
All 6 parts of the Essential Football Compendium are available to download the instant you subscribe to the Smart Betting Club.
Bonus Systems & Guides
Sign-up for a Gold or Platinum SBC membership and you will also receive our '
Ultimate Betting Package

' FREE as a bonus gift.

It's jam packed full of systems, strategies and expert guides to help you and your betting and is completely free to all Gold or Platinum Smart Betting Club members.

With a combined value in excess of £500 if sold individually, this amazing package is available to you FREE the instant you sign-up.

The Ultimate Betting Package consists of
The '4 Pronged Attack' Horse Racing System;

The 'On Course For Golf Profits' Betting System;

Our Secret Betting System Compendium – A selection of other lucrative systems and strategies to use;

PLUS Our Pro Gambler Blueprint – All YOU Need to get your betting off on the right footing.
Read on for more on each of these fantastic free gifts…
BONUS GIFT:

The 4 Pronged Attack Horse Racing System
This fantastic racing system explains a proven' 4-pronged' method to maximise the profits from the Racing Post Pricewise column. Written by a professional gambler, he reveals his own secrets of how with just a copy of the Racing Post you can make steady profits.
This is an amazing system for anyone who likes to bet on many of the feature races throughout the racing year.
Over a 3 year period starting in May 2010, the 4 Pronged Attack System made fantastic 352.47 pts profit from just 595 bets (total amount staked of 861 points) and at a Return on Investment of 40.94%!
To put this into financial figures…
At £10 stakes, you would have staked £8,610 and WON £3,524.70
At £25 stakes, you would have staked £21,525 and WON £8,811.75
At £50 stakes, you would have staked £43,050 and WON £17,623.50
At £100 stakes, you would have staked £86,100 and WON £35,247.00
BONUS GIFT:

The 'On Course For Golf Profits' System
Anyone who bets on Golf will know the huge odds and profits available if you know what to look for with regular winners at big prices.
In this exclusive system, we reveal 6 excellent golfing sources, which when combined together can pick out regular large priced golfing winners.
This method has been working for the professional gambler who supplied this system for a number of years and it can do the same for you as well. At £100 level stakes it made over £8,900 to £100 stakes in 2011 for those that did follow it.
This is no flash in the pan performance though as back in 2010 it made a further £7,400.00 in just a few months live posting on our forum, so it's a strategy well worth following. In 2012 it also prospered picking out a string of big-priced winners with full details available in our exclusive system.
Best of all though, to mimic these returns yourself, all you need is a copy of the Racing Post to make it all work.
Once again this Free Golf System is supplied totally for free to all new Smart Betting Club members.
BONUS GIFT:

The Pro Gambler Blueprint
The Professional Gambler Blueprint is a comprehensive seven part guide to helping you make your betting pay.
We already provide with you with all the tipsters and free systems to make money betting, but we also want to give you as much insight and expertise into how to make the most of it.
Our blueprint does this as it features advice and guidance from seasoned professional gamblers in seven easy to follow sections:
Part One: Solid Foundations – Avoid common newbie mistakes by getting your betting off on the right foot.
Part Two: Money Matters – Betting bankroll management and how to maximise your profits
Part Three: Mindset and What Makes A Winner– Key lessons on what really matters from betting pro's
Part Four: What To Bet On – Football and Horse Racing absolute essentials
Part Five: Being Realistic – Tipsters or Systems? How to decide what suits you best
Part Six: You're The Boss – How to develop your own betting niche and become your own expert
Part Seven: Bookie Bashing – How to keep under the bookmaker's radar
The Pro Gambler Blueprint is jam packed with must real insights from proven experts. It's a massive 100 page guide, which will put you firmly on the path to becoming a full time betting professional.
It doesn't matter what your interest is – it could be non league football, Tennis, Skiing or even Tiddlywinks! Our guide will help you turn your hobby into a profitable betting niche.
It's also jargon free so if you're confused by betting terms such as Laying, Yankees and Asian handicaps – The Pro Gambler Blueprint explains everything in layman's terms for the betting novice.
BONUS GIFT:

The 'Secret Betting System' Compendium
The Secret Betting System Guide is a powerful compendium of betting strategies and systems that really work and will make you money. We know as we put them together and follow them ourselves!
The Secret Betting System Guide reveals the rules of each system in full including:
The easy way to profit from racing from a Horses To Follow system.
Cash in while watching the TV with this Reality TV betting blue print.
The football Ante post Betting Strategy that picked out Carlisle to win JPT at 33/1.
How to spot when 'odds are odd' and profit from bookie loopholes.
Massively increase your football betting profits with this draw alert system.
WORTH OVER £500 – GET THIS ALL FOR FREE WITH A Smart Betting Club MEMBERSHIP!
The Ultimate Betting Package if sold individually, would be worth well over £500, although we are offering it to all new Smart Betting Club Gold and Platinum subscribers absolutely for free.
As soon as you join, you can gain instant access to download all of the above and more, enabling you to start immediately on the pathway to profitable betting!
Save Up To £35 On Membership In 2017
By signing-up for a Smart Betting Club Membership today, you can also
save £££ on the usual cost of subscription

.

This is because we have slashed the price of all our membership options to make it as affordable as possible for you in 2017.

Here is what you can currently save by joining today:

Platinum Membership – Was £119.99 Now ONLY £85.99 SAVE £35!

Gold Membership – Was £79.99. Now ONLY £64.99 SAVE £15!

Silver Membership – Was £69.99. Now ONLY £54.99 SAVE £15!

These special prices will only be available for a limited time only, so make sure you sign-up right away to enjoy these significant savings!
Start Winning Now!
Get started right away with instant Smart Betting Club membership