Headstart Racing – Easy Value UK/Irish Bookie Bets
Run by a betting professional who has been making a living finding value in the horse racing markets since 2021, Headstart Racing is a service that focuses on both win and each-way betting in the UK and Irish Racing markets.
The service has been proofing to the SBC since April 2023 and as you can see below, it has built up a consistently profitable record during this period.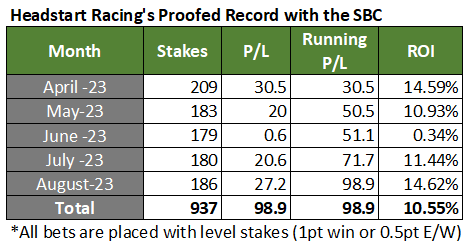 A full record of bets is available to view here, but some headline figures include:
712 bets from this sample were win bets and they produced 79. 6 points of profit during this period
225 bets from this sample were each-way bets and they produced the remaining 19.4 points of profit
Prices averaged out at 18.2 (or 17.2/1)
Get All Of Headstart Racing's Tips Free With SBC Membership
All of Headstart Racing's tips are available to all Smart Betting Club members free of charge with each tip supplied via direct email.
Service Nuts And Bolts
About: Run by a professional punter who has been betting full time since 2021, Headstart Racing finds value in both the win and each-way markets for UK & Irish racing.
Bet Timing: Tips are sent in the morning between 7am – 10am and in the evening between 6pm and 9pm UK time.
Bet Type: All bets are advised as 0.5 point each-way (so an each way bet would be a total of 1 point of your bank) or 1pt win singles with any heavier staking a rarity.
Bookmakers: Bets can be placed with most Oddschecker bookmakers. Having a wide range of availability would be advisable to get the best prices.
Number of Bets: The number of bets varies with  40-50 bets per week being typical.
Staking: 0.5 points each-way is the typical stake. Occasionally 1 point each way bets will be advised.
Betting Banks: We advocate a 200 point betting bank for this service as our analysis so far indicates that average prices are quite high.