Top Dogs – Profitable Greyhound Tips

The Smart Betting Club have teamed up with the Top Dogs Greyhound Tipster service to offer a special 40% discount and 30-day trial in a unique Premium partnership deal.
Featuring tips from greyhound betting expert, 'The Dog Scientist', since November 2017 it has made a profit of 400.40 points at 17.76% Return on Investment.
As a Smart Betting Club member you can enjoy an exclusive 40% monthly membership discount, along with a 30-day risk-free trial to the service. Not only this but all members also receive a complimentary copy of Top Dogs's very own 80 page 'Greyhound Wealth Secrets' e-book – featuring everything you need to know about betting on the sport.
For those of you keen to get started right away – simply click here to find out more on this special deal
Introducing Top Dogs

The Top Dogs service provides regular and to date, very profitable betting tips for betting on Greyhounds and is based on the shrewd tips as put forward by an expert, known only as 'The Dog Scientist'.
The Dog Scientist has an extensive bookmaking background and is formerly the head of Betfair greyhounds. He is a full time professional backer, layer and trader with a encyclopedic knowledge of UK and Irish dog scene. He has been involved with several leading greyhound trainers and has bred and owned dogs himself.
Safe to say – greyhound racing is his life!
With his combined passion for greyhound racing and insider expertise, you can understand why Top Dogs is so highly rated and has impressed us over the past 30 months.
To allow The Dog Scientist to concentrate on his betting and tipping winnings, he has teamed up with betting expert, Steve Clark who oversees the Top Dogs service and handles all the day-to-day operations.
Steve Clark
Steve might be a new name to many of you, but I have personally known him for several years as he is very well connected in the betting industry. In fact, it was Steve who actually convinced The Dog Scientist in the first place to commit to sharing his tips via the Top Dogs service, having had first-hand of his betting prowess,
Steve prides himself on offering a high quality and personalised service, with the focus on making it as easy as possible for you to get your bets on and most importantly of all – achieve a profit from your greyhound betting.
Always available via email and his own personal mobile number – 07917 356942, Steve runs a well oiled ship designed for the shrewd punter.
The Top Dogs Betting Record
The reason I recommend Top Dogs is down to its excellent performance since the service and proofing began back in November 2017.
Since then, the service has made a profit of 4004.40 points from 844 bets at a ROI of 17.76% as illustrated by the tables and profit graph below: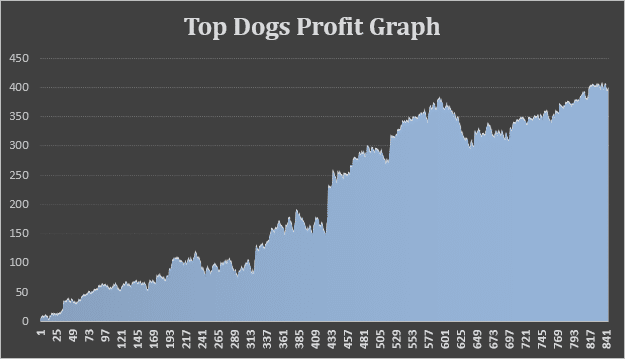 Other Key Points:
A profit has been made in 23 out of 29 complete months at current date;
The service has a strike-rate of 38.30%;
Stakes range from 1 to 5 points with the average stake 2.5 points;
The biggest drawdown (loss from peak to trough) sits at 87 points
Betting Bank Growth (AKA Return on Capital)
For those of you interested in the potential for Return on Capital (ROC) – also known as Betting Bank Growth then Top Dogs also ticks a lot of boxes here.
Recommended Bank = 228.8% ROC
Currently we recommend a 175 point betting bank size for followers of Top Dogs. which will have returned a ROC figure of 228.8%.
In the table below you can see how the profit figures this would have made you to various starting points.

Click here to find out more on the special Top Dogs deal available to SBC readers
Service Nuts & Bolts
Steve Clark prides himself in running an easy to follow, functional and practical service so that as a subscriber to Top Dogs, you can get your bets on with the minimum of fuss.
Here is how the service works:
Bet Notifications Via Email & SMS: As a subscriber to the service you will get all bet notifications sent both via email and SMS
Bet Timing: The majority of bets are advised in the morning between 10am and midday, with only occasional bets advised slightly earlier or later than that. Most races take place in the evening, so there is always plenty of time to get your bets on.
Number of Bets: You can expect an average of around 25 to 40 bets per month – depending of course on the quantity of value bets that The Dog Scientist uncovers. There is no 'bet quota' – tips are only supplied if it is a worthwhile punt.
Staking: All bets are advised between 1 and 5 points via a clear staking plan.
Bookmakers: Bets are only settled at prices available with the main bookmakers you find on Oddschecker.
Personal Contact: As a member you will also get Steve's personal email and mobile phone number to help answer any queries you may have on the service. Ensuring you are never left to fend for yourself!
Free Greyhound E-Book
All subscribers to Top Dogs also get a free copy of an in-depth e-book written by Steve Clark called 'Greyhound Wealth Secrets.

Clocking in at 80 pages long, its fully a illustrated instructional blueprint crammed with tons of invaluable pointers, shortcuts and winning strategies.
Previously sold for £47, it includes…
* The three types of racing dog and how to spot a potential winner or a dud based on a single letter on a racecard.
* A 7-step strategy that focuses on a certain race grade for profitabilty.
* A cracking system from "The Dog Scientist" for finding premium dogs hidden amongst the also-rans.
* The "old timer trouncer" laying strategy.
* 4 dutching secrets to spread your risk and increase your winning potential.
* The simple rule used by "The Dog Scientist" for spotting "liquid gold horses" – his best value selections.
Save 40% And Enjoy An Exclusive 30-Day Risk-Free Trial For SBC Members

In order to showcase the service to as many of you as possible, Steve has put together a special 40% discount offer on the usual cost of joining Top Dogs.
So instead of £49.95, you can join for just £29.95 + VAT on a monthly basis. This is exclusively available to Smart Betting Club readers only!
Not only this but you can also enjoy a 30-day risk-free trial of the Top Dogs service – enabling you to sign-up today and if for any reason you are not happy with the Top Dogs service, you can get a full refund within your first 30 days.
Effectively you can sign-up today, try the service out for size and if it's not for you, request your money back and walk away. Even if you decide to do this on Day 29!
Secure Your Membership Now
If you are ready to get started with Top Dogs – you can sign-up via the special SBC member link below.