Quentin Franks Racing – Superstar Tipster with Daily Selections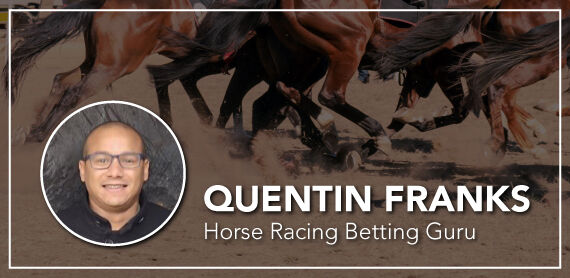 9 years of consecutive profit, a Return On Investment (ROI) of 14.80%, bank growth of 1,040% since inception – all of this is exclusively available at the Smart Betting Club from Quentin Franks Racing!
An all-weather racing specialist, Quentin boasts one of the best reputations in the business and joined SBC from January the 6th with a new and improved service which is designed to provide the very best value for members!
To hear more about Quentin's service, changes from it's previous set up, the inside track on independent bookmakers and so much more, listen to SBC podcast episode #49 to hear from the man himself:
Currently Closed To New Members – Join His Waiting List
Those of you who have followed the narrative around Quentin Franks and his decision to join SBC at the start of 2023 will know that odds availability is a vitally important aspect of what we do and it is for this reason we apply a cap to member numbers.
Currently we are not accepting new members although you are welcome to register your interest for when they become available in the future by joining his waiting list by using the form below:
A Revamped Service With A Focus On Odds Availability
Prior to joining SBC, Quentin has been a victim of his own success as his daily tips have often been 'over bet' and his service has been 'over subscribed', resulting in price contractions that reduced value for followers.
To combat this, we are making some adjustments via his tie-up with us at SBC in order to provide a new and improved service for customers as follows:
A strict membership cap – to ensure that prices are not negatively impacted by large volumes of bets, Quentin Franks Racing will limit the amount of members following. This will allow customers to get their bets down without large price movements after tips are released. Once all memberships are snapped up, a waiting list will be implemented.
A fair price policy – tips will only be quoted if they are available with three major Oddschecker bookmakers*. This will mean that followers can spread their bets evenly across different firms and will not be taking stand out prices that can cause issues with bookmaker accounts.
A fair recording policy – no BOG will be applied when recording results, Rule 4 deductions will be reflected and Quentin will manually adjust any prices that are not widely available immediately after bet release e.g. if a selection at 9/2 contracts to 4/1 just as bets are sent out, it will be recorded at 4/1.
A bookmaker ONLY service – after consideration, we recommend using this service solely with bookmakers. Our analysis shows that the edge at Betfair SP is negligible and placing bets on exchanges has a negative impact on bookmaker prices. As a result, we are asking members not to place exchange bets for the first 30 minutes after selections are released and we will review membership if we feel that users are doing this.
Sustainability – along with the 'three major Oddschecker bookmakers' policy, we will also be advocating the usage of independent bookmakers. In addition, selections will be win only bets as these are treated more kindly by bookmakers, who are often sensitive to each-way singles betting.
* The bookmakers included in the policy are: Bet365, Paddy Power, William Hill, Betfair Sportsbook, Coral, BetVictor, Betfred, Boylesports, Unibet and Ladbrokes
The Numbers Behind His Success
As you can see below, Quentin Franks Racing has provided consistent returns for members since its inception in 2014. Every year has been profitable with annual Returns On Investment (ROI) ranging from 6.36% to 24.12%, averaging out at 14.8%. 
A full historical breakdown of Quentin's bets is available in our regularly updated SBC Racing spreadsheet.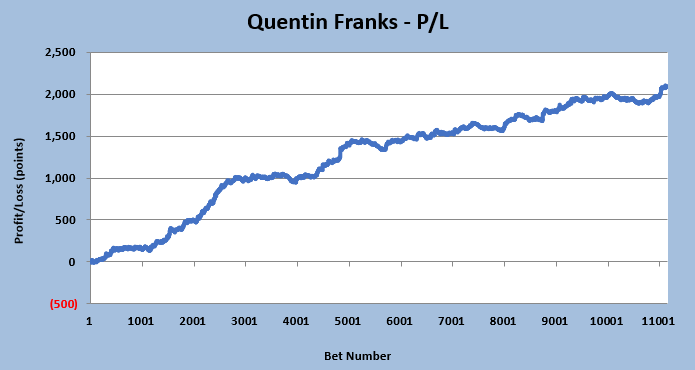 Other key metrics have also been consistent over the service's lifetime. The strike rate averages out at 22.10% with a very small annual range either side (a low of 19.77% and a high of 24.83%). This means that although there may be volatility within the year, the service has demonstrated a consistent and definable edge for followers with patience.
As you can see, Quentin's staking is also very steady, with similar amounts of bets and advised investment for each of the service's annual records (2014 was not a full year of operation):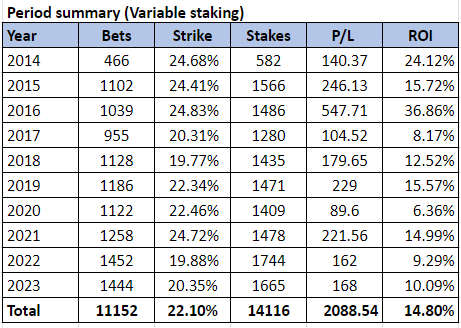 These figures are reflected in the Return On Capital (ROC) that Quentin Franks Racing has delivered for members following the service from the beginning in 2014. This currently stands at 1,004%, meaning that a £2,000 starting bank would have delivered £20,885.40 in profit and a £20 per point bank would have delivered a £41,770.80 profit!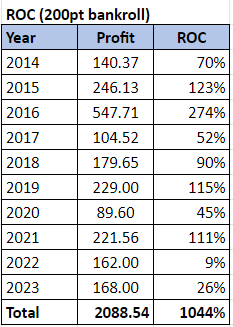 Considering that the service focuses on win only bets, the strike rate of 22.10% explains the consistent growth, with positive performance in a range of odds bands (as detailed below). By every key metric, Quentin Franks racing has demonstrated consistency and profitability, making it a suitable service for every portfolio with bookmaker accounts available.

All-Weather Specialist
As mentioned above, Quentin Franks is an all weather racing specialist and this is demonstrated by this code of racing providing an ROI of 21.29% from nearly 4,000 bets*. However, this doesn't tell the whole story – Quentin has also provided positive returns in Flat Turf races (12.3% ROI), National Hunt Races (31.56% ROI) and 'other races' (1.13% ROI), reflecting an ability to find value in a range of different racing markets.
* Data up to the start of 2023

Racecourse Edge
To breakdown Quentin's record further, we have further analysis that delves into performance day by day, week by week and bet by bet, with metrics such as odds, the day of the week and different racecourses presented. This is available for you to study here and will be updated regularly.
* Data up to the start of 2023

To summarise, Quentin has standout profit figures from Wolverhampton (£7,171), Chelmsford (£6,367), Kempton (£6,151) and Southwell (£5,306) (all figures based on £25 per point staking), indicating that these are his preferred tracks and that he knows what to look for when selecting bets for them.
He also has outstanding Returns On Investment (ROI) at Wetherby (80%), Yarmouth (55%), Carlisle (52%) and Chepstow (43%) (all courses with at least 50 selections), demonstrating how his selection process provides an edge across the board.
End Of Year Reporting: 2023
With 2023 drawing to a close we have carried out some extensive analysis on Quentin's record to help followers understand how the service works and how it has adapted over time using large data sets.
We can start with this chart, which tracks the finishing positions of Quentin's selections for every year of operation ('99' entries are those for which we couldn't find the requisite information in our database):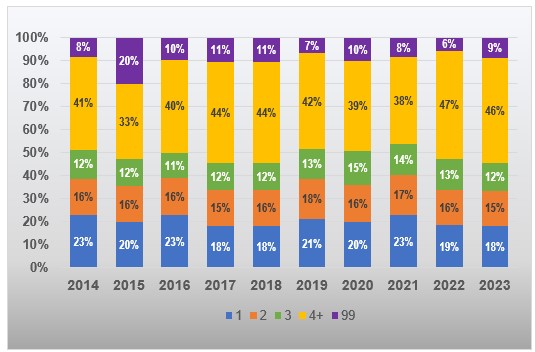 What we can see here is that compared to the early years of Quentin Franks Racing, less horses have won in the last two years in 2014-2016, but around the same fraction are finishing in the top 3 (48% and 45% respectively for '22 & '23,  vs 51% 48% & 50% respectively for the first 3 years of operation).
The fact that Quentin is still delivering excellent profits is accounted for by higher average prices, not just for winners but also on average and for those horses finishing in the first two or three places: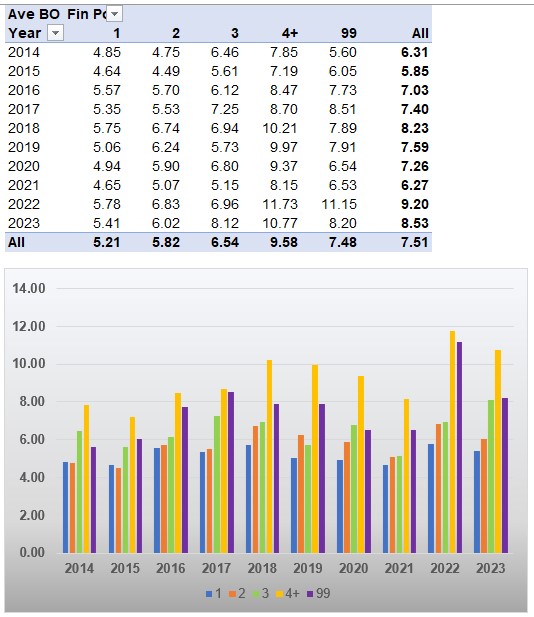 Average overall prices for the last two years have been considerably higher than the overall mean (1.69 points higher in 2022 and 1.02 points higher in 2023) and as the bar chart above shows, this has been a trend with Quentin's selections over time.
What we can conclude from these data points is that Quentin has adapted over time, finding value in different parts of the market to deliver profits. The fact that the 'top 3 finishes' percentage has remained relatively stable shows us that variance may be accounting for slightly lower ROI figures this year but that as this plays out over time, the higher average prices could account for even better profits.
Service Nuts & Bolts
Here is more key information about how Quentin Franks Racing will work for it's members:
Bet timing: You will get a daily email from Quentin at around 9am with any investments for that day. There is also the chance of a 2nd email at circa 10.30am should that also be required for future bets.
Bet type: Bets will be win only selections from across all racing markets, with a focus on flat turf and all weather races.
Bookmakers: As discussed above, this is a bookmaker only service and tips will be advised with multiple outlets. Independent bookmakers are also recommended as they provide further value opportunities for members.
Number of bets: 3 to 4 bets will be advised each day, with detailed reasoning for each of them.
Betting bank: We advocate a 200 point bank for this service.
What you get as a member – recap!
As a member of Quentin Franks Racing, here is what you can expect:
3 to 4 daily racing tips, all supplied in up to two morning emails.
Realistic and fair odds  quoting and recording, with prices available at multiple firms.
Sensible and consistent staking with long-term, sustainable profit being the objective.
The opportunity to follow a true expert!
Subscribe Now – Only Available Via SBC
You can subscribe now to Quentin Franks to follow him in every day with some exclusive SBC member discounts currently available.
Membership numbers are very limited so if wishing to join, please do so ASAP!
SBC Member Rates
To take advantage of these discounted prices, an active membership to the Smart Betting Club is required.
1 month subscription @ £79 + VAT
3 month subscription @ £199 + VAT
6 month subscription @ £339 + VAT
12 month subscription @ £579 + VAT (Best Value long-term)
Normal Rates
1 month subscription @ £89 + VAT
3 month subscription @ £229 + VAT
6 month subscription @ £379 + VAT
12 month subscription @ £649 + VAT
SBC Member Discounted Rates Links
If you hold an SBC membership, login with your username/password and return to this page to discover the discounted payment links.
If you are not an SBC member and wish to join to access these savings, Subscribe to SBC now and then return to this page to access the discounted links.
SBC Non-Member Rates 
If you don't hold an active Smart Betting Club membership, you can join via the following payment links:
12 Month recurring* subscription – £649 + VAT per year
Click Here To Subscribe Now!
6 month recurring* subscription – £379 + VAT per 6 months
Click Here To Subscribe Now!
3 month recurring* subscription – £229 + VAT per 3 months
Click Here To Subscribe Now!
1 month recurring* subscription – £89 + VAT per 3 months
Click Here To Subscribe Now!
*Please note that all membership payments are taken on an automatic recurring basis. You can cancel the recurring payments at anytime or simply ask us to do this on your behalf at any point.