Betting Masterclass:

Learn How To Bet & Win On Football
Explore this complete guide to compiling your own football odds and how to find value football bets through this outstanding new online masterclass from Orio Sports.
Highly recommended – as an SBC member you can exclusively save 15% on the cost of this course if purchasing before the end of September 2020.
To save 15% – simply use the coupon code SBC15 in the order form when prompted. Click here to purchase the Orio Sports masterclass
Introducing Orio Sports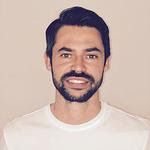 This unique football betting masterclass has been developed by professional poker player, Rob Okell, and his team over at Orio Sports in order to give you everything you need to build your own winning football betting strategy.
After working for 10 years as a full time poker professional, in 2015, Rob wanted to branch out from poker and into sports betting, yet quickly noted there was a paucity of good educational content when it came to football betting trading. The existing courses or ebooks on this topic were poorly written and lacked the expertise and detail required to genuinely educate and inform to the required high standard.
Therefore once Rob had developed the skills and techniques required to start turning a profit football betting, he then created his very own masterclass alongside other members of the pro betting team he put together at Orio Sports.
The goal of this football betting masterclass was clear – To provide exceptional sports trading guidance to help those wishing to learn how to bet and win on the beautiful game.
Here at SBC, we have worked through the masterclass course ourselves and have been very impressed by the depth of content within it. A lot of time, effort and expertise has been put into it to provide a slick, well explained and detailed guide on how to trade profitably on football.
This is not some thrown together, basic course that focuses on simple things like recent form, team selection, shots on target or the everyday data we all have access to when it comes to picking out the best football bets.
Instead, it goes much deeper than this and into the data, metrics and advanced techniques required to gain an edge in the modern day football betting market.
And now thanks to this partnership between SBC and Orio Sports, you can save 15% on the cost of the football betting masterclass if purchasing before the 30th September 2020, simply by using the discount code SBC15.
Why You Need Expert Help Football Betting
Of all the betting markets in existence today, football continues to be the most popular, yet equally also the most difficult to turn a profit from.
This is reflected by the edge even some of the very best football tipsters we recommend here at SBC produce, with anything long-term upwards of a 5% ROI a formidable achievement.
This is because the football betting markets continue to be very efficient with only a small margin of error to exploit, which can make finding value opportunities very difficult for the average bettor.
No longer can you simply rely on team news, injuries, form or stats like shots on targets as this data and more are all very much taken into consideration and reflected by the odds on offer.
In order to find an edge you have to go substantially deeper and take advantage of advanced statistics like xG, granular big chance data and utilise modelling concepts like Poisson distribution such as you will find within the Orio Sports masterclass.
In today's coronavirus impacted world, you also need to know how to factor in new changes such as dealing with a lack of traditional home advantage with no crowds or games that take place in neutral stadiums. Again, this is covered by the masterclass.
What The Course Teaches You
The Orio Sports masterclass course aims to help develop a comprehensive understanding of accurate football odds compilation and how to find value betting opportunities in these markets.
The masterclass itself is a fully online course and it starts the moment you register. You can complete it in your own time and work through it as fast or slow as you wish. Once enrolled you have lifetime access.
To aid you in your development, you will receive the following:
Over 30 detailed video lectures
Lengthy instructions accompanying each lecture
Odds compilation templates (Excel)
They have poured a combined 25 years industry experience into their training courses to ensure they are the most comprehensive learning tools for aspiring traders.
Upon completion of this course, you will be able to:
Identify what football markets to bet on and when odds may present value
Understand how football odds are compiled
Compile your own accurate odds for any league in the world
Create team ratings to derive odds
Profitably bet using your odds vs market odds
This course will benefit all sports bettors & traders who take their business seriously and want to start betting on football like a true professional.
It doesn't stand still either as new elements are added as the betting world evolves, such as the latest course material on how to judge the impact of no crowd on football matches that are currently taking place.
Follow-up Assistance AFTER The Course

Once you have completed the football betting masterclass course, the assistance from Orio Sports does not end there!
They are always on hand to help explain any questions you might have about the course content or how best to apply it to your own strategy.
After all, Rob and the other members of the Orio Sports team are professional bettors themselves and this is what they do day-in, day-out so they are the perfect people to speak to and bounce ideas off.
You can also continue to access all course content once completed and dip in and out as you need to as often as you like.
By purchasing the masterclass you also get access to several sources of data that you can use to help identify value betting opportunities on an ongoing basis.
Orio Sports provide free xG and big chance data spreadsheets across multiple leagues for you to use – which are updated every Tuesday evening with the previous weeks match data.
Who The Course Is Suitable For

It is fair to say that this course will benefit all sports bettors and traders who want to start generating their own selections in order to turn a profit in the football betting markets
One important distinction to make is that this is not some off the shelf system you can blindly follow for little or no work. Nor does it provide you with 'tips' to follow or tell you what to back.
Instead this is a course that will educate, inform and empower you with the tools and expertise you need to find value betting selections in the football betting market.
The more time and effort you can put into the course and its teachings, the more you will get out of it.
It is not a course we would advocate for the complete betting beginner, yet if you are familiar with general betting concepts and have a desire to learn, it might well be for you.
We would recommend you have at least the following to maximise your usage of the course:
A basic proficiency with Excel and confidence in increasing your usage of it.
A basic understanding of maths and statistics.
An understanding of the concept of value betting and more general betting terms.
Time – both in terms of several hours initially to go through the course material and then each week as you put it into practice
Patience and discipline. Once you start applying the principles outlined in the course, you will need both these qualities as you bet in real life. Betting profits never come in a straight line!
30 Day Refund Guarantee

To showcase how confident they are in their masterclass, Orio Sports offer a full 30 day refund guarantee to ensure you are satisfied after your purchase.
This means that if, for any reason, you don't feel like you have received value and you'd like to cancel at any time within the first 30 days, just let them know and you will receive a full refund. 100% risk free.
The only small print behind this refund guarantee is that they only offer it to those who have completed less than 57% of the course material.
After all, by this point you will have already learnt a lot and explored plenty of the course content (there are more than 30 video lectures after all) so they see this as a fair cut-off point for the refund.
What Those Who Have Completed It Say…
Those who have completed this masterclass and put its teachings into practice continue to sing its praises. This is reflected by a very low refund rate and several of the testimonials from students on the difference it has made.
Orio Sports were good enough to share a few recent quotes received from past students…
"Outstanding. If you have some knowledge of basic probability distributions, this course builds on it to give a clear understanding of how to model football game results using the poisson distribution. There is no fluff. The videos are short and to the point, and you get to keep all the spreadsheets (calculations, formulae, macros included), so that you can analyse any football league where you have got the historical data. I cannot recommend this course highly enough"
David M.
"Let me thank you for a great product. I have actively built xG based models on the leagues available"
James G
"I'm absolutely amazed with your Football Betting Master Class: "How to win at Football Betting by Orio Sports" course. Very well organised, structured and directly to the point. Well done!"


Jonas S.
Purchase Now & Save 15% With SBC
We are happy to recommend the Orio Sports masterclass for those of you who have both the time and desire to pick out value betting opportunities yourselves in the football betting world.
So if you no longer wish to pay tipsters for football betting advice OR simply wish to strike out on your own, this course is for you.
You can now purchase access to the Orio Sports football betting masterclass and save 15% thanks to an existing tie-up with the Smart Betting Club.
To save 15% – simply use the coupon code SBC15 in the order form when prompted as per the image below.
Click here to purchase the Orio Sports masterclass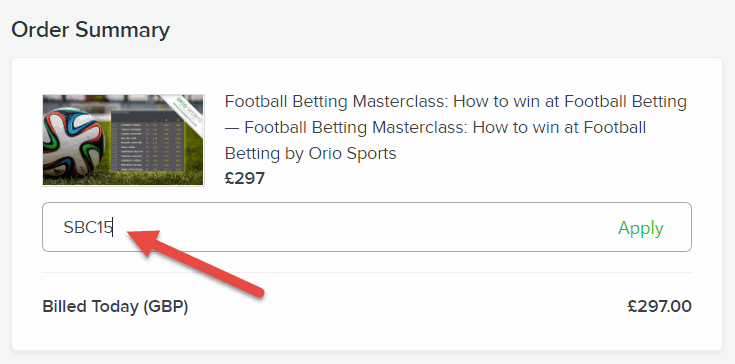 Best Regards,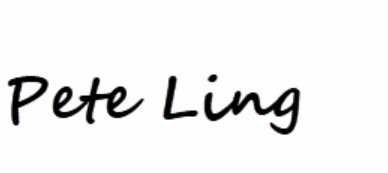 Pete Ling
Founder, Smart Betting Club