Betaminic – Easy to Follow Football tips with an 6.73% ROI at the sharpest bookmakers!
To achieve an 6.73% Return On Investment (ROI) from over 3,000 bets is impressive.
To do so tipping on football is very impressive. 
To do this whilst concentrating on the bigger leagues is very, very, very impressive. 
To do all of the above whilst quoting Pinnacle and SBOBET prices is almost unheard of!
Well, that is what Betaminic has been doing for the last 8 years and they have brought their unique Over 2.5 goals tipping service to the Smart Betting Club.
Read on to find out more about Betaminic and why we recommend it as an excellent platform to add a low volatility, high capital-growth service to your portfolio.
Betaminic's Methodology & Expertise
Run by a team of betting experts with over 20 years experience in the industry, Betaminic's record resulted in it being the #1 ranked tipster service on the Bet Advisor platform before the site stopped hosting tipping services in December 2022.
A site firmly on SBC's review radar, we jumped at the chance to be Betaminic's new partner and introduce them as an affordable, well-run Premium Service.
Using data from over 11 years and from 111 leagues, the statisticians at Betaminic have built one of the most comprehensive football betting databases out there.
This is used to inform their bets, with more recent trends, bookmaker odds analysis and the team's experience helping to finalise which selections are sent out to members.
The system concentrates on one market that can be backed at any bookmaker or exchange: Over 2.5 goals.
With the follower in mind, the bigger leagues are the main source for selections due to the high liquidity and stable odds. This means that bets can be placed with both sharp and soft bookmakers with relative stability in prices.
The Numbers Behind Betaminic's Success
You can find a detailed breakdown and exploration of Betaminic's results since 2015 at this regularly updated spreadsheet link
Betaminic's record is also outlined below, but before assessing the numbers it is worth considering that these returns are predominately calculated using prices quoted from Pinnacle and SBOBET.
This is important as these two bookmakers are regarded as two of the sharpest global platforms with large volumes of money from the biggest players helping to determine their prices. This means that a positive record using their odds is very likely to be imitated elsewhere, with the probability of attaining even better odds being high.
As you can see, Betaminic's Over 2.5 goals selections have provided a steady stream of profits for followers since 2015.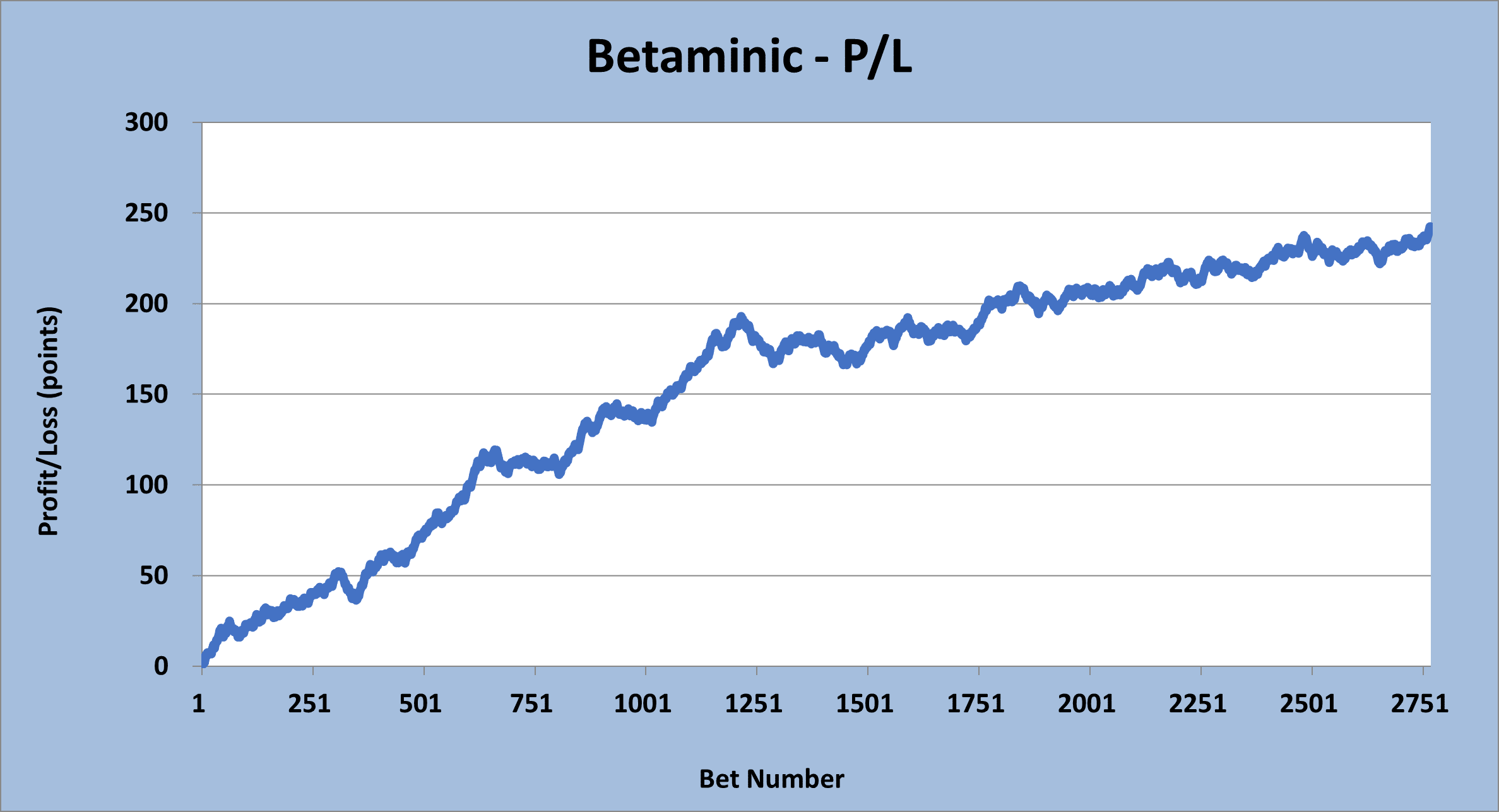 3,106 bets have provided 208.97 points of profit with a ROI of 6.73%. Only one full year in the service's record has had (small) negative returns (2018).
Despite a relative 'drop off' from the early figures from 2015-17, Betaminic has shown consistent profitability since, with returns around the 5% mark being a realistic expectation as an annual ROI.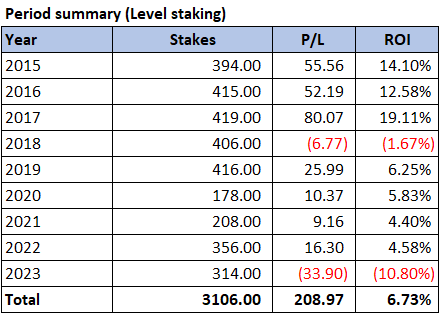 The Perfect Platform for Capital Growth
Betaminic have a consistent strategy to find value bets and the average odds across the service's life time stand at 2.01, demonstrating how Betaminic are finding edges in markets with close to 'even' probabilities.
Despite the opportunity to better these odds by using alternative bookmakers or exchanges, what this does tell us is that this is a low volatility service, with large losses or gains unlikely in any short time period.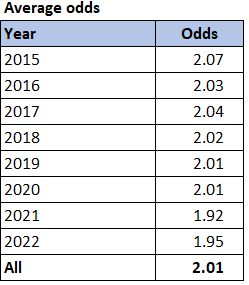 This is reflected in the largest drawdown across the 8 years of the verified tips standing at just above 25 points.
With this in mind, we have assessed the Return On Capital (ROC) using both a 50 and 60 point banks to show how compounding this edge can provide spectacular results over time. A 50 point bank was chosen due to it being just over double the longest historical drawdown. A 60 point bank was assessed due to it providing an extra level of certainty for more conservative bettors.
The ROC from this service would have provided £2,089.70 profit from a £500 or £600 starting bank or £20,897 profit betting at £100 per point.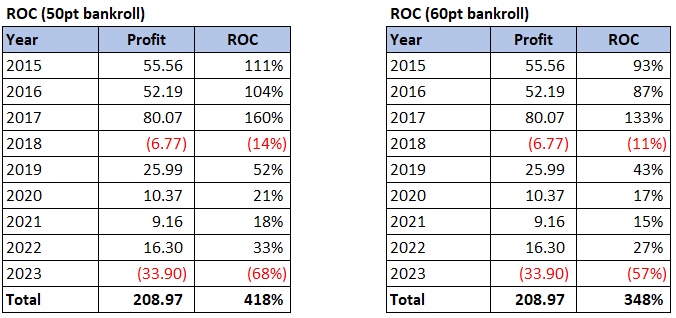 In addition, a progressive reinvestment strategy (with stakes increased by 2.5% after each winning month) demonstrates how this compounding effect can be enhanced further*.
Despite ROI dropping slightly to 7.2%, the overall profit would increase by 80% to a staggering 437.39 points. The starting banks referenced above would have returned a £4,373.90 profit with a 'starting point stake' of £100 returning a massive £43,739.
*Data from 2015-2022.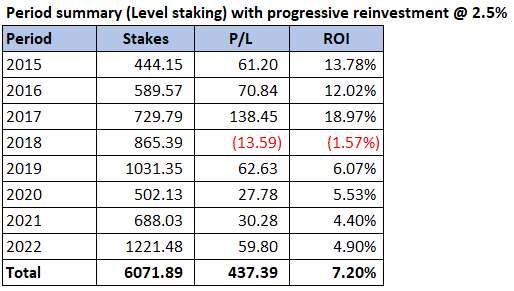 Odds, Bookmakers & Exchanges
As discussed above, the historical record that Betaminic have amassed has predominantly used prices from Pinnacle and SBOBET as outlined by the table below:

This tells us two things.
Firstly, this system is profitable with the sharpest of books, meaning that you can follow selections on these platforms to build your capital. Pinnacle and SBOBET use player's money to shape their prices, meaning that account restrictions or closures for successful players is not a concern.
Secondly, we can assume that returns will be greater if these bets are placed with softer bookmakers. Our historical analysis of other markets reveals that odds are often greater with 'Oddschecker bookmakers', meaning that using accounts with these firms could increase returns further. Most bets being from bigger leagues with high levels of liquidity (and at relatively short prices) means that they are unlikely to cause issues with accounts, especially if they are spread across them.
The fact that Betaminic are beating sharp bookmaker prices in these markets also means that bets may be viable with exchanges.
Teaming Up With SBC
We are delighted to be Betaminic's new tipster partner and you can now sign-up to receive all of their tips in the Over 2.5 goal market sent via email.
With regular, easy to follow emails outlining each tip and a proven track record dating back several years, this is a service we expect to be richly in demand and for all the right reasons.
Automated Betting on Tips
If you want to automate the Betaminic tips through Betfair with the Bf Bot Manager, please email support@betaminic.com, and they will give you more details about that option.
Service Nuts & Bolts
About: Betaminic is a statistics driven service that concentrates on tipping into the biggest football leagues.  Run by a group of betting experts and mathematicians, a comprehensive database is used to model markets and find edges against bookmakers, something that they have done to provide profits for all but one of the last eight years.
Bet Timing: Bets are released well in advance of kick off (normally 24-36 hours before), providing followers with ample time to get bets down. The nature of the markets means that odds sensitivity is not normally an issue and can provide opportunities for exchange players, especially closer to kick off.
Bet Type: Betaminic focus on one bet type only – Over 2.5 goals. They have used their system to find profitable edges elsewhere in the past, but feel that this market is where they have their greatest advantage against the market.
Bookmakers: All bets are quoted with sharp bookmakers but can be placed elsewhere. Softer bookmakers often offer better prices and all major exchanges have the option to bet on Over 2.5 goals in their sub-markets, with high levels of liquidity.
Number Of Bets: The service averages between 15-20 bets a month depending on the schedule of the major football leagues. Historically, this has varied with the amount of value opportunities impacting on the number of bets.
Staking: Betaminic advocate a level stakes betting system. Our analysis shows that a progressive reinvestment strategy is suitable for this service due to the consistency of returns and the low relative volatility.
Betting Bank: We advocate a 50 (aggressive) or 60 (conservative) point betting bank for this service, depending on how you would like to deploy your capital. This is based on the largest historical drawdown being just over 25 points.
Subscribe Now – Only Available Via SBC

The only place you can now subscribe to the Betaminic service is via the Smart Betting Club.
Simply choose your membership option using the links below:
Choose from the following 3 options:
3 Months Recurring* Membership @ £75 + VAT per quarter
Click here to sign-up for a 3 month membership
12 Months Recurring* Membership @ £225 + VAT per year
Best value & recommended option = Equates to just £18.75+ VAT monthly
Click here to sign-up for a 12 month membership
*Please note that all membership payments are taken on an automatic recurring basis. You can cancel the recurring payments at anytime or simply ask us to do this on your behalf at any point.