Exceptional, Affordable & Profitable Racing Tips

Profitable to both bookmaker and exchange prices and with a long-term record of success, Bet Alchemist is a tipster in great demand for all the right reasons!
Here is why Bet Alchemist is so popular:
You can save 25% on all Bet Alchemist subscriptions as a Smart Betting Club member
Profitable record dating back to 2012 of 672 points profit at 11.62% ROI;
Long-term Hall of Fame standard tipster;
Betting Bank growth figures of 448% ROC since the service began;
Majority of tips at major race meetings – it's easy to get your bets on;
Ideal for those of you restricted by bookmakers;
A viable option for those of you limited to betting exchanges only;
All memberships come with a 30 day money back guarantee;
Introducing Nicky Doyle & The Bet Alchemist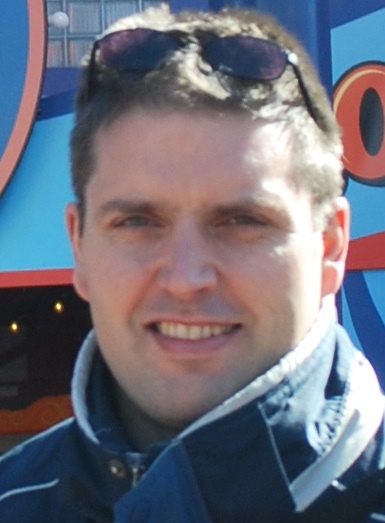 Bet Alchemist is run by Nicky Doyle, a racing enthusiast who was immersed in the Sport of Kings from a very early age.  Growing up in racing-mad County Wexford, it was almost inevitable that Nicky's passion for racing would lead him into the sport in some form of professional capacity in his adult years.
A shareholder in several racehorses, Nicky puts the secrets behind his success down to nothing more than hard work and long hours of form study. His expertise lies in spotting value in the price of a horse winning relative to its true chance and he specialises in big field class 2 handicaps and sprint handicaps.
SBC's first contact with Nicky came in October 2013, when he first began proofing his racing tips to us and over the course of time, more than 2,000 tips have been sent to us to verify and observe.

Impressed by his approach, we first reviewed him in January 2015 before granting his service Hall of Fame status in March 2017. So strong were his profits that we subsequently elevated Bet Alchemist into the Best Tipster Guide later in 2017.
And now thanks to this partnership between SBC and Bet Alchemist, you can sign-up to Nicky's service at substantially reduced rates and from just £10 for your first month with the service.
672 Points Profit @ 11.62% ROI From 5,503 Bets

The Bet Alchemist service is highly rated for one simple reason – the consistently strong profits that Nicky has made at realistic and achievable odds since 2012.
For those of you keen on securing a membership to a proven racing tipster with a long-term edge, then the 673 points profit made from 5,503 bets at 11.62% ROI will no doubt catch the eye.
You can view the full record below:
448% Betting Bank Growth

Another strong area of focus for the Bet Alchemist service is the level of betting bank growth (also known as ROC – Return on Capital) which has been accrued since it all began in December 2012.
To our recommended 150 point betting bank, Nicky has made ROC of 448% over the lifetime of the service as the following table reveals: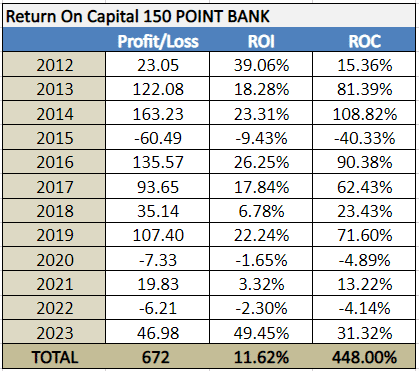 Over a standard 12 month period, you can realistically look to achieve betting bank growth of between 40 and 50% as an average.
Easy-To-Obtain and Realistic Odds Only

Bet Alchemist is also a racing tipster you can follow safe in the knowledge that the quoted odds by Nicky are realistic and achievable to those of you with bookmaker accounts.
Unlike with many tipsters, you will not have to chase prices or worry about having your bookmaker account closed for backing a winner.
This punter-friendly policy is down to a few things, such as the profile of races that Bet Alchemist tips within – festivals like Royal Ascot, Goodwood, Cheltenham and the big UK & Irish weekend race meetings.
During these races, it has proven to be remarkably easy to match (and at times better) the quoted odds put forward on any racing tip advised with a bookmaker on the exchanges. Not only that, but given the amount of money that trades during these big race meetings, bookmakers are less reactive or suspicious of winning bets struck and therefore less likely to restrict or close your account.
That ability to go under the radar in today's world of bookmaker restrictions and closures is in itself priceless for many winning bettors such as those of you who make up the SBC membership!
A Profitable Service Even at Betfair SP!

Bet Alchemist is a service that will appeal to those of you limited to using betting exchanges given that the tips put forward have also made a profit at Betfair SP.
This edge became evident in our analysis of the service as published in SBC Magazine #117 from June 2020, where we evaluated the performance of all Bet Alchemist's tips at Betfair SP.
To level stakes and after Betfair commission was deducted, we noted a 400.16 point profit @ 10.10% ROI from 3,961 bets. Clear evidence of an edge to be be had betting at Betfair SP with this service.
Below you can view the full breakdown of performance at Betfair SP as of June 2020.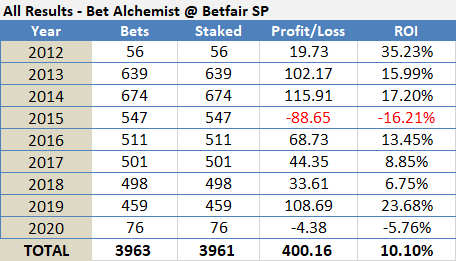 You can read more on the performance of Bet Alchemist at Betfair SP in SBC Magazine #117 from June 2020.
The Nuts & Bolts of the Service

Nicky Doyle prides himself in running an easy to follow, functional and practical service so that as a subscriber to Bet Alchemist, you can get your bets on with the minimum of fuss.
Here is how the service works:
Time Windows: Bets are issued the morning of racing at 9am.  This changed in 2020 (from the evening before racing) after members were surveyed on their preferred time of bet release.
Members Login: All bet detail including tip rationale is published within the members section of the Bet Alchemist website, accessible only with a username and password (issued to you on subscription).  An email is sent to you as a subscriber to alert you to the fact that new tips have been posted.  You do have to login to the site to obtain the tip(s).
Number of Bets: You can expect an average of 40 to 50 bets per month, although they are weighted towards the big race meetings and Saturday/Sunday racing.
Each-Way/Win: The vast majority of bets are advised each way (84%) with 15% win only and just 1% occasional multiple tips.
Staking: Most bets follow a simple staking strategy of 1 point to win or 0.5 point each way and a 150 point betting bank is advised.
Subscription Options

You can subscribe now to Bet Alchemist and save 25% on all membership options as a paid Smart Betting Club member.
Your 25% discount code
If you hold an SBC membership, login with your username/password and return to this page to discover the discounted payment links.
If you are not an SBC member and wish to join to access these savings, Subscribe to SBC now and then return to this page to access the discounted links.
30 day refund as standard

Each of which come with a 30 day refund period so if you join and feel it is not for you, you can cancel your membership at anytime within your first 30 days of membership and request a full refund. Giving you everything to gain and nothing to lose from signing-up.
To subscribe, simply follow the links below and register your account with Bet Alchemist. Once your subscription is active, Nicky will be in touch to provide login details and more to help you maximise your time as a member of the service.
Monthly Membership
£30 per month
SUBSCRIBE NOW
Quarterly Membership
£79 per quarter
SUBSCRIBE NOW
Semi Annual Membership
£150 per 6 months
SUBSCRIBE NOW
Annual Membership
£240 per 12 months
SUBSCRIBE NOW
Best Regards,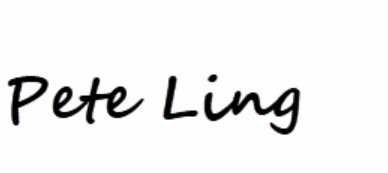 Pete Ling
Founder, Smart Betting Club